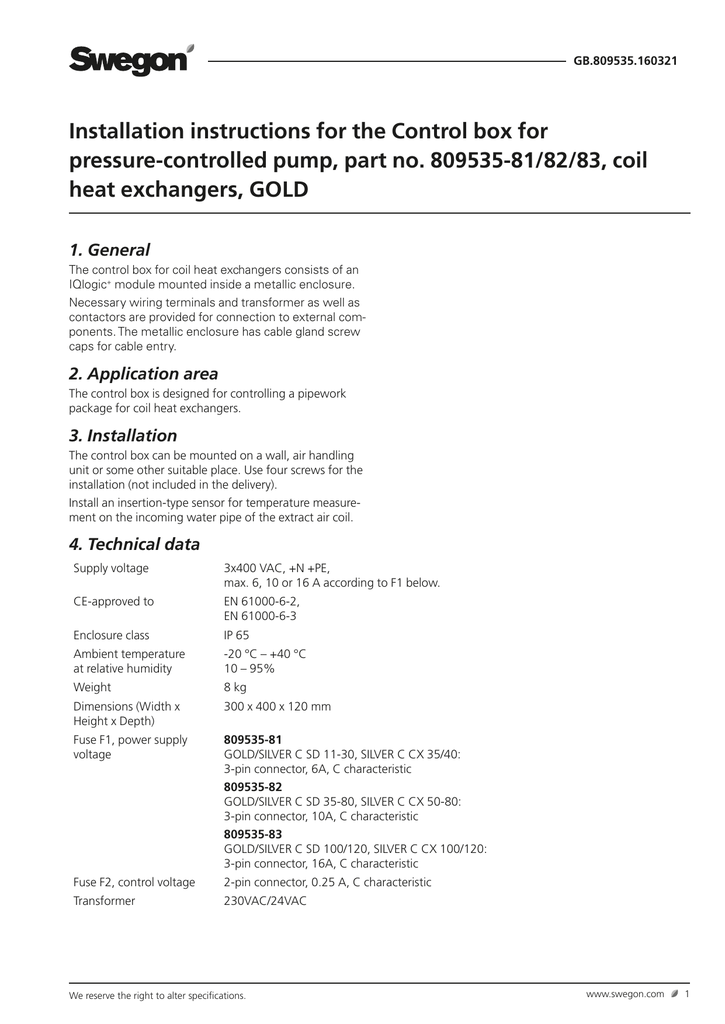 GB.809535.160321
Installation instructions for the Control box for
pressure-controlled pump, part no. 809535-81/82/83, coil
heat exchangers, GOLD
1. General
The control box for coil heat exchangers consists of an
IQlogic+ module mounted inside a metallic enclosure.
Necessary wiring terminals and transformer as well as
contactors are provided for connection to external components. The metallic enclosure has cable gland screw
caps for cable entry.
2. Application area
The control box is designed for controlling a pipework
package for coil heat exchangers.
3. Installation
The control box can be mounted on a wall, air handling
unit or some other suitable place. Use four screws for the
installation (not included in the delivery).
Install an insertion-type sensor for temperature measurement on the incoming water pipe of the extract air coil.
4. Technical data
Supply voltage
3x400 VAC, +N +PE,
max. 6, 10 or 16 A according to F1 below.
CE-approved to
EN 61000-6-2,
EN 61000-6-3
Enclosure class
IP 65
Ambient temperature
at relative humidity
-20 °C – +40 °C
10 – 95%
Weight
8 kg
Dimensions (Width x
Height x Depth)
300 x 400 x 120 mm
Fuse F1, power supply
voltage
809535-81
GOLD/SILVER C SD 11-30, SILVER C CX 35/40:
3-pin connector, 6A, C characteristic
809535-82
GOLD/SILVER C SD 35-80, SILVER C CX 50-80:
3-pin connector, 10A, C characteristic
809535-83
GOLD/SILVER C SD 100/120, SILVER C CX 100/120:
3-pin connector, 16A, C characteristic
Fuse F2, control voltage
2-pin connector, 0.25 A, C characteristic
Transformer
230VAC/24VAC
We reserve the right to alter specifications.
www.swegon.com
1
GB.809535.160321
5. Connections
5.1 Valve actuator and temperature sensor
Control box
The function selector
switch must be set to
position C.
Brown
Yellow/Green
Grey
Black
Green
Brown
L1
L2
L3
White
Brown
White
101 102 103 104 105 106 107 108 109 110 113 114 115 116 117 118 119
N
G0 G Y U
Differential Manometer
pressure sensor (Pressure
switch)
PE
Valve actuator
Temperature sensor
24 VAC/0 - 10 VDC (insertion-type sensor)
Incoming power supply,
3 x 400 V + N + PE
Valve actuator
Connect the power supply voltage to Terminals 101 (G0)
and 102 (G).
Connect the 0-10 V DC (Y) control signal conductor to
Terminal 103.
Connect the position indicator, 0-10 VDC (U), to Terminal
104.
Temperature sensor (insertion type)
Connect to Terminals 105 (brown) and 106 (white).
Differential pressure sensor
Connect to Terminals 113 (white), 114 (brown) and 115
(green).
Pressure switch
Connect to Terminals 116 (black), 117 (grey) 118 (yellow/
green) and 119 (brown).
Power supply
3 x 400 VAC +N +PE
2
www.swegon.com
We reserve the right to alter specifications.
GB.809535.160321
5.2 Circulation pump
Circulation pump Grundfos CRE (Swegon standard) with external control 0 - 10 V.
3 x 400 VAC
Wiring terminals in the control box of the coil heat exchangers.
PE PE N T1 T2 T3 109110
Alarm*
L1 L2 L3
NC C1 NO
111 112
0 - 10 V
B Y A 6 5
2 4 10
Wiring terminals on circulation pump
*Alarms can be selected as disabled or contactor function in the GOLD air handling unit's hand-held micro terminal.
The factory setting is contactor function.
We reserve the right to alter specifications.
www.swegon.com
3
GB.809535.160321
5.3 Communication, cable adapters
Control box in combination with GOLD CX 100/120
Connect the RJ12-cable between the cable adapter and
optional bus contact marked COM6 - 11 on the control
circuit card of the GOLD unit.
Control box in combination with GOLD SD
The illustrations show electrical equipment cubicles for size
20 GOLD SD units. The principle is however the same for
all the unit sizes.
Always connect cables between cable adapters from terminal to terminal, see figure below.
The cable between units is not included in the supply.
Twisted-pair cables are recommended. Use one cable pair
for 24 V and the other cable pair for bus communication.
1
Max permissible cable length:
100 metres
2
3
1
2
3
Terminal no. 1 = Terminal no. 2 =
Terminal no. 3 =
Terminal no. 4 = 4
-24 VDC
+24 VDC
EIA-485 B BUS
EIA 485 A BUS
4
GOLD SD units with control unit Control box, coil heat exchangers
(supply air)
Cable adapter
GOLD SD units without control unit
(extract air)
Cable adapter
Cable adapter
A
Twisted-pair communication cable
A min. 4x0.5 mm2, max 100 metres
(not included in supply).
B
Twisted-pair communication cable min. 4x0.5 mm2, max 100
metres (not included in supply).
Communication cable B can also be connected to the cable adapter in the electrical equipment cubicle
on the air handling unit with control unit if this makes the installation work easier.
4
www.swegon.com
We reserve the right to alter specifications.

* Your assessment is very important for improving the work of artificial intelligence, which forms the content of this project