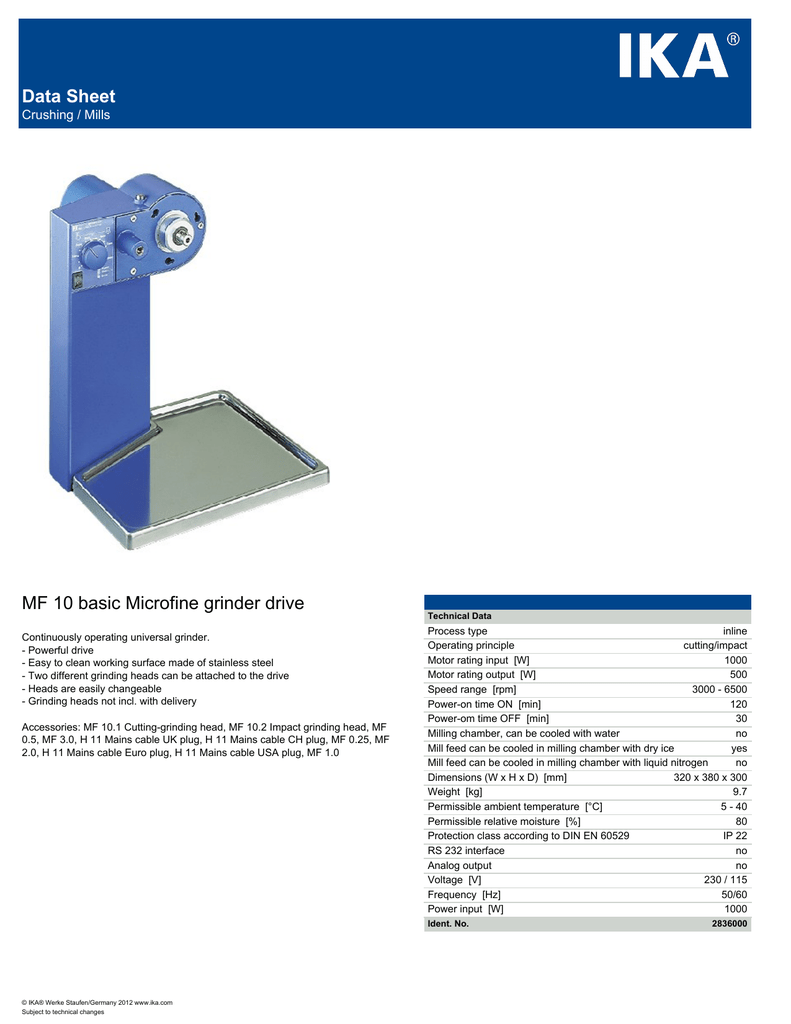 Data Sheet
Crushing / Mills
MF 10 basic Microfine grinder drive
Continuously operating universal grinder.
- Powerful drive
- Easy to clean working surface made of stainless steel
- Two different grinding heads can be attached to the drive
- Heads are easily changeable
- Grinding heads not incl. with delivery
Accessories: MF 10.1 Cutting-grinding head, MF 10.2 Impact grinding head, MF
0.5, MF 3.0, H 11 Mains cable UK plug, H 11 Mains cable CH plug, MF 0.25, MF
2.0, H 11 Mains cable Euro plug, H 11 Mains cable USA plug, MF 1.0
Technical Data
Process type
inline
Operating principle
cutting/impact
Motor rating input [W]
1000
Motor rating output [W]
500
Speed range [rpm]
3000 - 6500
Power-on time ON [min]
120
Power-om time OFF [min]
30
Milling chamber, can be cooled with water
no
Mill feed can be cooled in milling chamber with dry ice
yes
Mill feed can be cooled in milling chamber with liquid nitrogen
no
Dimensions (W x H x D) [mm]
320 x 380 x 300
Weight [kg]
9.7
Permissible ambient temperature [°C]
5 - 40
Permissible relative moisture [%]
80
Protection class according to DIN EN 60529
IP 22
RS 232 interface
no
Analog output
no
Voltage [V]
230 / 115
Frequency [Hz]
50/60
Power input [W]
1000
Ident. No.
© IKA® Werke Staufen/Germany 2012 www.ika.com
Subject to technical changes
2836000
Thank you for reading this data sheet.
For pricing or for further information, please contact us at our UK Office, using the details
below.
UK Office
Keison Products,
P.O. Box 2124, Chelmsford, Essex, CM1 3UP, England.
Tel: +44 (0)1245 600560
Fax: +44 (0)1245 808399
Email: [email protected]
Please note - Product designs and specifications are subject to change without notice. The user is responsible for determining the
suitability of this product.

* Your assessment is very important for improving the work of artificial intelligence, which forms the content of this project