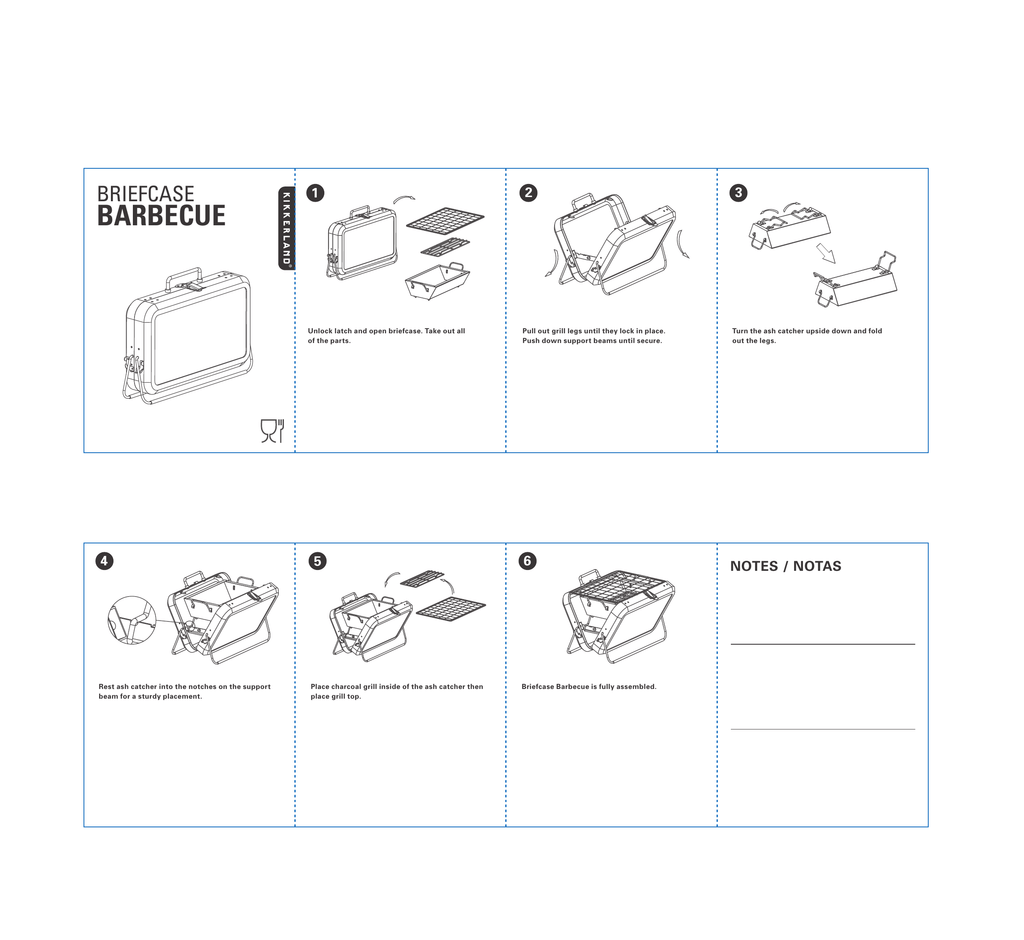 Instructions
Paper Insert
FRONT
BRIEFCASE
BARBECUE
2
1
3
MALLETTE BARBECUE
PARILLA MALETÍN
Unlock latch and open briefcase. Take out all
of the parts.
Pull out grill legs until they lock in place.
Push down support beams until secure.
Turn the ash catcher upside down and fold
out the legs.
Dèvérouillez le loquet et ouvrez la mallette.
Sortez toutes les pièces.
Dépliez les pieds jusqu'à ce qu'ils se bloquent.
Poussez vers le bas les support latéraux de soutien
jusqu'à sécurisés.
Tournez le réservoir à cendres et dépliez les
pieds.
Abra el maletín. Saque todas las piezas.
Despliegue las patas de la parrilla hasta que se
bloqueen en su lugar. Presione hacia abajo las vigas
de soporte para asegurarlas.
Voltee el receptor de cenizas y desdoble las
patas.
INSTRUCTIONS / INSTRUCCIONES
BACK
4
5
6
NOTES / NOTAS
1. Keep children away while in use.
2. To avoid injury, do not touch or move grill when hot.
3. Do not pour any liquid onto burning charcoal.
4. Make sure charcoal is completely extinguished before
taking apart.
5. Only use grill when fully assembled.
6. Hand-wash only.
Rest ash catcher into the notches on the support
beam for a sturdy placement.
Place charcoal grill inside of the ash catcher then
place grill top.
Posez le réservoir à cendres dans les encoches
prévues sur le support pour une installation stable.
Placez la petite grille dans le réservoir à cendres
puis placez la grande grille.
Coloque el receptor de cenizas en las muescas de
las vigas de soporte para una firme ubicación.
Coloque la parrilla para el carbón dentro del
receptor de cenizas y luego coloque encima la
parrilla.
Briefcase Barbecue is fully assembled.
La mallette barbecue est assemblée.
La parrilla maletín está ensamblada.
1. Éloignez les enfants lors de l'utilisation du
barbecue.
2. Ne pas toucher les parties chaudes pour
éviter les blessures.
3. Ne versez aucun liquide sur le charbon chaud.
4. Vérifiez que le charbon est bien éteint avant de le jeter.
5. N'utilisez le barbecue qu'une fois complètement
assemblé.
6. Laver à la main uniquement.
1. Mantenga a los niños alejados mientras esté en uso.
2. Para evitar lesiones, no toque o remueva la parrilla
cuando esté caliente.
3. No derrame ningún líquido en el carbón ardiente.
4. Asegúrese que el carbón esté completamente extinguido
antes de desarmar.
5. Sólo use la parrilla cuando esté completamente
ensamblada.
6. Lavar a mano únicamente.

* Your assessment is very important for improving the work of artificial intelligence, which forms the content of this project