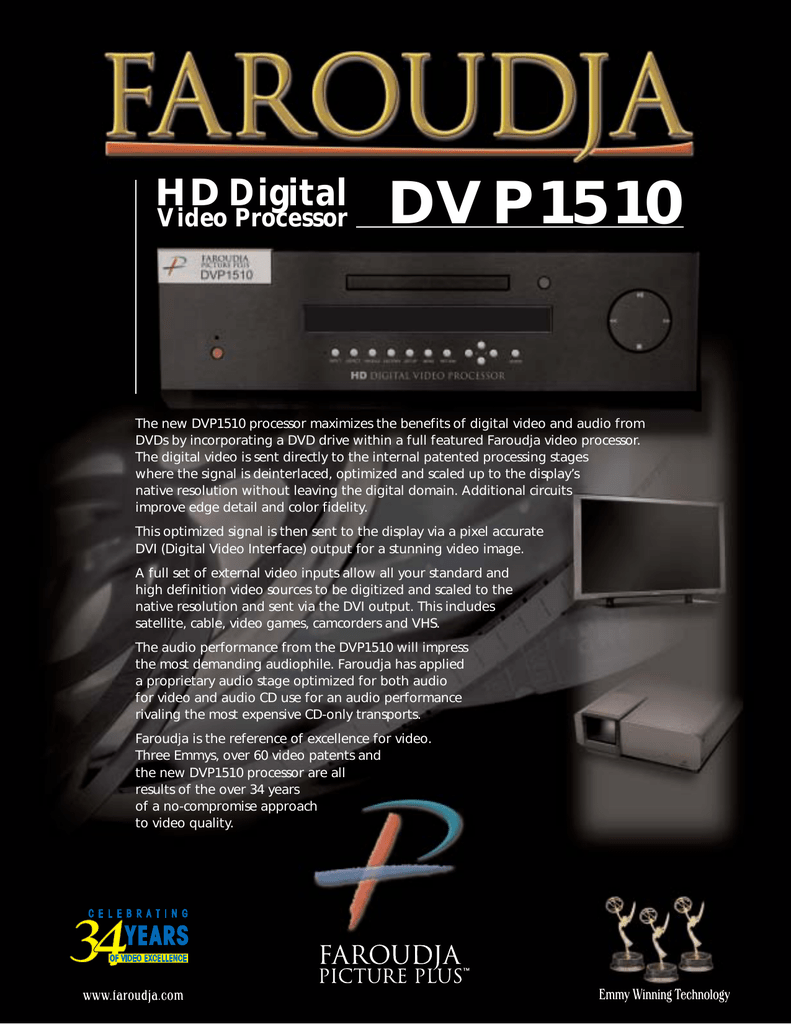 HD Digital
Video Processor
DV P 1 5 1 0
The new DVP1510 processor maximizes the benefits of digital video and audio from
DVDs by incorporating a DVD drive within a full featured Faroudja video processor.
The digital video is sent directly to the internal patented processing stages
where the signal is deinterlaced, optimized and scaled up to the display's
native resolution without leaving the digital domain. Additional circuits
improve edge detail and color fidelity.
This optimized signal is then sent to the display via a pixel accurate
DVI (Digital Video Interface) output for a stunning video image.
A full set of external video inputs allow all your standard and
high definition video sources to be digitized and scaled to the
native resolution and sent via the DVI output. This includes
satellite, cable, video games, camcorders and VHS.
The audio performance from the DVP1510 will impress
the most demanding audiophile. Faroudja has applied
a proprietary audio stage optimized for both audio
for video and audio CD use for an audio performance
rivaling the most expensive CD-only transports.
Faroudja is the reference of excellence for video.
Three Emmys, over 60 video patents and
the new DVP1510 processor are all
results of the over 34 years
of a no-compromise approach
to video quality.
www.faroudja.com
Emmy Winning Technology
By combining superior video and audio engineering with
a long list of features, the DVP1510 processor is truly
the center of any high quality digital theater system.
Feature List:
• Internal DVD drive allowing for direct access to
the digital video
• Adjustable scan rate output
• HDTV Cross-Conversion Convert 1080i to native resolution
• HDCP Compatible
• HD Transcoding YPrPb to RGBHV
• DVI and RGBHV/YPrPb Output from internal DVD and
analog sources scaled to the native resolution of the display
• Separate inputs for analog interlaced NTSC/PAL video
sources (composite, S-video, YPrPb, RGB, Pass-Through)
• Three digital audio outputs:
AES/EBU, Coaxial (BNC & RCA)
• Audio timing is reclocked and aligned for correct
audio-for-video synchronization
• Independent audio and video circuits with Integral RF
suppression to reduce interaction between the different circuits
• Separate extremely low jitter crystal oscillators
for DVD and CD audio frequencies
• Isolated display and motor controllers with six highly
filtered and regulated power supplies
• Patented 3/2 Pull-down with advanced edit detection
for error free deinterlacing of film originated sources
• Patented DCDi TM (Directional Correlational Deinterlacing)
for error free deinterlacing of video sources
• Patented True Life TM Bandwidth Expansion
for dramatic improvement in image detail
• Aspect ratio control for proper image sizing
on all screen types
• Image positioning controls for installation flexibility
Specifications:
Supported Resolutions
Inputs
Format
Composite(BNC)
S-Video (4-pin DIN)
Component (BNC)
480i/480p/720p/1080i
RGB (BNC)
480i/480p/720p/1080i
HD/PC Pass-Thru
DVI Input
Outputs (Progressive)
RGB (BNC &D15F)
H&V Sync
YPrPb (BNC &D15F)
RGsB (BNC &D15F)
Digital Video Interface
Digital Audio Connections
Dimensions
(with feet and connectors)
Weight
Power Consumption
Power Supply
• Test pattern generator to assist with system setup
• Direct Infrared commands for improved interface
with control systems
• RS232 control
1920x540
1280x720
1280x768
ALIS (1024x768)
DILA
1920x1080
800x600
1024x768
1366x768
1280x1024
1440x960
1440x1050
NTSC/PAL
1v pp
Y – 1v pp, C – 286mv pp
Y – 1v pp(SMPTE)
Cr – 700mv pp
Cb – 700mv pp
Comp. Sync – 1v pp
RGB – 700mv pp
D15M
DVI – I (female) Digital Only
700mv pp, TTL Sync
2.5v [email protected] min.
700mv pp, Sync on Y-1v pp
Gs – 1v pp, RGB – 700mv pp
DVI – I(female) digital only
RCA, BNC, AES/EBU
13.5DX17.25WX5.75H
19.5lbs
30.5wts/115VAC/60Hz
42.5wts/230VAC/50Hz
100 – 240VAC 50/60Hz
Auto Ranging
Specifications and features subject to change without notice.
• Compatible with DVD,CD,CD-R,CD-RW, VCD, MP3
and 96KHz sampling, Dolby Digital and DTS audio
Please visit our website at www.faroudja.com
180 Baytech Drive, Suite 110 • San Jose • CA 95134 • Phone: (408) 635-4200
Fax: (408) 957-0364 • Email: [email protected]
A division of Genesis Microchip Inc.

* Your assessment is very important for improving the work of artificial intelligence, which forms the content of this project