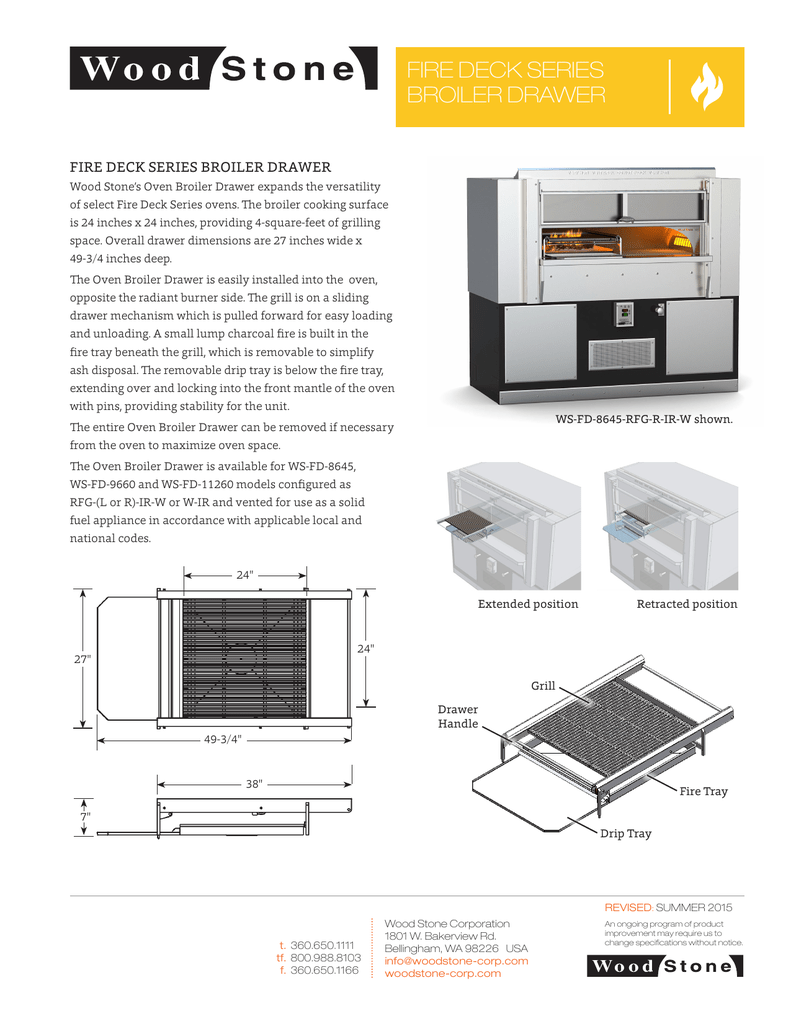 FIRE DECK SERIES
BROILER DRAWER
FIRE DECK SERIES BROILER DRAWER
Wood Stone's Oven Broiler Drawer expands the versatility
of select Fire Deck Series ovens. The broiler cooking surface
is 24 inches x 24 inches, providing 4-square-feet of grilling
space. Overall drawer dimensions are 27 inches wide x
49-3/4 inches deep.
The Oven Broiler Drawer is easily installed into the oven,
opposite the radiant burner side. The grill is on a sliding
drawer mechanism which is pulled forward for easy loading
and unloading. A small lump charcoal fire is built in the
fire tray beneath the grill, which is removable to simplify
ash disposal. The removable drip tray is below the fire tray,
extending over and locking into the front mantle of the oven
with pins, providing stability for the unit.
WS-FD-8645-RFG-R-IR-W shown.
The entire Oven Broiler Drawer can be removed if necessary
from the oven to maximize oven space.
The Oven Broiler Drawer is available for WS-FD-8645,
WS-FD-9660 and WS-FD-11260 models configured as
RFG-(L or R)-IR-W or W-IR and vented for use as a solid
fuel appliance in accordance with applicable local and
national codes.
24"
Extended position
Retracted position
24"
27"
Grill
Drawer
Handle
49-3/4"
38"
Fire Tray
7"
Drip Tray
REVISED: SUMMER 2015
t. 360.650.1111
tf. 800.988.8103
f. 360.650.1166
Wood Stone Corporation
1801 W. Bakerview Rd.
Bellingham, WA 98226 USA
[email protected]
woodstone-corp.com
An ongoing program of product
improvement may require us to
change specifications without notice.

* Your assessment is very important for improving the work of artificial intelligence, which forms the content of this project