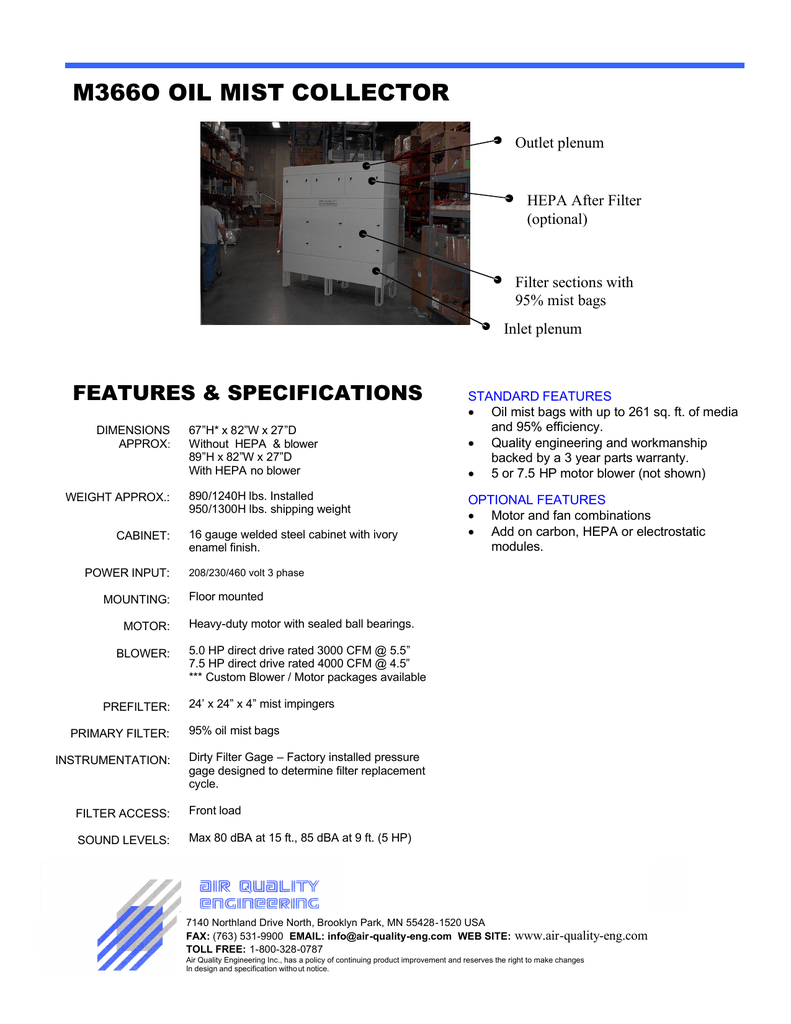 M366O OIL MIST COLLECTOR
Outlet plenum
HEPA After Filter
(optional)
Filter sections with
95% mist bags
Inlet plenum
FEATURES & SPECIFICATIONS
DIMENSIONS
APPROX:
WEIGHT APPROX.:
CABINET:
POWER INPUT:
MOUNTING:
MOTOR:
BLOWER:
PREFILTER:
PRIMARY FILTER:
INSTRUMENTATION:
67"H* x 82"W x 27"D
Without HEPA & blower
89"H x 82"W x 27"D
With HEPA no blower
890/1240H lbs. Installed
950/1300H lbs. shipping weight
16 gauge welded steel cabinet with ivory
enamel finish.
STANDARD FEATURES
• Oil mist bags with up to 261 sq. ft. of media
and 95% efficiency.
• Quality engineering and workmanship
backed by a 3 year parts warranty.
• 5 or 7.5 HP motor blower (not shown)
OPTIONAL FEATURES
• Motor and fan combinations
• Add on carbon, HEPA or electrostatic
modules.
208/230/460 volt 3 phase
Floor mounted
Heavy-duty motor with sealed ball bearings.
5.0 HP direct drive rated 3000 CFM @ 5.5"
7.5 HP direct drive rated 4000 CFM @ 4.5"
*** Custom Blower / Motor packages available
24' x 24" x 4" mist impingers
95% oil mist bags
Dirty Filter Gage – Factory installed pressure
gage designed to determine filter replacement
cycle.
FILTER ACCESS:
Front load
SOUND LEVELS:
Max 80 dBA at 15 ft., 85 dBA at 9 ft. (5 HP)
7140 Northland Drive North, Brooklyn Park, MN 55428-1520 USA
FAX: (763) 531-9900 EMAIL: [email protected] WEB SITE:
TOLL FREE: 1-800-328-0787
www.air-quality-eng.com
Air Quality Engineering Inc., has a policy of continuing product improvement and reserves the right to make changes
In design and specification witho ut notice.

* Your assessment is very important for improving the work of artificial intelligence, which forms the content of this project