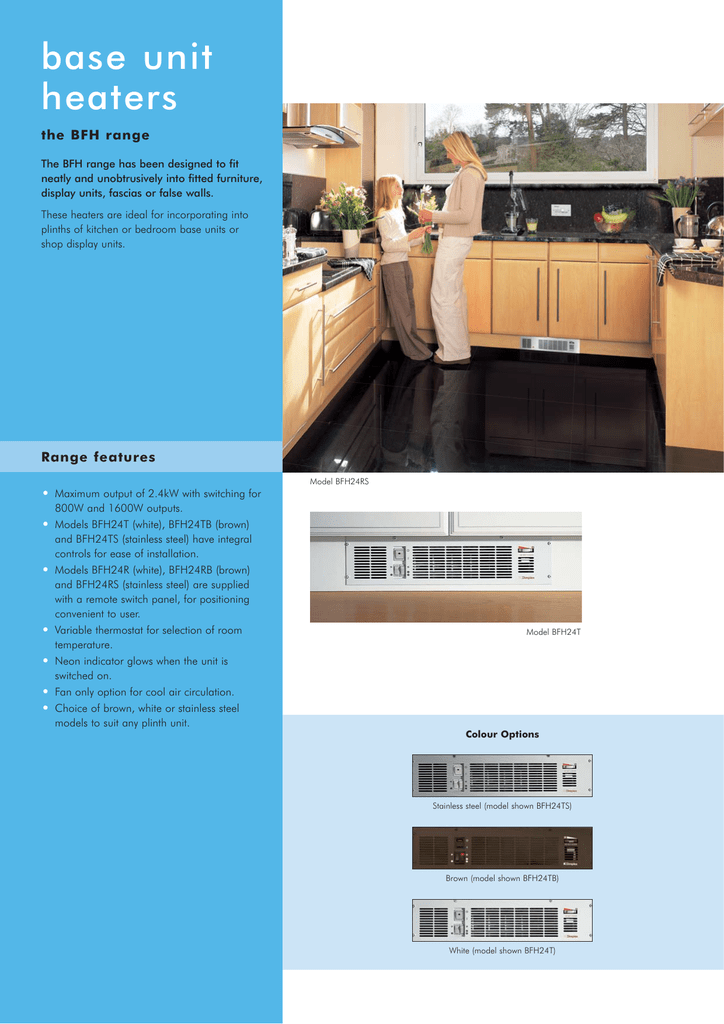 base unit
heaters
the BFH range
The BFH range has been designed to fit
neatly and unobtrusively into fitted furniture,
display units, fascias or false walls.
These heaters are ideal for incorporating into
plinths of kitchen or bedroom base units or
shop display units.
Range features
Model BFH24RS
•
•
•
•
•
•
•
Maximum output of 2.4kW with switching for
800W and 1600W outputs.
Models BFH24T (white), BFH24TB (brown)
and BFH24TS (stainless steel) have integral
controls for ease of installation.
Models BFH24R (white), BFH24RB (brown)
and BFH24RS (stainless steel) are supplied
with a remote switch panel, for positioning
convenient to user.
Variable thermostat for selection of room
temperature.
Neon indicator glows when the unit is
switched on.
Fan only option for cool air circulation.
Choice of brown, white or stainless steel
models to suit any plinth unit.
Model BFH24T
Colour Options
Stainless steel (model shown BFH24TS)
Brown (model shown BFH24TB)
White (model shown BFH24T)
technical specifications
Controls
All Models
1 All Models:
Thermostat control knob on front of heater
with a temperature range of approximately
5°C to 30°C. Lowest setting provides frost
protection level.
2 Remote Control Models
BFH24R/BFH24RB/BFH24RS:
Switch Panel – 13 amp fuse, double pole
isolating switch, two single pole ON/OFF
switches controlling elements.
3 Integral Control Models
BFH24T/BFH24TB/BFH24TS:
Built-in switches on heater fascia on/off, fan
only. 3 heat settings. Neon indicator.
Elements – All Models
Fully strung, helically wound, 800W and
1600W combine to give 2400W maximum
output.
If the overhang above the heater is greater than 75mm, then a distance of at least 100mm must be maintained
between the overhang and the uppermost part of the heater.
Installation/Dimensions (mm)
Aperture Dimensions
Thermostat – All Models
Bi-metal type, air temperature sensing.
Electrical Connections
1 Remote Control Models:
2.5 metre 6-core colour coded cable is
supplied for connecting the heater to the
switch panel. The installer must supply
suitable conduit or trunking if required and
a surface or flush mounting box for the
switch panel. A list of suitable standard
boxes is supplied with the heater.
Front View
2 Integral Control Models:
Supplied with 2m 3-core cable.
Thermal Safety Device
Interrupt supply to reset type.
Plan
Colour
BFH24T/BFH24R – White
BFH24TB, BFH24RB – Dark Brown
BFH24TS/BFH24RS – Stainless Steel
Switch Panel Remote Control Models
145mm
Side View
86mm
Installation
Minimum back box depth of 40mm is required
behind fascia plate.
Note:
If fitted in corner with adjacent cupboards to right hand side of heater then a distance of
at least 150mm must be maintained between the right hand end of the heater and the
front of the adjacent cupboard door as shown.

* Your assessment is very important for improving the work of artificial intelligence, which forms the content of this project