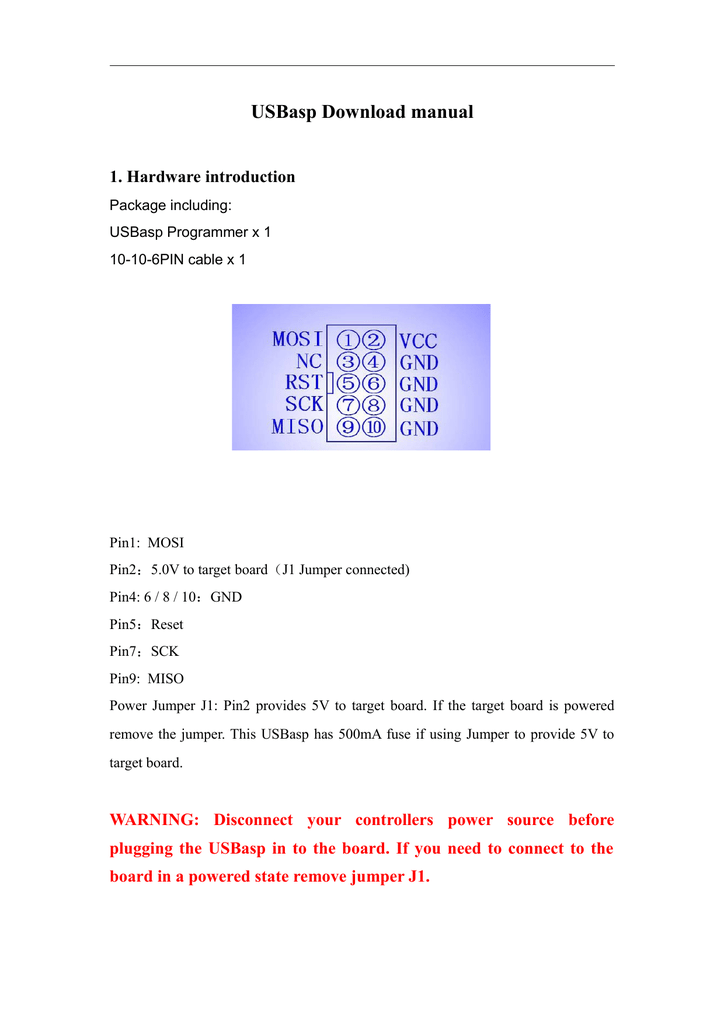 USBasp Download manual
1. Hardware introduction
Package including:
USBasp Programmer x 1
10-10-6PIN cable x 1
Pin1: MOSI
Pin2:5.0V to target board(J1 Jumper connected)
Pin4: 6 / 8 / 10:GND
Pin5:Reset
Pin7:SCK
Pin9: MISO
Power Jumper J1: Pin2 provides 5V to target board. If the target board is powered
remove the jumper. This USBasp has 500mA fuse if using Jumper to provide 5V to
target board.
WARNING: Disconnect your controllers power source before
plugging the USBasp in to the board. If you need to connect to the
board in a powered state remove jumper J1.
2. Driver Install
A) Download the latest driver from http://www.fischl.de/usbasp/
Connect the USBasp to computer USB port. Computer will discover new device.
B) Device driver software was not successfully installed.
C) In "Device Manager", Choose "Update Driver Software" of USBasp.
D) Choose "Browse my coputer for driver software."
E) Select the "usbasp/driver" where the driver file you located.
F) Choose "Install this driver software anyway."
G) Wait for installing.
H) Install completed.
I) In "Device Manager", libUSB-Win32 Device updated.
3. Software
Driver
http://www.fischl.de/usbasp/
We recommend KKmulticopter Flash Tool V0.41. Ensure you have the device driver for USBasp
installed before using KKmulticopter Flash Tool V0.41
http://lazyzero.de/en/modellbau/kkmulticopterflashtool#drivers
Ensure you have the latest version of Java installed.
http://java.com/en/download/ie_manual.jsp?locale=en
Correct Connection of the USBasp.

* Your assessment is very important for improving the work of artificial intelligence, which forms the content of this project