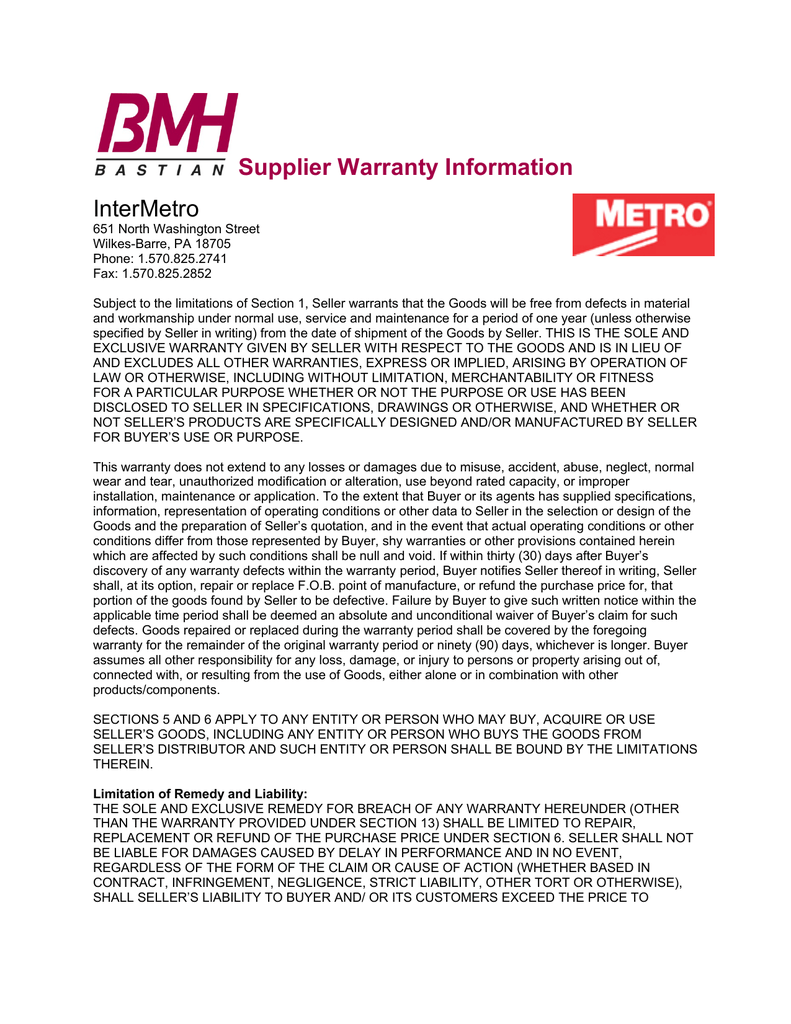 Supplier Warranty Information
InterMetro
651 North Washington Street
Wilkes-Barre, PA 18705
Phone: 1.570.825.2741
Fax: 1.570.825.2852
Subject to the limitations of Section 1, Seller warrants that the Goods will be free from defects in material
and workmanship under normal use, service and maintenance for a period of one year (unless otherwise
specified by Seller in writing) from the date of shipment of the Goods by Seller. THIS IS THE SOLE AND
EXCLUSIVE WARRANTY GIVEN BY SELLER WITH RESPECT TO THE GOODS AND IS IN LIEU OF
AND EXCLUDES ALL OTHER WARRANTIES, EXPRESS OR IMPLIED, ARISING BY OPERATION OF
LAW OR OTHERWISE, INCLUDING WITHOUT LIMITATION, MERCHANTABILITY OR FITNESS
FOR A PARTICULAR PURPOSE WHETHER OR NOT THE PURPOSE OR USE HAS BEEN
DISCLOSED TO SELLER IN SPECIFICATIONS, DRAWINGS OR OTHERWISE, AND WHETHER OR
NOT SELLER'S PRODUCTS ARE SPECIFICALLY DESIGNED AND/OR MANUFACTURED BY SELLER
FOR BUYER'S USE OR PURPOSE.
This warranty does not extend to any losses or damages due to misuse, accident, abuse, neglect, normal
wear and tear, unauthorized modification or alteration, use beyond rated capacity, or improper
installation, maintenance or application. To the extent that Buyer or its agents has supplied specifications,
information, representation of operating conditions or other data to Seller in the selection or design of the
Goods and the preparation of Seller's quotation, and in the event that actual operating conditions or other
conditions differ from those represented by Buyer, shy warranties or other provisions contained herein
which are affected by such conditions shall be null and void. If within thirty (30) days after Buyer's
discovery of any warranty defects within the warranty period, Buyer notifies Seller thereof in writing, Seller
shall, at its option, repair or replace F.O.B. point of manufacture, or refund the purchase price for, that
portion of the goods found by Seller to be defective. Failure by Buyer to give such written notice within the
applicable time period shall be deemed an absolute and unconditional waiver of Buyer's claim for such
defects. Goods repaired or replaced during the warranty period shall be covered by the foregoing
warranty for the remainder of the original warranty period or ninety (90) days, whichever is longer. Buyer
assumes all other responsibility for any loss, damage, or injury to persons or property arising out of,
connected with, or resulting from the use of Goods, either alone or in combination with other
products/components.
SECTIONS 5 AND 6 APPLY TO ANY ENTITY OR PERSON WHO MAY BUY, ACQUIRE OR USE
SELLER'S GOODS, INCLUDING ANY ENTITY OR PERSON WHO BUYS THE GOODS FROM
SELLER'S DISTRIBUTOR AND SUCH ENTITY OR PERSON SHALL BE BOUND BY THE LIMITATIONS
THEREIN.
Limitation of Remedy and Liability:
THE SOLE AND EXCLUSIVE REMEDY FOR BREACH OF ANY WARRANTY HEREUNDER (OTHER
THAN THE WARRANTY PROVIDED UNDER SECTION 13) SHALL BE LIMITED TO REPAIR,
REPLACEMENT OR REFUND OF THE PURCHASE PRICE UNDER SECTION 6. SELLER SHALL NOT
BE LIABLE FOR DAMAGES CAUSED BY DELAY IN PERFORMANCE AND IN NO EVENT,
REGARDLESS OF THE FORM OF THE CLAIM OR CAUSE OF ACTION (WHETHER BASED IN
CONTRACT, INFRINGEMENT, NEGLIGENCE, STRICT LIABILITY, OTHER TORT OR OTHERWISE),
SHALL SELLER'S LIABILITY TO BUYER AND/ OR ITS CUSTOMERS EXCEED THE PRICE TO
BUYER OF THE SPECIFIC GOODS PROVIDED BY SELLER GIVING RISE TO THE CLAIM OR CAUSE
OF ACTION. BUYER AGREES THAT IN NO EVENT SHALL SELLER'S LIABILITY TO BUYER AND/OR
ITS CUSTOMERS EXTEND TO INCLUDE INCIDENTAL, CONSEQUENTIAL OR PUNITIVE DAMAGES.
THE TERM "CONSEQUENTIAL DAMAGES" SHALL INCLUDE, BUT NOT BE LIMITED TO, LOSS OF
ANTICIPATED PROFITS, LOSS OF USE, LOSS OF REVENUE, COST OF CAPITAL AND DAMAGE OR
LOSS OF OTHER PROPERTY OR EQUIPMENT.
It is expressly understood that any technical advice furnished by Seller with respect to the use of the
Goods is given without charge, and Seller assumes no obligation or liability for the advice given, or
resumes obtained, all such advice being given and accepted at Buyer's risk.
Excuse of Performance:
Seller shall not be liable for delays in performance or for non-performance due to acts of God, acts of
Buyer, war, riot, fire, flood, other severe weather, sabotage, or epidemics; strikes or labor disturbances;
governmental requests, restrictions, laws, regulations, orders or actions; unavailability of or delays in
transportation; default of suppliers; or unforeseen circumstances or any events or causes beyond Seller's
reasonable control. Deliveries may be suspended for an appropriate period of time as a result of the
foregoing. If Seller determines that its ability to supply the total demand for the Goods is hindered, limited
or made impracticable due to causes addressed in this Section 7, Seller may allocate its available supply
of the Goods or such material (without obligation to acquire other supplies of any such Goods or such
materials) among itself and its purchasers on such basis as Seller determines to be equitable without
liability for any failure of performance which may result there from. Deliveries suspended or not made by
reason of this section may be canceled by Seller upon notice to Buyer without liability, but the balance of
the agreement shall otherwise remain unaffected.