Speaker Enclosures for Speedy Installation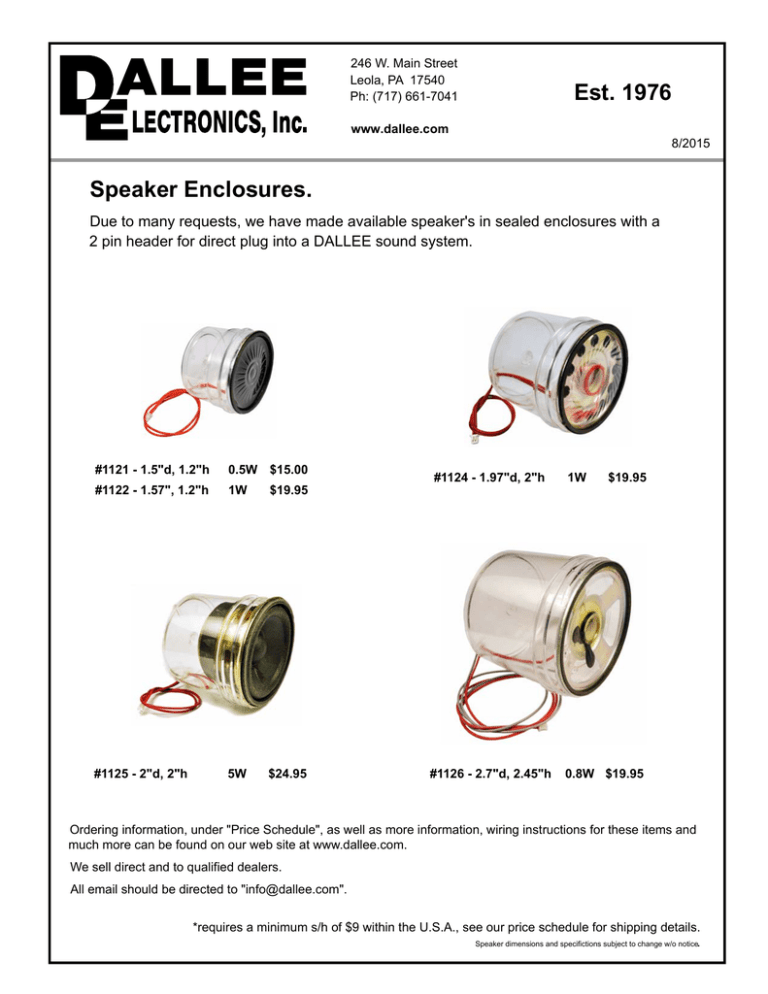 246 W. Main Street
Leola, PA 17540
Ph: (717) 661-7041
Est. 1976
www.dallee.com
8/2015
Speaker Enclosures.
Due to many requests, we have made available speaker's in sealed enclosures with a
2 pin header for direct plug into a DALLEE sound system.
#1121 - 1.5"d, 1.2"h
0.5W $15.00
#1122 - 1.57", 1.2"h
1W
$19.95
#1125 - 2"d, 2"h
5W
$24.95
#1124 - 1.97"d, 2"h
#1126 - 2.7"d, 2.45"h
1W
$19.95
0.8W $19.95
Ordering information, under "Price Schedule", as well as more information, wiring instructions for these items and
much more can be found on our web site at www.dallee.com.
We sell direct and to qualified dealers.
All email should be directed to "[email protected]".
*requires a minimum s/h of $9 within the U.S.A., see our price schedule for shipping details.
Speaker dimensions and specifictions subject to change w/o notice.

* Your assessment is very important for improving the work of artificial intelligence, which forms the content of this project