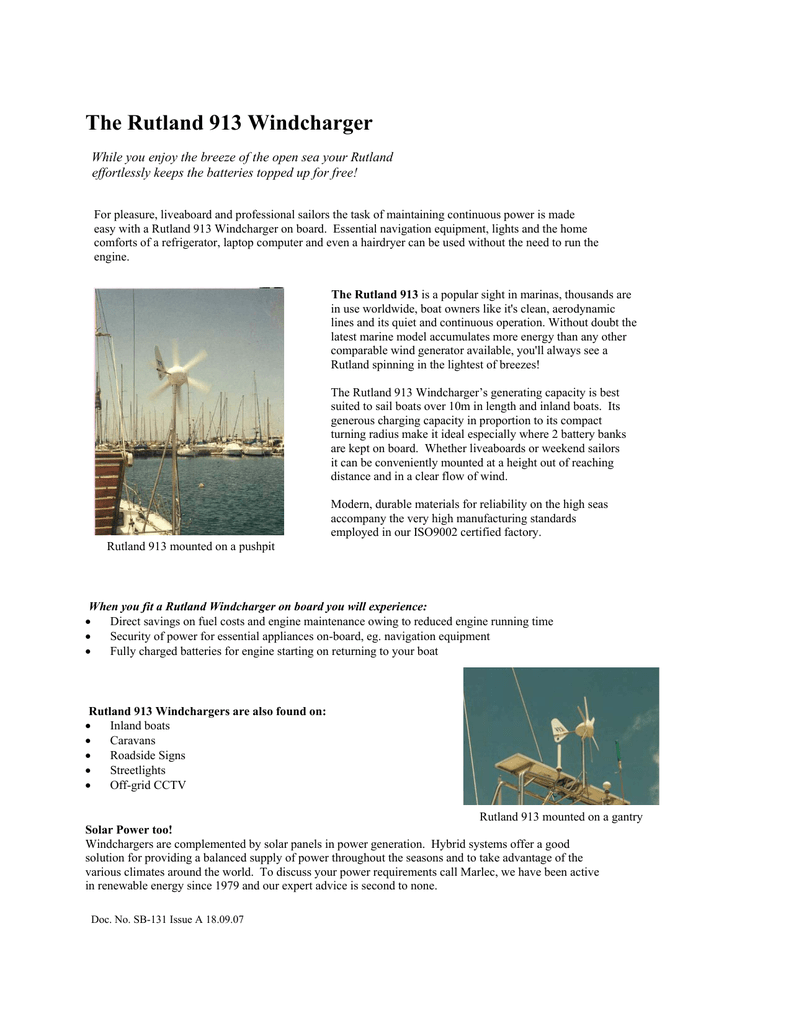 The Rutland 913 Windcharger
While you enjoy the breeze of the open sea your Rutland
effortlessly keeps the batteries topped up for free!
For pleasure, liveaboard and professional sailors the task of maintaining continuous power is made
easy with a Rutland 913 Windcharger on board. Essential navigation equipment, lights and the home
comforts of a refrigerator, laptop computer and even a hairdryer can be used without the need to run the
engine.
The Rutland 913 is a popular sight in marinas, thousands are
in use worldwide, boat owners like it's clean, aerodynamic
lines and its quiet and continuous operation. Without doubt the
latest marine model accumulates more energy than any other
comparable wind generator available, you'll always see a
Rutland spinning in the lightest of breezes!
The Rutland 913 Windcharger's generating capacity is best
suited to sail boats over 10m in length and inland boats. Its
generous charging capacity in proportion to its compact
turning radius make it ideal especially where 2 battery banks
are kept on board. Whether liveaboards or weekend sailors
it can be conveniently mounted at a height out of reaching
distance and in a clear flow of wind.
Modern, durable materials for reliability on the high seas
accompany the very high manufacturing standards
employed in our ISO9002 certified factory.
Rutland 913 mounted on a pushpit
When you fit a Rutland Windcharger on board you will experience:
•
Direct savings on fuel costs and engine maintenance owing to reduced engine running time
•
Security of power for essential appliances on-board, eg. navigation equipment
•
Fully charged batteries for engine starting on returning to your boat
Rutland 913 Windchargers are also found on:
•
Inland boats
•
Caravans
•
Roadside Signs
•
Streetlights
•
Off-grid CCTV
Rutland 913 mounted on a gantry
Solar Power too!
Windchargers are complemented by solar panels in power generation. Hybrid systems offer a good
solution for providing a balanced supply of power throughout the seasons and to take advantage of the
various climates around the world. To discuss your power requirements call Marlec, we have been active
in renewable energy since 1979 and our expert advice is second to none.
Doc. No. SB-131 Issue A 18.09.07
Features & Benefits
•
•
•
•
•
Efficient power conversion – Rutland Windchargers generate greater
ampere-hours in real wind conditions than turbines of equal and often larger
diameter! That's because between gusts, our unique high inertia alternator
designs maintain momentum with a flywheel effect where other units stall.
This adds up to more free wind power generated and stored for you.
Rutland Windchargers are the lowest cost per watt of power generated. Not
only is the generator efficient but volume production for our worldwide
customers and in-house manufacturing here at Marlec ensures that we
deliver a consistently high quality at an affordable cost.
Our low friction 3-phase alternator gives a smooth and silent output. The
low wind speed start up means power is almost continuously produced and
certainly in the most typical conditions as well as being powerful in higher
winds.
Rutland 913 turbines are made from computer designed efficient aerofoil
blades. They have a unique and positive one way only fit and have been
tested to withstand a loading with a safety factor 10 times the turbine's
maximum rpm.
No radiated interference. Complies with EEC Directive 89/336/EEC
Specifications:
Output Graph:
Low wind speed start up of just 5 knots
Generates 90w @ 19 knots, 24w @ 10 knots
Delivers up to 300w
Dimensions:
Part Nos: CA-01/15 (12V) CA-01/16 (24V)
Net Weight: 10.5Kg Packing Specifications: 375x375x620mm 13Kg
What else is needed to complete a system?
Marine Mounting Kit – a stainless steel mounting kit with deck bracket is available or a mount may be constructed using a tube
of 41mm internal diameter (max external diameter 48mm). Short sections of tube to affix to users own pole are also available.
Land Tower & Rigging Kit – a 6.4m tower made of 3 sections, ground spike and rigging kit for permanent land installation.
Voltage Controller – a choice of HRS913 Regulator to avoid overcharge or the HRDX Controller with digital display, dual
charging facility, windcharger and solar panel up to 100W.
Cable – for installations using less than a 20m run of cable we recommend 2.5mm² cable, available per metre from Marlec.
Batteries – Deep cycle or leisure batteries are recommended. Gel and Absorbed Glass Matt ranges are available from Marlec.

* Your assessment is very important for improving the work of artificial intelligence, which forms the content of this project