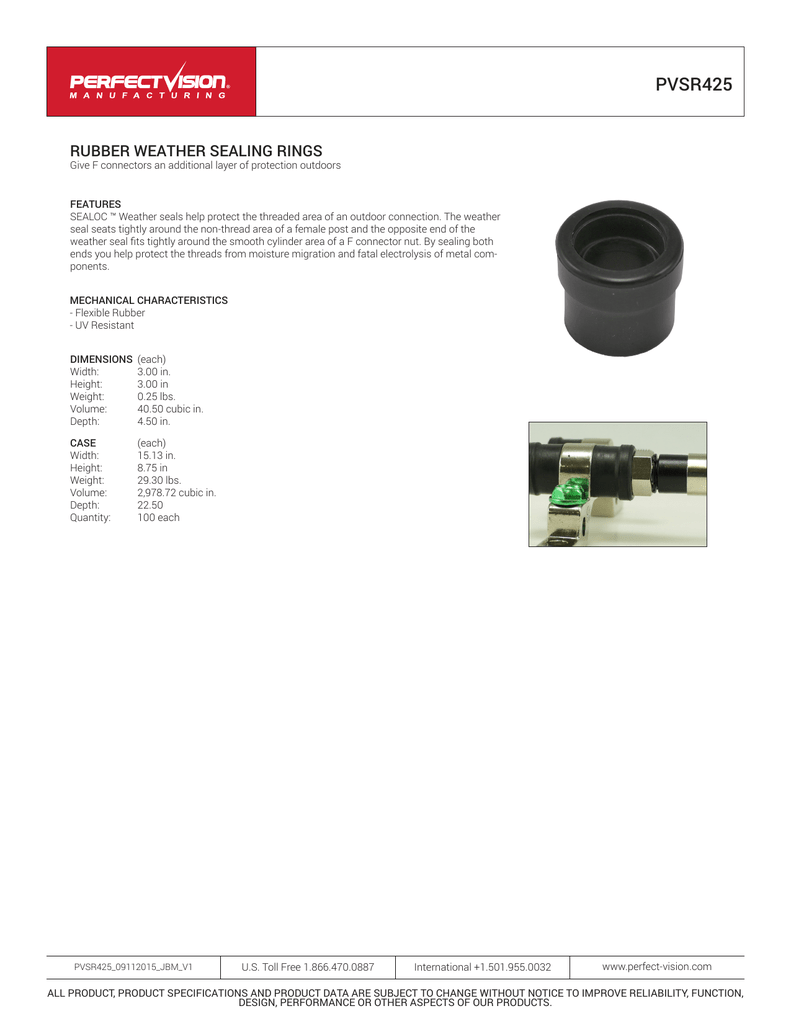 PVSR425
RUBBER WEATHER SEALING RINGS
Give F connectors an additional layer of protection outdoors
FEATURES
SEALOC ™ Weather seals help protect the threaded area of an outdoor connection. The weather
seal seats tightly around the non-thread area of a female post and the opposite end of the
weather seal fits tightly around the smooth cylinder area of a F connector nut. By sealing both
ends you help protect the threads from moisture migration and fatal electrolysis of metal components.
MECHANICAL CHARACTERISTICS
- Flexible Rubber
- UV Resistant
DIMENSIONS
Width:
Height:
Weight:
Volume:
Depth:
(each)
3.00 in.
3.00 in
0.25 lbs.
40.50 cubic in.
4.50 in.
CASE
Width:
Height:
Weight:
Volume:
Depth:
Quantity:
(each)
15.13 in.
8.75 in
29.30 lbs.
2,978.72 cubic in.
22.50
100 each
PVSR425_09112015_JBM_V1
U.S. Toll Free 1.866.470.0887
International +1.501.955.0032
www.perfect-vision.com
ALL PRODUCT, PRODUCT SPECIFICATIONS AND PRODUCT DATA ARE SUBJECT TO CHANGE WITHOUT NOTICE TO IMPROVE RELIABILITY, FUNCTION,
DESIGN, PERFORMANCE OR OTHER ASPECTS OF OUR PRODUCTS.

* Your assessment is very important for improving the work of artificial intelligence, which forms the content of this project