SCALANCE W and SCALANCE WLC Next Generation Industrial Wireless LAN December 2011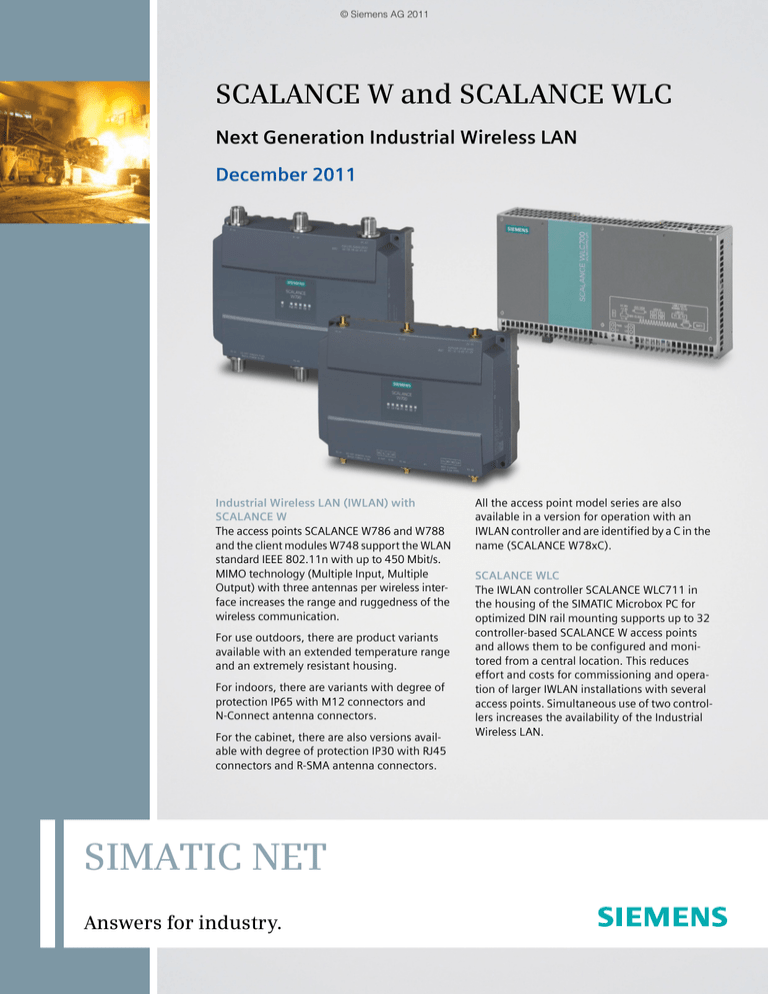 © Siemens AG 2011
SCALANCE W and SCALANCE WLC
Next Generation Industrial Wireless LAN
December 2011
Industrial Wireless LAN (IWLAN) with
SCALANCE W
The access points SCALANCE W786 and W788
and the client modules W748 support the WLAN
standard IEEE 802.11n with up to 450 Mbit/s.
MIMO technology (Multiple Input, Multiple
Output) with three antennas per wireless interface increases the range and ruggedness of the
wireless communication.
For use outdoors, there are product variants
available with an extended temperature range
and an extremely resistant housing.
For indoors, there are variants with degree of
protection IP65 with M12 connectors and
N-Connect antenna connectors.
For the cabinet, there are also versions available with degree of protection IP30 with RJ45
connectors and R-SMA antenna connectors.
SIMATIC NET
Answers for industry.
All the access point model series are also
available in a version for operation with an
IWLAN controller and are identified by a C in the
name (SCALANCE W78xC).
SCALANCE WLC
The IWLAN controller SCALANCE WLC711 in
the housing of the SIMATIC Microbox PC for
optimized DIN rail mounting supports up to 32
controller-based SCALANCE W access points
and allows them to be configured and monitored from a central location. This reduces
effort and costs for commissioning and operation of larger IWLAN installations with several
access points. Simultaneous use of two controllers increases the availability of the Industrial
Wireless LAN.
© Siemens AG 2011
Technical highlights
The access points of the SCALANCE W780 product line are ideally suited for setting up Industrial Wireless LANs (IWLAN) for
2.4 GHz or 5 GHz. They are excellent for applications that require high operational security.
• High data rates (up to 450 Mbit/s in conjunction with channel bonding) with 3x3 MIMO technology (Multiple Input,
Multiple Output); here, SCALANCE W access points use three
streams each for simultaneous transmission and reception
• Reliable thanks to rugged, impact-resistant housing, protected from water and dust (IP65), resistant to shock, vibration and electromagnetic fields
• Fast replacement of devices if a fault occurs thanks to the
optional C-PLUG (configuration plug)
Typical area of application
The access points of the SCALANCE W780 product line are designed for both industrial use and industry-related applications with similar demands, e.g. in crane systems. They allow
mobile control and monitoring as well as the communication
with automated guided vehicles.
Due to the high degree of protection (IP65) and the extended
temperature range from -40 °C to +60 °C, the access points
are ideally suited for use in the outdoor area.
SCALANCE W products are silicon-free and can therefore also
be used in paint shops. If the RCoax cable (leaky feeder) is
used, operation in conveyor systems and with all rail-guided
applications (for example warehouse storage and retrieval
systems) is particularly reliable.
If demands relating to environmental conditions are high, the
SCALANCE W786 product line includes variants with internal
antennas.
Your benefits
• High level of investment protection, as all products comply
with the universally recognized IEEE 802.11 standard and
are suitable for 2.4 GHz and 5 GHz
• No wear and tear – saves maintenance and repair costs for
connectors, trailing cables, sliding contacts or winding
devices
• Reliable wireless connection, for example due to redundant
connection, automatic roaming if there is a break in the
cable connection of the access point (forced roaming),
cyclic monitoring of the wireless link (link check), or monitoring for IP connections (IP alive)
• Predictable data traffic (deterministic) and defined
response times on the wireless link
• Integrated wireless network for data, voice and video
beyond corporate divisions thanks to interfacing with the
SCALANCE WLC IWLAN controller (supported by
SCALANCE W78xC device types).
Industrial Wireless LAN according to IEEE 802.11
For outside
environments
802.11a/b/g
Siemens AG
Industry Sector
Industrial Automation
Sensors and Communication
Postfach 4848
90026 NÜRNBERG
GERMANY
www.siemens.com/IWLAN
Client Modules
W786-2RR
W788 M12
W748 M12
W788 RJ45
W748 RJ45
W784-1
W744-1 / W746-1
Subject to change without prior notice
Order no.: 6ZB5530-1BD02-0BA0
MP.R1.SC.ICBR.48.2.07 / Dispo 26000
BR 1111 2. SB 2 En
Printed in Germany
© Siemens AG 2011
802.11a/b/g
For cabinets
Access Points
W786 RJ45 / W786 SFP
802.11a/b/g + 802.11n
For interior
environments
Client Modules
W788-1RR / W788-2RR
W747-1RR
W784-1RR
W747-1
IWLAN / PB Link PN IO
G_IK10_XX_30279
Access Points
Industrial Wireless LAN incl. iFeatures
The information provided in this brochure contains descriptions
or characteristics of performance which in case of actual use do
not always apply as described or which may change as a result of
further development of the products. An obligation to provide
the respective characteristics shall only exist if expressly agreed
in the terms of contract. Availability and technical specifications
are subject to change without notice.
All product designations may be trademarks or product names
of Siemens AG or supplier companies whose use by third
parties for their own purposes could violate the rights of the
owners.

* Your assessment is very important for improving the work of artificial intelligence, which forms the content of this project