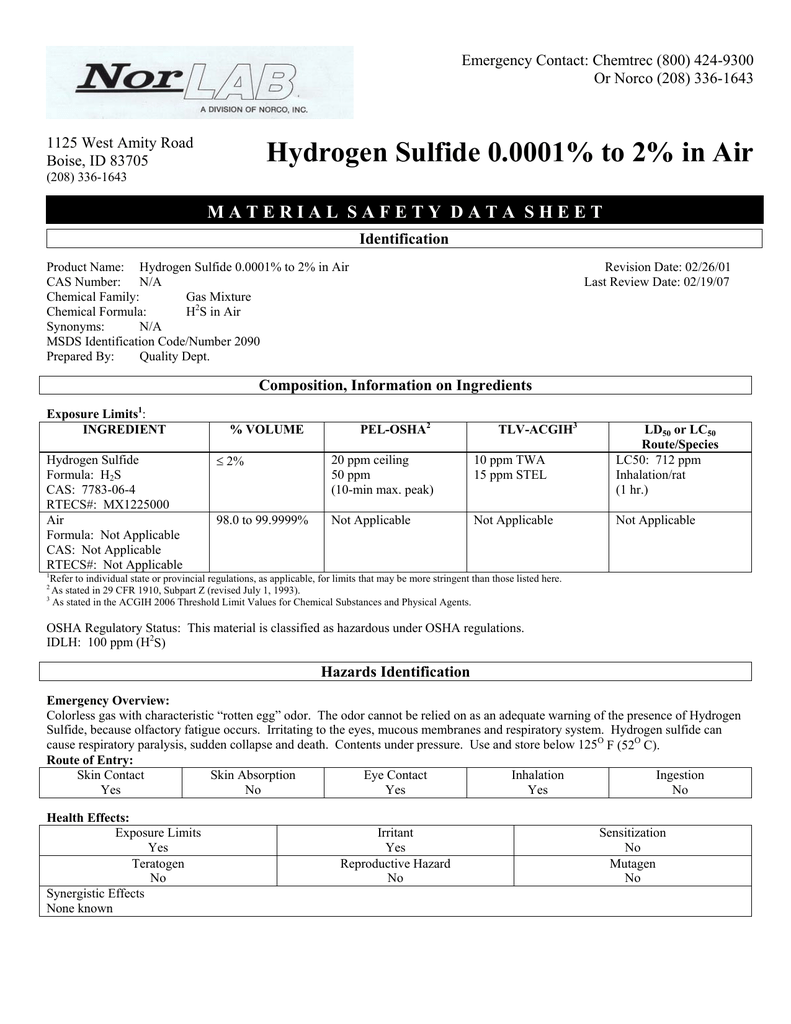 Emergency Contact: Chemtrec (800) 424-9300
Or Norco (208) 336-1643
1125 West Amity Road
Boise, ID 83705
Hydrogen Sulfide 0.0001% to 2% in Air
(208) 336-1643
MATERIAL SAFETY DATA SHEET
Identification
Product Name: Hydrogen Sulfide 0.0001% to 2% in Air
CAS Number: N/A
Chemical Family:
Gas Mixture
Chemical Formula:
H2S in Air
Synonyms:
N/A
MSDS Identification Code/Number 2090
Prepared By:
Quality Dept.
Revision Date: 02/26/01
Last Review Date: 02/19/07
Composition, Information on Ingredients
Exposure Limits1:
INGREDIENT
Hydrogen Sulfide
Formula: H2S
CAS: 7783-06-4
RTECS#: MX1225000
Air
Formula: Not Applicable
CAS: Not Applicable
RTECS#: Not Applicable
PEL-OSHA2
TLV-ACGIH3
≤ 2%
20 ppm ceiling
50 ppm
(10-min max. peak)
10 ppm TWA
15 ppm STEL
LD50 or LC50
Route/Species
LC50: 712 ppm
Inhalation/rat
(1 hr.)
98.0 to 99.9999%
Not Applicable
Not Applicable
Not Applicable
% VOLUME
1
Refer to individual state or provincial regulations, as applicable, for limits that may be more stringent than those listed here.
As stated in 29 CFR 1910, Subpart Z (revised July 1, 1993).
3
As stated in the ACGIH 2006 Threshold Limit Values for Chemical Substances and Physical Agents.
2
OSHA Regulatory Status: This material is classified as hazardous under OSHA regulations.
IDLH: 100 ppm (H2S)
Hazards Identification
Emergency Overview:
Colorless gas with characteristic "rotten egg" odor. The odor cannot be relied on as an adequate warning of the presence of Hydrogen
Sulfide, because olfactory fatigue occurs. Irritating to the eyes, mucous membranes and respiratory system. Hydrogen sulfide can
cause respiratory paralysis, sudden collapse and death. Contents under pressure. Use and store below 125O F (52O C).
Route of Entry:
Skin Contact
Skin Absorption
Eye Contact
Inhalation
Ingestion
Yes
No
Yes
Yes
No
Health Effects:
Exposure Limits
Yes
Teratogen
No
Synergistic Effects
None known
Irritant
Yes
Reproductive Hazard
No
Sensitization
No
Mutagen
No
Material Safety Data Sheet # 2090, Hydrogen Sulfide 0.0001% to 2% in air, Page 2 of 6
Hazards Identification Continued
NTP: No
Carcinogenicity:
IARC: No
OSHA: No
Eye Effects:
Low concentrations will generally cause irritation to the conjunctiva. Repeated exposure to low concentrations is reported to cause
conjunctivitis, photophobia, tears, pain and blurred vision. Contact with rapidly expanding gas near the point of release may cause
frostbite.
Skin Effects:
May irritate the skin upon contact. Contact with rapidly expanding gas near the point of release may cause frostbite with redness, skin
color change to gray or white, and blistering.
Ingestion Effects:
Ingestion is unlikely. Hydrogen sulfide will irritate the mucous membranes causing a burning feeling with excess salivation likely.
Irritation of the gastrointestinal tract may also occur.
Inhalation Effects:
Lethal concentrations of hydrogen sulfide cause respiratory paralysis and breathing stops. Life threatening pulmonary edema is
common following prolonged exposure to concentrations between 250 and 600 ppm. Edema has been reported following prolonged
exposure at concentrations as low as 50 ppm.
Sense of smell becomes rapidly fatigued and cannot be used as warning of exposure.
Medical Conditions Aggravated by Exposure:
May aggravate pre-existing eye, skin, respiratory and central nervous system (CNS) disorder.
NFPA Hazard Codes
HMIS Hazard Codes
Ratings System
Health:
Flammability:
Reactivity:
Health:
1
Flammability:
0
Physical Hazard: 3
0 = No Hazard
1 = Slight hazard
2 = Moderate Hazard
3 = Serious Hazard
4 = Severe Hazard
1
0
0
Hazard ratings were assigned in accordance with Compressed Gas Association (CGA) guidelines as published in CGA Pamphlet P19-2004, CGA Recommended Hazard Ratings for compressed Gases, 2nd Edition.
First Aid Measures
Eye:
PERSONS WITH POTENTIAL EXPOSURE TO HYDROGEN SULFIDE SHOULD NOT WEAR CONTACT LENSES. Flush eyes
with large amounts of water for at least 15 minutes, holding eyelids open to ensure adequate rinsing. If irritation persists, seek
immediate medical attention.
Skin:
Remove contaminated clothing and flush affected area with large quantities of water. If irritation persists or symptoms occur, seek
medical attention.
Ingestion:
Not anticipated; product is a gas.
Inhalation:
PROMPT REMOVAL FROM THE CONTAMINATED AREA AND IMMEDIATE MEDICAL ATTENTION IS MANDATORY
IN ALL CASES OF OVEREXPOSURE. RESCUE PERSONNEL SHOULD BE EQUIPPED WITH SELF-CONTAINED
BREATHING APPARATUS. Rescue personnel should recognize the hazards of overexposure due to olfactory fatigue.
Material Safety Data Sheet # 2090, Hydrogen Sulfide 0.0001% to 2% in air, Page 3 of 6
First Aid Measures Continued
Immediately remove to fresh air. If breathing is difficult, administer oxygen. If breathing has stopped, give artificial respiration.
Keep victim warm and calm. Further treatment should be symptomatic and supportive. Seek immediate medical attention.
Note to physician: Acute hydrogen sulfide poisoning can be treated by induction of methemoglobinemia through parenteral injection
of methemoglobin generating agents (i.e. sodium nitrile). This acts as an antidote by restoring the normal activity of the sulfide
inhibited enzyme.
Fire Fighting Measures
Conditions of Flammability: Not flammable
Flash point: Gas
Method:
Autoignition Temperature:
Not Applicable
None
LEL (%): Not Applicable
UEL (%): Not Applicable
Hazardous combustion products: Sulfur dioxide, irritants, toxic gases
Sensitivity to mechanical shock: No Data
Sensitivity to static discharge: No Data
Fire and Explosion Hazards:
The majority of this product is a nonflammable, inert gas. This product does contain 0.0001 – 2% hydrogen sulfide, a flammable
component. Containers may explode when exposed to heat or flames.
Extinguishing Media:
Use media suitable for surrounding combustible or flammable materials.
Fire Fighting Instructions:
Stop the flow of gas if it can be done without risk. Use water spray to cool surrounding containers. Continue to cool surrounding
containers until well after flames are extinguished. Firefighters should wear a full-face piece, NIOSH/MSHA-approved self-contained
breathing apparatus (SCBA) operated in positive pressure mode and full turnout gear.
Accidental Release Measures
Isolate hazard area, evacuate personnel and deny entry to unauthorized/unprotected individuals. Extinguish all ignition sources and
ventilate closed spaces and low areas. Hydrogen sulfide is soluble, use water spray to knock down vapors and protect personnel.
Dike run-off waters for later disposal. Personnel entering area should wear appropriate protective equipment, including respiratory
protection suitable for unknown concentrations. Personnel should not re-enter an area until hydrogen sulfide has sufficiently dispersed
and adequate oxygen re-established. If a leak is in user's equipment, be certain to purge piping with an inert gas prior to attempting
repairs. If leak is in container valve, contact the appropriate emergency telephone number listed in Section 1 or call your closest
Norco/NorLab location.
Handling and Storage
Electrical classification:
Non-hazardous
Use only in well-ventilated areas. Valve protection caps must remain in place on refillable cylinders unless cylinder is secured with
valve outlet piped to use point. Do not drag, slide or roll cylinders. Use a suitable hand truck for cylinder movement. Use a pressure
reducing regulator when connecting cylinder to lower pressure piping or systems. Do not heat cylinder by any means to increase the
discharge rate of product from the cylinder. Use a check valve or trap in the discharge line to prevent hazardous back flow into the
cylinder.
Protect cylinders from physical damage. Store in cool, dry, well-ventilated area of non-combustible construction away from heavy
traffic areas and emergency exits. Do not allow the temperature where cylinders are stored to exceed 125O F. Cylinders should be
stored upright and firmly secured to prevent falling or being knocked over. Use a "first in-first out" inventory system to prevent full
cylinders being stored for excessive periods of time.
Material Safety Data Sheet # 2090, Hydrogen Sulfide 0.0001% to 2% in air, Page 4 of 6
Handling and Storage Continued
Do not rely on the olfactory sense to detect the presence of hydrogen sulfide. Analytical devices and instrumentation are readily
available for this purpose. Perform frequent analytical tests to be certain that the TWA is not exceeded. Many metals corrode rapidly
with wet hydrogen sulfide. Anhydrous hydrogen sulfide can be handled in carbon steel, aluminum, Inconel ®, Stelite ®, 304 and 316
stainless steels. Avoid hard steels, which are highly stressed since they may be susceptible to hydrogen embrittlement from hydrogen
sulfide. Multipoint air samplers with alarms for plant production units should be provided to constantly monitor the air in and around
the units.
For additional recommendations, consult Compressed Gas Association Pamphlets P-1 and G-12.
Never carry a compressed gas cylinder or a container of a gas in cryogenic liquid form in an enclosed space such as a car trunk, van or
station wagon. A leak can result in a fire, explosion, asphyxiation or a toxic exposure.
Exposure Controls, Personal Protection
Engineering Controls:
Use a laboratory hood with forced ventilation for handling small quantities. Use local exhaust to prevent accumulation above the
exposure limit.
Eye/Face Protection:
Chemical safety goggles with full face shield.
Skin Protection:
Protective gloves of neoprene, butyl rubber, PVC or polyethylene should be worn.
Respiratory Protection:
A NIOSH/MSHA-approved full-facepiece SCBA operated in positive mode and/or any supplied air respirator with a full-facepiece
and operated in a positive pressure mode in combination with an auxiliary self contained breathing apparatus operated in positive
pressure mode should be used for high or unknown concentrations. Respirators should be stored in an area not likely to be
contaminated.
Other/General Protection:
Safety shoes, safety showers and an emergency eyewash station should be available. Personnel with potential exposure to hydrogen
sulfide should work in pairs, wear a gas mask with an all purpose canister or light three minute unit with a self contained air supply for
instantaneous use, and carry wet lead acetate paper on wrists or belt for detection of dangerous concentrations of hydrogen sulfide,
(turns black in the presence of minute amounts of hydrogen sulfide).
Physical and Chemical Properties
PARAMETER
Physical state (gas, liquid, solid)
Vapor pressure
Vapor density (Air = 1)
Evaporation point
Boiling point
VALUE
: Gas
: Not available
: Not available
: Not available
: Not available
UNITS
Freezing point
: Not available
pH
Specific gravity
Oil/water partition coefficient
Solubility (H2O)
Odor threshold
Odor and appearance
: Not applicable
: 1.105
: Not available
: Slightly soluble
: Not available
: Colorless gas/vapor. Characteristic hydrogen sulfide – rotten egg odor.
O
F
C
O
F
O
C
O
Material Safety Data Sheet # 2090, Hydrogen Sulfide 0.0001% to 2% in air, Page 5 of 6
Stability and Reactivity
Stability:
Stable under normal conditions.
Conditions to Avoid:
Avoid heat, flames, ignition sources, and oxidizing agents.
Incompatible Materials:
Pure hydrogen sulfide is dangerously reactive with fuming or strong nitric acid and strong oxidizers; may ignite on contact with a
variety of metal oxides (i.e. copper oxide, nickel oxide, silver (I & II) oxide, sodium peroxide); ignites in contact with fluorine and
chlorine monoxide; and forms explosive reactions with oxygen difluoride, nitrogen trifluoride and many halogenic compounds.
Hazardous Decomposition Products:
Oxides of sulfur.
Hazardous Polymerization:
Will not occur.
Toxicological Information
Inhalation:
Inhalation of 1000-3000 ppm (dogs) was lethal. Respiration ceased after several breaths at 3000 ppm and death occurred within 15-20
minutes at concentrations of 1000 ppm.
Skin and Eye:
Concentrations of 50-500 ppm cause eye and respiratory irritation. Ocular toxicity has been reported at hydrogen sulfide
concentrations ranging from 5-30 ppm.
Chronic:
Hydrogen sulfide is not considered a cumulative poison; however, headaches, fatigue, dizziness, irritability and loss of libido have
been reported following chronic exposure. It is unclear whether low level exposures, repeated unmeasured acute exposures or preexisting neurological disease are responsible for the above symptoms.
Ecological Information
Environmental Fate:
Hydrogen sulfide does not absorb solar radiation and therefore does not undergo photolysis or photochemical reaction with oxygen.
The persistence of hydrogen sulfide in the atmosphere is dependent on season, latitude and atmospheric conditions, ranging from 1 to
40 days with decreased temperatures and decreased levels of hydroxide in northern regions increasing residence time. In soil and
water, hydrogen sulfide is oxidized to elemental sulfur by microorganisms via oxidation-reduction reactions, which form part of the
global sulfur cycle.
Ecotoxicity:
Data indicates that hydrogen sulfide is toxic to a variety of life forms including both domestic and wild animals, fish, birds, insects
and plants.
Disposal Considerations
Do not attempt to dispose of waste or unused quantities in returnable cylinders. Return in the shipping container, properly labeled,
with any valve outlet plugs or caps secure and valve protection cap in place to NorLab for proper disposal. Non-refillable containers
should be vented in a well-ventilated area then disposed of in compliance with local regulations, or returned to NorLab.
Material Safety Data Sheet # 2090, Hydrogen Sulfide 0.0001% to 2% in air, Page 6 of 6
Transportation Information
Parameter
Proper Shipping Name:
Hazard Class:
Identification Number:
Shipping Label:
United States DOT
Canada TDG
Compressed gas, N. O. S.,
(Hydrogen Sulfide, Air)
2.2
UN 1956
Non Flammable Gas
Compressed gas, N. O. S.,
2.2
UN 1956
Non Flammable Gas
Regulatory Information
Hydrogen sulfide is listed under the accident prevention provisions of section 112 (r) of the Clean Air Act (CAA) with a threshold
quantity (TQ) of 10,000 pounds.
SARA Title III Notifications and Information:
Hydrogen sulfide is listed as an extremely hazardous substance (EHS) subject to state and local reporting under Section 304 of SARA
Title III (EPCRA). The presence of hydrogen sulfide in quantities in excess of the threshold planning quantity (TPQ) of 500 pounds
requires certain emergency planning activities to be conducted.
Releases of hydrogen sulfide in quantities equal to or greater than the reportable quantity (RQ) of 100 pounds are subject to reporting
to the national Response Center under CERCLA, Section 304 SARA Title III.
SARA Title III – Hazard Classes:
Acute health Hazard
Sudden Release of Pressure Hazard
SARA Title III – Section 313 Supplier Notification:
This product contains the following toxic chemicals subject to the reporting requirements of section 313 of the Emergency Planning
and Community Right-To-Know Act (EPCRA) of 1986 and of 40 CFR 372:
CAS Number
7783-06-4
Ingredient Name
Hydrogen sulfide
Percent by Volume
≤2%
This information must be included on all MSDSs that are copied and distributed for this material.
California Proposition 65: This product does not contain ingredient(s) known to the State of California to cause cancer or
reproductive toxicity.
Other Information
Compressed gas cylinders must not be refilled without the express written permission of the owner. Shipment of a compressed gas
cylinder which has not been filled by the owner or with his/her (written) consent is a violation of transportation regulations.
Disclaimer of expressed and implied warranties:
Although reasonable care has been taken in the preparation of this document, we extend no warranties and make no representations as
to the accuracy or completeness of the information contained herein, and assume no responsibility regarding the suitability of this
information for the user's intended purposes or for the consequences of its use. Each individual should make a determination as to the
suitability of the information for their particular purpose(s).