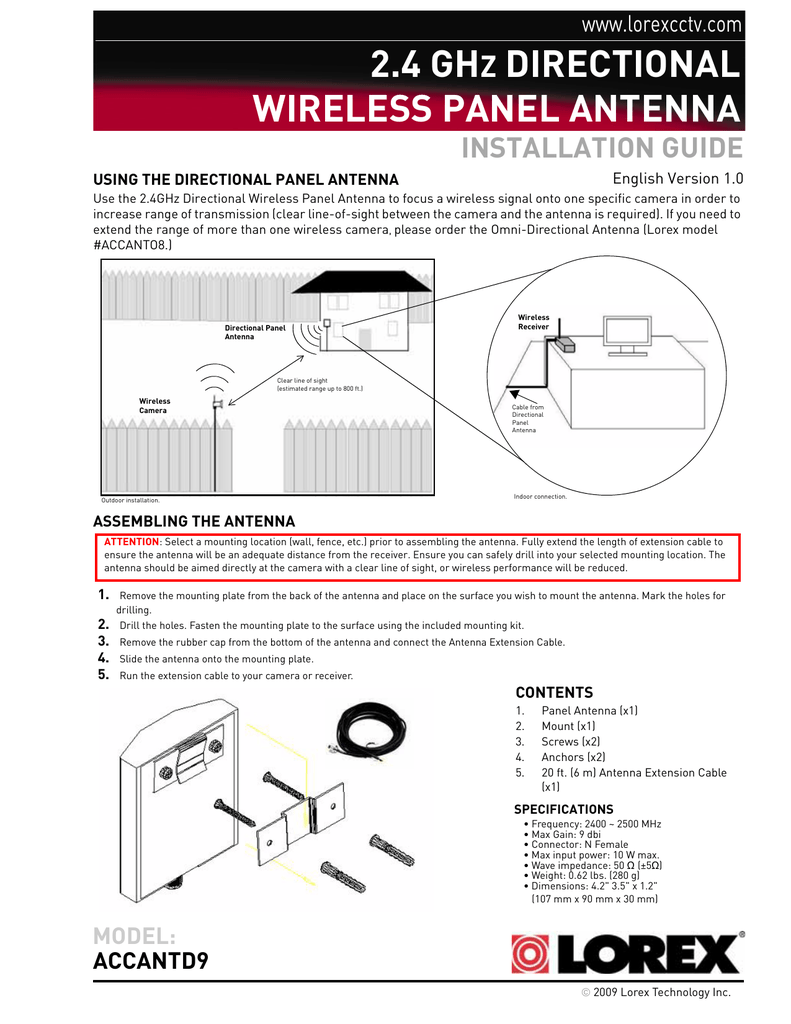 www.lorexcctv.com
2.4 GHZ DIRECTIONAL
WIRELESS PANEL ANTENNA
INSTALLATION GUIDE
English Version 1.0
USING THE DIRECTIONAL PANEL ANTENNA
Use the 2.4GHz Directional Wireless Panel Antenna to focus a wireless signal onto one specific camera in order to
increase range of transmission (clear line-of-sight between the camera and the antenna is required). If you need to
extend the range of more than one wireless camera, please order the Omni-Directional Antenna (Lorex model
#ACCANTO8.)
Directional Panel
Antenna
Wireless
Receiver
Clear line of sight
(estimated range up to 800 ft.)
Wireless
Camera
Outdoor installation.
Cable from
Directional
Panel
Antenna
Indoor connection.
ASSEMBLING THE ANTENNA
ATTENTION: Select a mounting location (wall, fence, etc.) prior to assembling the antenna. Fully extend the length of extension cable to
ensure the antenna will be an adequate distance from the receiver. Ensure you can safely drill into your selected mounting location. The
antenna should be aimed directly at the camera with a clear line of sight, or wireless performance will be reduced.
1.
2.
3.
4.
5.
Remove the mounting plate from the back of the antenna and place on the surface you wish to mount the antenna. Mark the holes for
drilling.
Drill the holes. Fasten the mounting plate to the surface using the included mounting kit.
Remove the rubber cap from the bottom of the antenna and connect the Antenna Extension Cable.
Slide the antenna onto the mounting plate.
Run the extension cable to your camera or receiver.
CONTENTS
1.
2.
3.
4.
5.
Panel Antenna (x1)
Mount (x1)
Screws (x2)
Anchors (x2)
20 ft. (6 m) Antenna Extension Cable
(x1)
SPECIFICATIONS
• Frequency: 2400 ~ 2500 MHz
• Max Gain: 9 dbi
• Connector: N Female
• Max input power: 10 W max.
• Wave impedance: 50 Ω (±5Ω)
• Weight: 0.62 lbs. (280 g)
• Dimensions: 4.2" 3.5" x 1.2"
(107 mm x 90 mm x 30 mm)
MODEL:
ACCANTD9
© 2009 Lorex Technology Inc.

* Your assessment is very important for improving the work of artificial intelligence, which forms the content of this project