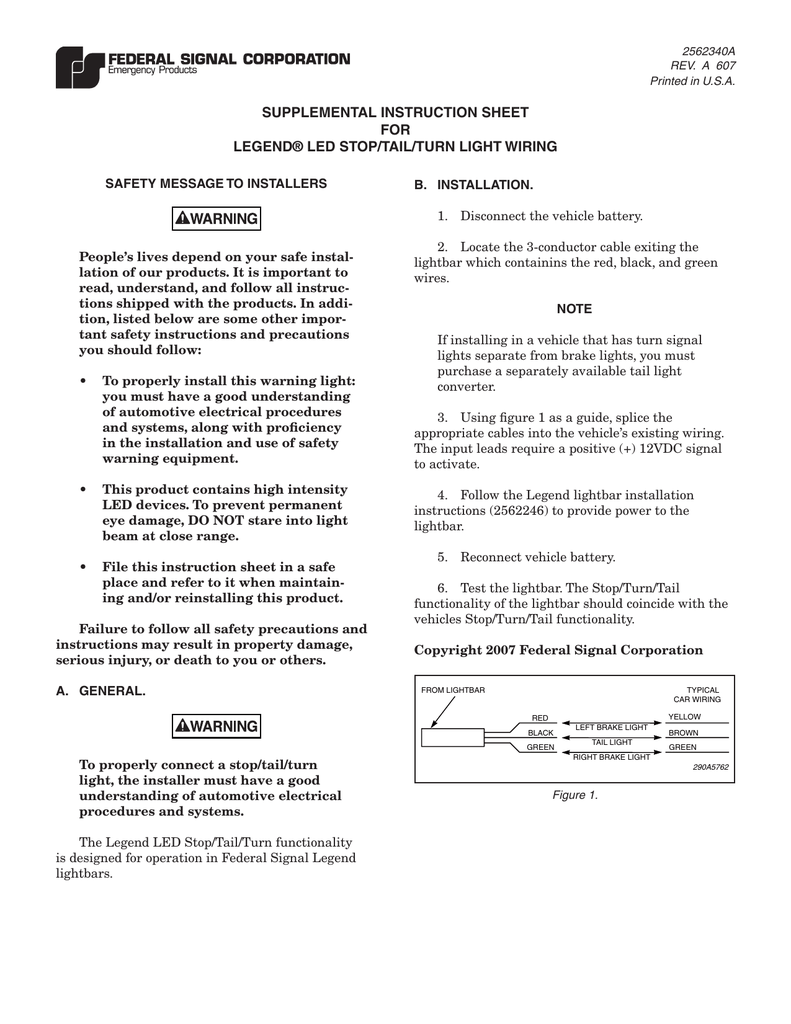 2562340A
REV. A 607
Printed in U.S.A.
SUPPLEMENTAL INSTRUCTION SHEET
FOR
LEGEND® LED STOP/TAIL/TURN LIGHT WIRING
SAFETY MESSAGE TO INSTALLERS
B. INSTALLATION.
People's lives depend on your safe installation of our products. It is important to
read, understand, and follow all instructions shipped with the products. In addition, listed below are some other important safety instructions and precautions
you should follow:
• To properly install this warning light:
you must have a good understanding
of automotive electrical procedures
and systems, along with proficiency
in the installation and use of safety
warning equipment.
• This product contains high intensity
LED devices. To prevent permanent
eye damage, DO NOT stare into light
beam at close range.
• File this instruction sheet in a safe
place and refer to it when maintaining and/or reinstalling this product.
Failure to follow all safety precautions and
instructions may result in property damage,
serious injury, or death to you or others.
A. GENERAL.
1. Disconnect the vehicle battery.
2. Locate the 3-conductor cable exiting the
lightbar which containins the red, black, and green
wires.
NOTE
If installing in a vehicle that has turn signal
lights separate from brake lights, you must
purchase a separately available tail light
converter.
3. Using figure 1 as a guide, splice the
appropriate cables into the vehicle's existing wiring.
The input leads require a positive (+) 12VDC signal
to activate.
4. Follow the Legend lightbar installation
instructions (2562246) to provide power to the
lightbar.
5. Reconnect vehicle battery.
6. Test the lightbar. The Stop/Turn/Tail
functionality of the lightbar should coincide with the
vehicles Stop/Turn/Tail functionality.
Copyright 2007 Federal Signal Corporation
FROM LIGHTBAR
TYPICAL
CAR WIRING
YELLOW
RED
BLACK
GREEN
To properly connect a stop/tail/turn
light, the installer must have a good
understanding of automotive electrical
procedures and systems.
The Legend LED Stop/Tail/Turn functionality
is designed for operation in Federal Signal Legend
lightbars.
LEFT BRAKE LIGHT
TAIL LIGHT
BROWN
GREEN
RIGHT BRAKE LIGHT
290A5762
Figure 1.

* Your assessment is very important for improving the work of artificial intelligence, which forms the content of this project