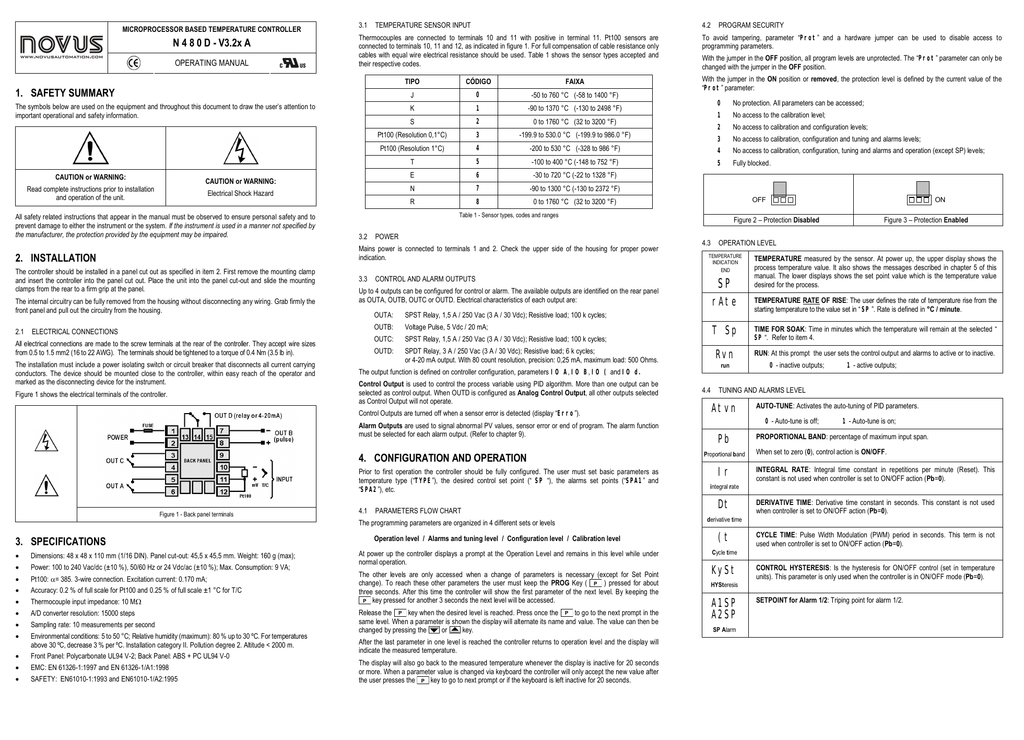 MICROPROCESSOR BASED TEMPERATURE CONTROLLER
N 4 8 0 D - V3.2x A
OPERATING MANUAL
3.1
TEMPERATURE SENSOR INPUT
4.2
Thermocouples are connected to terminals 10 and 11 with positive in terminal 11. Pt100 sensors are
connected to terminals 10, 11 and 12, as indicated in figure 1. For full compensation of cable resistance only
cables with equal wire electrical resistance should be used. Table 1 shows the sensor types accepted and
their respective codes.
TIPO
CÓDIGO
1. SAFETY SUMMARY
J
0
-50 to 760 °C (-58 to 1400 °F)
The symbols below are used on the equipment and throughout this document to draw the user's attention to
important operational and safety information.
K
1
-90 to 1370 °C (-130 to 2498 °F)
S
2
Pt100 (Resolution 0,1°C)
CAUTION or WARNING:
No protection. All parameters can be accessed;
0 to 1760 °C (32 to 3200 °F)
No access to the calibration level;
2
No access to calibration and configuration levels;
3
-199.9 to 530.0 °C (-199.9 to 986.0 °F)
3
No access to calibration, configuration and tuning and alarms levels;
Pt100 (Resolution 1°C)
4
-200 to 530 °C (-328 to 986 °F)
4
No access to calibration, configuration, tuning and alarms and operation (except SP) levels;
T
5
-100 to 400 °C (-148 to 752 °F)
5
Fully blocked.
E
6
-30 to 720 °C (-22 to 1328 °F)
N
7
-90 to 1300 °C (-130 to 2372 °F)
R
8
0 to 1760 °C (32 to 3200 °F)
3.2
2. INSTALLATION
Mains power is connected to terminals 1 and 2. Check the upper side of the housing for proper power
indication.
2.1
3.3
All electrical connections are made to the screw terminals at the rear of the controller. They accept wire sizes
from 0.5 to 1.5 mm2 (16 to 22 AWG). The terminals should be tightened to a torque of 0.4 Nm (3.5 lb in).
Figure 1 shows the electrical terminals of the controller.
OUTA:
SPST Relay, 1,5 A / 250 Vac (3 A / 30 Vdc); Resistive load; 100 k cycles;
OUTB:
Voltage Pulse, 5 Vdc / 20 mA;
OUTC:
SPST Relay, 1,5 A / 250 Vac (3 A / 30 Vdc); Resistive load; 100 k cycles;
OUTD:
SPDT Relay, 3 A / 250 Vac (3 A / 30 Vdc); Resistive load; 6 k cycles;
or 4-20 mA output. With 80 count resolution, precision: 0,25 mA, maximum load: 500 Ohms.
Control Output is used to control the process variable using PID algorithm. More than one output can be
selected as control output. When OUTD is configured as Analog Control Output, all other outputs selected
as Control Output will not operate.
4. CONFIGURATION AND OPERATION
Prior to first operation the controller should be fully configured. The user must set basic parameters as
temperature type ("TYPE "), the desired control set point (" SP "), the alarms set points ("SPA1 " and
"SPA2 "), etc.
4.1
PARAMETERS FLOW CHART
The programming parameters are organized in 4 different sets or levels

Dimensions: 48 x 48 x 110 mm (1/16 DIN). Panel cut-out: 45,5 x 45,5 mm. Weight: 160 g (max);

Power: 100 to 240 Vac/dc (±10 %), 50/60 Hz or 24 Vdc/ac (±10 %); Max. Consumption: 9 VA;


Pt100: = 385. 3-wire connection. Excitation current: 0.170 mA;
Accuracy: 0.2 % of full scale for Pt100 and 0.25 % of full scale ±1 °C for T/C


Thermocouple input impedance: 10 M
A/D converter resolution: 15000 steps

Sampling rate: 10 measurements per second


Environmental conditions: 5 to 50 °C; Relative humidity (maximum): 80 % up to 30 ºC. For temperatures
above 30 ºC, decrease 3 % per ºC. Installation category II. Pollution degree 2. Altitude < 2000 m.
Front Panel: Polycarbonate UL94 V-2; Back Panel: ABS + PC UL94 V-0

EMC: EN 61326-1:1997 and EN 61326-1/A1:1998

SAFETY: EN61010-1:1993 and EN61010-1/A2:1995
SP
Operation level / Alarms and tuning level / Configuration level / Calibration level
At power up the controller displays a prompt at the Operation Level and remains in this level while under
normal operation.
The other levels are only accessed when a change of parameters is necessary (except for Set Point
change). To reach these other parameters the user must keep the PROG Key ( P ) pressed for about
three seconds. After this time the controller will show the first parameter of the next level. By keeping the
P key pressed for another 3 seconds the next level will be accessed.
Release the P key when the desired level is reached. Press once the P to go to the next prompt in the
same level. When a parameter is shown the display will alternate its name and value. The value can then be
changed by pressing the
or
key.
After the last parameter in one level is reached the controller returns to operation level and the display will
indicate the measured temperature.
The display will also go back to the measured temperature whenever the display is inactive for 20 seconds
or more. When a parameter value is changed via keyboard the controller will only accept the new value after
the user presses the P key to go to next prompt or if the keyboard is left inactive for 20 seconds.
TEMPERATURE measured by the sensor. At power up, the upper display shows the
process temperature value. It also shows the messages described in chapter 5 of this
manual. The lower displays shows the set point value which is the temperature value
desired for the process.
rAte
TEMPERATURE RATE OF RISE: The user defines the rate of temperature rise from the
starting temperature to the value set in " SP ". Rate is defined in °C / minute.
T Sp
TIME FOR SOAK: Time in minutes which the temperature will remain at the selected "
SP ". Refer to item 4.
Rvn
RUN: At this prompt the user sets the control output and alarms to active or to inactive.
run
4.4
Figure 3 – Protection Enabled
OPERATION LEVEL
TEMPERATURE
INDICATION
END
The output function is defined on controller configuration, parameters IO A, IO B , IO ( and IO d.
Alarm Outputs are used to signal abnormal PV values, sensor error or end of program. The alarm function
must be selected for each alarm output. (Refer to chapter 9).
3. SPECIFICATIONS
4.3
CONTROL AND ALARM OUTPUTS
Control Outputs are turned off when a sensor error is detected (display "Erro ").
Figure 1 - Back panel terminals
Figure 2 – Protection Disabled
Up to 4 outputs can be configured for control or alarm. The available outputs are identified on the rear panel
as OUTA, OUTB, OUTC or OUTD. Electrical characteristics of each output are:
ELECTRICAL CONNECTIONS
The installation must include a power isolating switch or circuit breaker that disconnects all current carrying
conductors. The device should be mounted close to the controller, within easy reach of the operator and
marked as the disconnecting device for the instrument.
POWER
ON
OFF
Table 1 - Sensor types, codes and ranges
All safety related instructions that appear in the manual must be observed to ensure personal safety and to
prevent damage to either the instrument or the system. If the instrument is used in a manner not specified by
the manufacturer, the protection provided by the equipment may be impaired.
The internal circuitry can be fully removed from the housing without disconnecting any wiring. Grab firmly the
front panel and pull out the circuitry from the housing.
With the jumper in the ON position or removed, the protection level is defined by the current value of the
"Prot " parameter:
1
Electrical Shock Hazard
The controller should be installed in a panel cut out as specified in item 2. First remove the mounting clamp
and insert the controller into the panel cut out. Place the unit into the panel cut-out and slide the mounting
clamps from the rear to a firm grip at the panel.
With the jumper in the OFF position, all program levels are unprotected. The "Prot " parameter can only be
changed with the jumper in the OFF position.
0
CAUTION or WARNING:
Read complete instructions prior to installation
and operation of the unit.
FAIXA
PROGRAM SECURITY
To avoid tampering, parameter "Prot " and a hardware jumper can be used to disable access to
programming parameters.
0 - inactive outputs;
1 - active outputs;
TUNING AND ALARMS LEVEL
Atvn
AUTO-TUNE: Activates the auto-tuning of PID parameters.
0 - Auto-tune is off;
Pb
Proportional band
Ir
1 - Auto-tune is on;
PROPORTIONAL BAND: percentage of maximum input span.
When set to zero (0), control action is ON/OFF.
INTEGRAL RATE: Integral time constant in repetitions per minute (Reset). This
constant is not used when controller is set to ON/OFF action (Pb=0).
integral rate
Dt
DERIVATIVE TIME: Derivative time constant in seconds. This constant is not used
when controller is set to ON/OFF action (Pb=0).
derivative time
(t
CYCLE TIME: Pulse Width Modulation (PWM) period in seconds. This term is not
used when controller is set to ON/OFF action (Pb=0).
Cycle time
KySt
CONTROL HYSTERESIS: Is the hysteresis for ON/OFF control (set in temperature
units). This parameter is only used when the controller is in ON/OFF mode (Pb=0).
HYSteresis
A1SP
A2SP
SP Alarm
SETPOINT for Alarm 1/2: Triping point for alarm 1/2.
4.5
CONFIGURATION LEVEL
Type
tYPE
Vnit
unit
A(t
CONTROL ACTION:
OUTA FUNCTION:
OUTB FUNCTION:
Out B
Io (
OUTC FUNCTION:
Out C
Io d
OUTD FUNCTION:
Out D
spll
0 - OUTA is control output.
1 - OUTA is Alarm 1 output.
2 - OUTA is Alarm 2 output.
OFF Set
A1fv
A2fv
Ramp
Protection
4.6
Alarm ON
LOW
differential
Negative
SPA1
The recommended procedure is as follows:
 Program a new SP close to the desired final temperature other than the present measured temperature.
 Enable the auto tune at the "Atvn " prompt by selecting 1.
 Set 1 at the "rvn " prompt. The TUNE message will be signaled in the display.
During auto tune large oscillations will be induced around the set point. Make sure the process can accept
these oscillations. If auto tuning results are not satisfactory refer to table 3 for manual fine tuning procedure.
FUNCTION OF ALARM 1/2: Refer to table 2 for function description and respective
codes to set at this prompt.
Proportional
Band
Integral
Rate
ALARM 1 AND ALARM 2 HYSTERESIS: Defines the differential range between the
PV value at which the alarm is turned on and the value at which it is turned off.
Derivative
Time
PROGRAM SECURITY: Defines the level of parameters protection from tampering.
Refer the chapter 4.2.
CALIBRATION LEVEL
These parameters are used to calibrate the temperature measurement and should only be dealt with by
experienced and well equipped personnel.
Inl(
Input Low Calibration
InK(
Input High Calibration
(j L
Cold Junction Low
Calibration
Ovl(
output Low Calibration
OvK(
output High Calibration
SENSOR OFFSET CALIBRATION. Sets the temperature sensor low calibration
(offset). The display shows only the corrected temperature and not the offset
added. A signal simulator should be used to inject a low value signal to properly
adjust the offset.
INPUT HIGH CALIBRATION. Sets the sensor input circuit gain or high
calibration. A signal simulator should be used to inject a high value signal to
properly adjust the offset.
COLD JUNCTION OFFSET CALIBRATION: Sets the cold junction offset
calibration. A good thermometer or a temperature simulator should be used to
properly adjust this parameter.
OFFSET CALIBRATION OF ANALOG OUTPUT: Offset (zero) calibration of the
analog control output (4-20 mA).
GAIN CALIBRATION OF ANALOG OUTPUT: Gain (span) calibration of the
analog control output (4-20 mA).
Alarm ON
Positive
HIGH
differential
Negative
TEMPERATURE
SP
SP + SPA1
Alarm ON
SOLUTION
Slow Response
Decrease
Large Oscillation
Increase
Slow Response
Increase
Large Oscillation
Decrease
Slow Response or Instability
Decrease
Large Oscillation
Increase
Table 3 - Suggestions for manual tuning of PID parameters
SP + SPA1
SP
3
SPA1
Alarm
ON
Positive
SP
SPA1
TEMPERATURE
SP + SPA1
Alarm ON
TEMPERATURE
differential
or deviation
Negative
SP + SPA1
SP
SP - SPA1
SP
SP + SPA1
4
SPA1
Positive
RESPONSE
SP
TEMPERATURE
During auto tune the temperature is controlled in ON/OFF mode at the programmed Set Point (SV).
Depending on the process characteristics large oscillations above and below SV may occur and auto tuning
may take several minutes to be concluded.
PARAMETER
TEMPERATURE
SP + SPA1
SPA1
To disable the ramp function Set 0.0 at the "rAtE " prompt. To disable the soak function set 1 at the " t SP
" prompt (thus making a 1 minute soak) and the control output will go off in 1 minute. To restart control set 1
at the " rvn " prompt.
SENSOR OFFSET: Offset value to be added to the PV to compensate sensor error.
Default value: zero.
Alarm
ON
2
Time
6. PID AUTO TUNE
SET POINT HIGH LIMIT: Sets the upper range for SV.
TEMPERATURE
1
Figure 2 - Ramp to Soak Function
Alarm HYsteresis
Prot
Soak
0 - OUTC is control output.
1 - OUTC is Alarm 1 output.
2 - OUTC is Alarm 2 output.
SET POINT LOW LIMIT: sets the lower range for SV.
TEMPERATURE
SPA1
SPA1
Alarm 1 Function
Aiky
A2ky
0
SP
After a power failure the controller will resume ramp to soak execution at the equivalent previous ramp point.
If the process temperature is the same as the SP (no temperature drop) the controller will repeat the soak
segment.
0 - OUTD is control output.
1 - OUTD is Alarm 1 output.
2 - OUTD is Alarm 2 output.
3 - OUTD is Analog Control Output (4-20mA).
ACTION
Alarm ON
Ligado
SPA1
0 - OUTB is control output.
1 - OUTB is Alarm 1 output.
2 - OUTB is Alarm 2 output.
SP High Limit
0ffs
LOW
HIGH
Temperature
0 - reverse action. Generally used for heating.
1 - direct action. Generally used for cooling.
SP Low Limit
spKl
CODE
PV
Out A
Io b
TYPE
This function makes the process temperature rise gradually from the starting point (present PV) to the
temperature value set in " SP " (Ramp). The user defines the rate of rise in degrees per minute at the "rAtE "
prompt. When SP is reached the temperature is leveled at this point for 1 to 9999 minutes as programmed at the
" t SP " prompt. Setting 0 (zero) at " t SP " defines an infinite length soak profile.
TEMPERATURE UNIT: Selects display indication for degrees Celsius or Fahrenheit.
0 - degrees Celsius ( °C );
1 - degrees Fahrenheit ( °F );
ACtion
Io A
5. RAMP TO SOAK FUNCTION CHARACTERISTICS
INPUT TYPE: Selects the input sensor type to be connected to the controller. This is
the first parameter to be set.
0 - Thermocouple type J;
5 - Thermocouple type T;
1 - Thermocouple type K;
6 - Thermocouple type E;
2 – Thermocouple type S;
7 - Thermocouple type N;
3 - Pt100 with 0,1° resolution;
8 - Thermocouple type R;
4 - Pt100 with 1° resolution;
Alarm
ON
SP - SPA1
Alarm
ON
TEMPERATURE
Input sensor
error or
heater
break
detection
5
Alarm is ON whenever:
 Temperature is below/above selected range;
 Thermocouple or Pt100 is broken;
 Pt100 is shorted; badly connected or wire impedance is too high;
 The heater resistance is broken
End of
Program
6
Activated when the programmed soak time is run out. Refer to item 4 of this
manual.
7
Low limit alarm disabled at power-up
8
High limit alarm disabled at power-up
9
Differential low limit alarm disabled at power-up
10
Differential high limit alarm disabled at power-up
11
Differential alarm disabled at power-up
Alarm
Functions
With alarm
inhibition at
power-up
Table 2 - Alarm functions and their identification codes
8. PROBLEMS WITH THE CONTROLLER
Connection and configuration errors state for most of the problems in using the controller. A final revision of
parameters will save time and further losses.
Error messages are displayed to help the user to identify possible problems.
:
Process temperature is below the selected sensor range.
7. ALARM FUNCTIONS
:
Process temperature is above the selected sensor range
Low and high alarms are used to signal minimum and maximum temperature values as programmed in the
"SPA1 " and "SPA2 " prompts.
:
Controller or sensor error. Example: Broken thermocouple or Pt100, Pt100 badly
connected, short-circuited or high cable resistance.
Differential alarms are used to indicate deviations from the desired set point (SP) temperature. These
deviations are programmed at the "SPA1 " and "SPA2 " prompts. Error alarm shows sensor defects or not
properly connected. Table 2 shows each alarm function operation with their respective code. Alarm 1 is used
as an example.
7.1
ALARM INITIAL BLOCKING
The initial blocking option inhibits the alarm from being recognized if an alarm condition is present when the
controller is first energized. The alarm will actuate only after the occurrence of a non alarm condition
followed by a new occurrence for the alarm.
5.1 GETTING THE INSTRUMENT SERIAL NUMBER
Upon power-on, the controller displays its firmware version for 3 seconds. The serial number is accessed
when the controller is powered while holding the key
pressed.
9. PRODUCT IDENTIFICATION
The label attached to the controller case identifies the model and the optional present in the product, as
described below:
MODEL: N480D – A – B, where:
A: Outputs:
RP (OUT A = Relay,
RPR (OUT A = Relay,
RRR (OUT A = Relay,
RAR (OUT A = Relay,
OUT B = Pulse)
OUT B = Pulse,
OUT C = Relay,
OUT C = Relay,
OUT D = Relay)
OUT D = Relay);
OUT D = 4-20 mA )
B. Voltage rating: blank (100-240 Vac/dc) or 24V (24 Vac/dc);
10. TECHNICAL ASSISTANCE
If you encounter a problem with your controller, review the configuration with regard to inputs, outputs,
alarms, etc. If the problem persists, contact your supplier or Novus at info@novus.com.br.