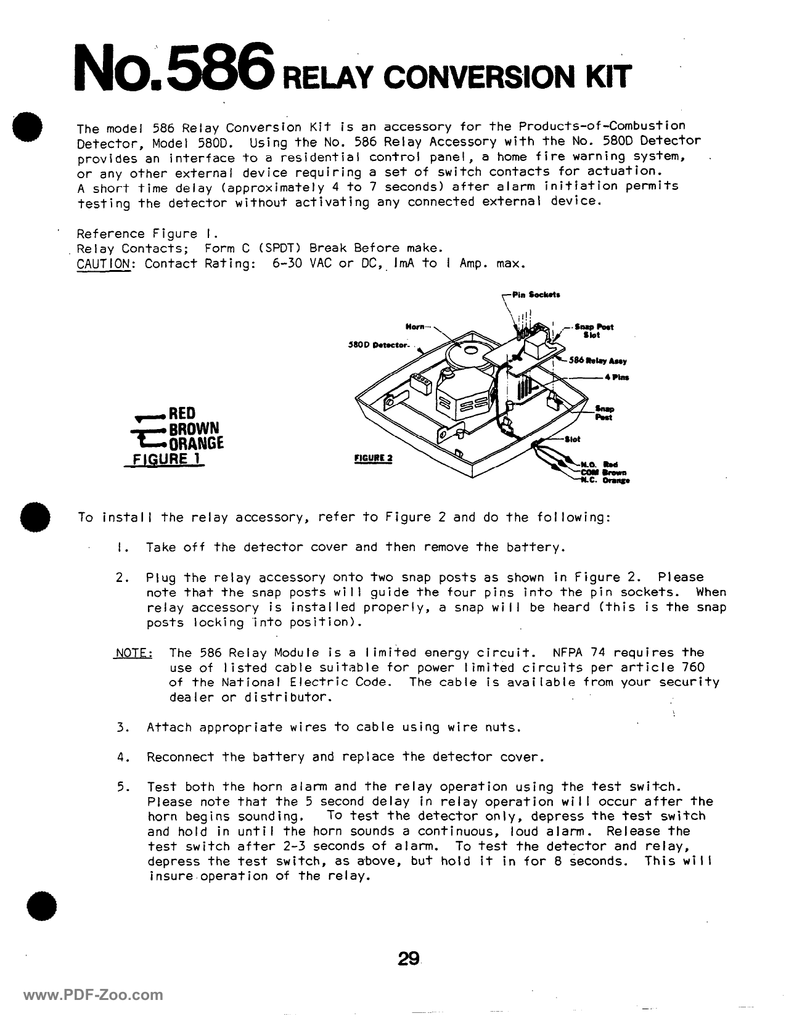 No.586
RELAY CONVERSION KIT
The model 586 Relay Conversion
Kit is an accessory
for the Products-of-Combustion
Using the No. 586 Relay Accessory
with the No. 5800 Detector
Detector,
Model 580D.
provides
an interface
to a residential
control
panel,
a home fire
warning
system,
or any other
external
device
requiring
a set of switch
contacts
for actuation.
A short
time delay
(approximately
4 to 7 seconds)
after
alarm
initiation
permits
testing
the detector
without
activating
any connected
external
device.
Reference
Figure
Relay Contacts;
CAUTION: Contact
F
I.
Form C (SPOT) Break Before
make.
Rating:
6-30 VAC or DC,. ImA to I Amp. max.
RED
BROWN
ORANGE
t
FIGURE
To insta
.
I I the
1
relay
accessory,
detector
cover
to
Figure
and then
2 and do the
remove
the
following:
I.
Take off
2.
Plug the relay
accessory
onto two snap posts as shown in Figure
2.
PI ease
note that the snap posts will
guide the four pins into the pin sockets.
When
relay
accessory
is installed
properly,
a snap will
be heard (this
is the snap
posts
locking
'into position).
NOTE:
the
refer
battery.
The 586 Relay Module is a limited
energy circuit.
NFPA 74 requires
the
use of listed
cable suitable
for power limited
circuits
per article
760
of the National
Electric
Code.
The cable
is available
from your security
dealer
or distributor.
3.
Attach
appropriate
4.
Reconnect
5.
Test both the horn alarm and the relay
operation
using the test
switch.
Please
note that
the 5 second delay
in relay
operation
will
occur after
the
horn begins
sounding.
TO test
the detector
only,
depress
the test
switch
and hold in until
the horn sounds a continuous,
loud alarm.
Release
the
test
switch
after
2-3 seconds of alarm.
To test
the detector
and relay,
depress
the test
switch,
as above,
but hold it in for 8 seconds.
This will
insure.operation
of the relay.
the
battery
wires
to
cable
and replace
using
the
29
www.PDF-Zoo.com
wire
detector
nuts.
cover.

* Your assessment is very important for improving the work of artificial intelligence, which forms the content of this project