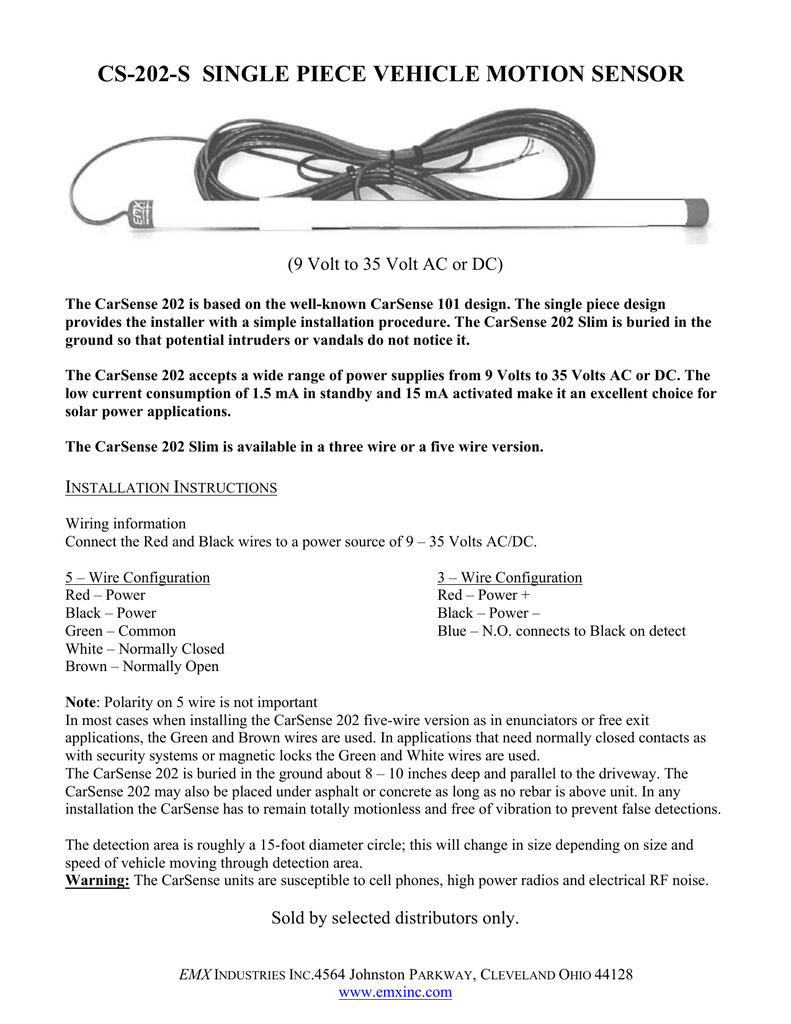 CS-202-S SINGLE PIECE VEHICLE MOTION SENSOR
(9 Volt to 35 Volt AC or DC)
The CarSense 202 is based on the well-known CarSense 101 design. The single piece design
provides the installer with a simple installation procedure. The CarSense 202 Slim is buried in the
ground so that potential intruders or vandals do not notice it.
The CarSense 202 accepts a wide range of power supplies from 9 Volts to 35 Volts AC or DC. The
low current consumption of 1.5 mA in standby and 15 mA activated make it an excellent choice for
solar power applications.
The CarSense 202 Slim is available in a three wire or a five wire version.
INSTALLATION INSTRUCTIONS
Wiring information
Connect the Red and Black wires to a power source of 9 – 35 Volts AC/DC.
5 – Wire Configuration
Red – Power
Black – Power
Green – Common
White – Normally Closed
Brown – Normally Open
3 – Wire Configuration
Red – Power +
Black – Power –
Blue – N.O. connects to Black on detect
Note: Polarity on 5 wire is not important
In most cases when installing the CarSense 202 five-wire version as in enunciators or free exit
applications, the Green and Brown wires are used. In applications that need normally closed contacts as
with security systems or magnetic locks the Green and White wires are used.
The CarSense 202 is buried in the ground about 8 – 10 inches deep and parallel to the driveway. The
CarSense 202 may also be placed under asphalt or concrete as long as no rebar is above unit. In any
installation the CarSense has to remain totally motionless and free of vibration to prevent false detections.
The detection area is roughly a 15-foot diameter circle; this will change in size depending on size and
speed of vehicle moving through detection area.
Warning: The CarSense units are susceptible to cell phones, high power radios and electrical RF noise.
Sold by selected distributors only.
EMX INDUSTRIES INC.4564 Johnston PARKWAY, CLEVELAND OHIO 44128
www.emxinc.com
Application Note 050701
CARSENSE 101 and CARSENSE 202
Update Points
1.
2.
3.
4.
CarSense is now IMMUNE to cell phone and other RF noise.
CarSense can be used at high sensitivity applications.
CarSense is 15% to 30% more sensitive than the competition.
Important ! Test CarSense with a slow moving ferrous metal target.
EMX Industries, Inc. is committed to providing the highest quality and most reliable
products to our customers. We appreciate your business and your feedback regarding our
products. This notice is to inform you that we have recently introduced a product
enhancement in our CarSense 101 and CarSense 202 product lines based on customer
feedback.
The Problem.
Since magnetic probes used as motion sensors are highly sensitive to small fluctuations in
the probe's field, these types of probes have been vulnerable to interference from various
RF sources such as cell phones, variable speed drives and vibration.
The Solution.
After extensive testing of CarSense probes we have decided to implement a change to
virtually eliminate response to spurious noise signals from RF and cell phone
interference.
This enhancement eliminates the CarSense probe response to changes in the magnetic
field that do not resemble the magnetic signature of a moving vehicle. As a result, fieldtesting of the CarSense probe may be more difficult then simply quickly waving a tool
over it. We recommend a slower, continuous movement from one end to the other in a
complete sweep, mimicking the change in the magnetic field produced by a vehicle. The
best test is to lay down the CarSense probe on location and drive a vehicle by the probe.
Important! This enhancement does not affect the sensitivity, range or response time of
CarSense probes. In fact, this improvement allows the sensitivity to be increased without
worry of false detection due to spurious RF interference.
Comparison with Competition
Since we have invested the time and effort to extensively test our CarSense products, we
included several of our competitor's products along side of ours in these tests. As a
result, we've found that our CarSense probes provide 15% to 30% additional range in
comparison to these other products.
Please feel free to contact us at 1-800-426-9912 or [email protected] if you have
any questions or comments regarding our products.

* Your assessment is very important for improving the work of artificial intelligence, which forms the content of this project