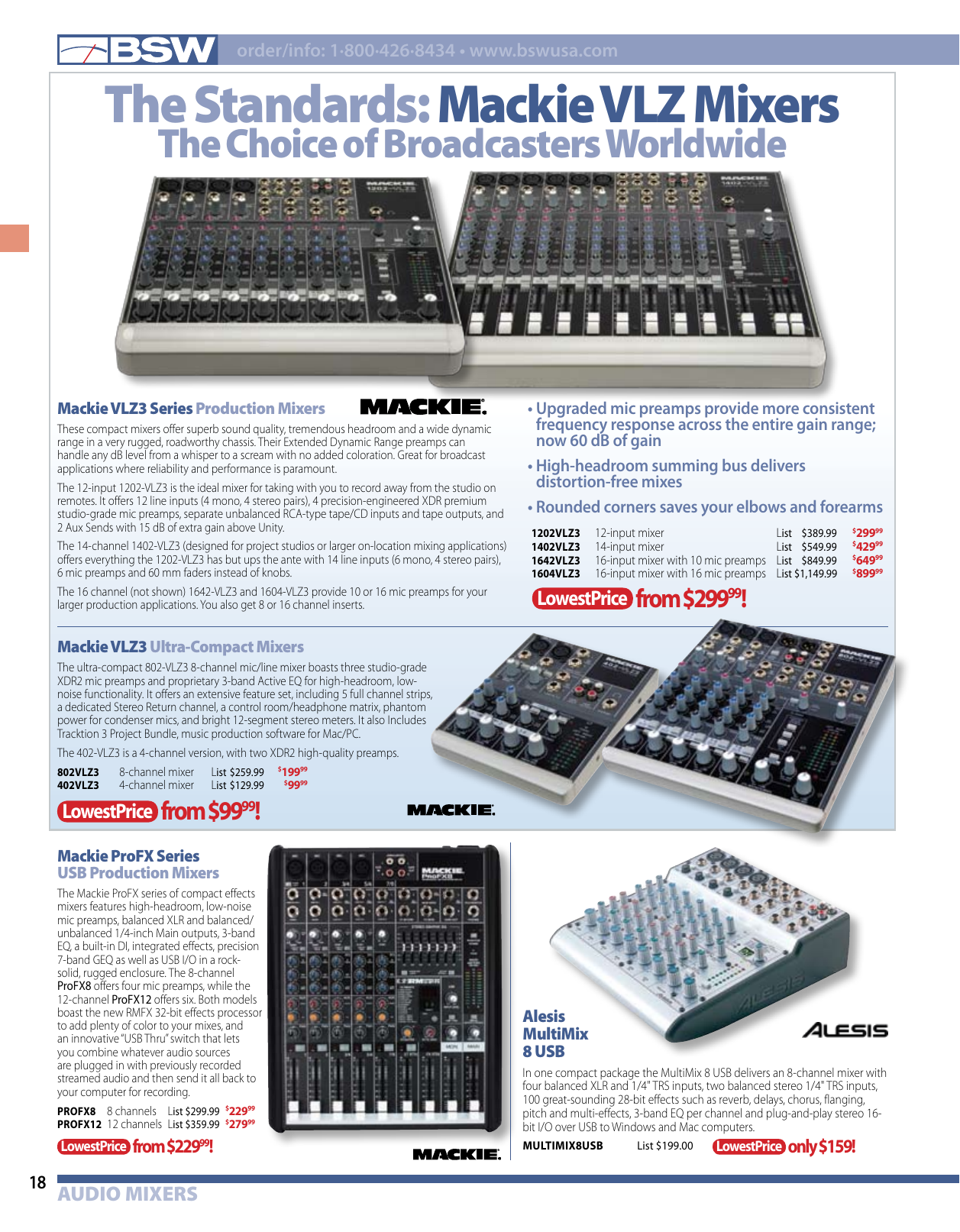 order/info: 1·800·426·8434 • www.bswusa.com
The Standards: Mackie VLZ Mixers
The Choice of Broadcasters Worldwide
Mackie VLZ3 Series Production Mixers
These compact mixers offer superb sound quality, tremendous headroom and a wide dynamic
range in a very rugged, roadworthy chassis. Their Extended Dynamic Range preamps can
handle any dB level from a whisper to a scream with no added coloration. Great for broadcast
applications where reliability and performance is paramount.
The 12-input 1202-VLZ3 is the ideal mixer for taking with you to record away from the studio on
remotes. It offers 12 line inputs (4 mono, 4 stereo pairs), 4 precision-engineered XDR premium
studio-grade mic preamps, separate unbalanced RCA-type tape/CD inputs and tape outputs, and
2 Aux Sends with 15 dB of extra gain above Unity.
The 14-channel 1402-VLZ3 (designed for project studios or larger on-location mixing applications)
offers everything the 1202-VLZ3 has but ups the ante with 14 line inputs (6 mono, 4 stereo pairs),
6 mic preamps and 60 mm faders instead of knobs.
The 16 channel (not shown) 1642-VLZ3 and 1604-VLZ3 provide 10 or 16 mic preamps for your
larger production applications. You also get 8 or 16 channel inserts.
• Upgraded mic preamps provide more consistent
frequency response across the entire gain range;
now 60 dB of gain
• High-headroom summing bus delivers
distortion-free mixes
• Rounded corners saves your elbows and forearms
1202VLZ3
1402VLZ3
1642VLZ3
1604VLZ3
12-input mixer
14-input mixer 16-input mixer with 10 mic preamps
16-input mixer with 16 mic preamps
LowestPrice
List $389.99
List $549.99
List $849.99
List $1,149.99
29999
42999
$
64999
$
89999
$
$
from $29999!
Mackie VLZ3 Ultra-Compact Mixers
The ultra-compact 802-VLZ3 8-channel mic/line mixer boasts three studio-grade
XDR2 mic preamps and proprietary 3-band Active EQ for high-headroom, lownoise functionality. It offers an extensive feature set, including 5 full channel strips,
a dedicated Stereo Return channel, a control room/headphone matrix, phantom
power for condenser mics, and bright 12-segment stereo meters. It also Includes
Tracktion 3 Project Bundle, music production software for Mac/PC.
The 402-VLZ3 is a 4-channel version, with two XDR2 high-quality preamps.
802VLZ3
8-channel mixer List $259.99 $19999
402VLZ3
4-channel mixer List $129.99 $9999
LowestPrice
from $9999!
Mackie ProFX Series
USB Production Mixers
The Mackie ProFX series of compact effects
mixers features high-headroom, low-noise
mic preamps, balanced XLR and balanced/
unbalanced 1/4-inch Main outputs, 3-band
EQ, a built-in DI, integrated effects, precision
7-band GEQ as well as USB I/O in a rocksolid, rugged enclosure. The 8-channel
ProFX8 offers four mic preamps, while the
12-channel ProFX12 offers six. Both models
boast the new RMFX 32-bit effects processor
to add plenty of color to your mixes, and
an innovative "USB Thru" switch that lets
you combine whatever audio sources
are plugged in with previously recorded
streamed audio and then send it all back to
your computer for recording.
PROFX8 8 channels List $299.99 $22999
PROFX12 12 channels List $359.99 $27999
LowestPrice
18
from $22999!
AUDIO MIXERS
Alesis
MultiMix
8 USB
In one compact package the MultiMix 8 USB delivers an 8-channel mixer with
four balanced XLR and 1/4" TRS inputs, two balanced stereo 1/4" TRS inputs,
100 great-sounding 28-bit effects such as reverb, delays, chorus, flanging,
pitch and multi-effects, 3-band EQ per channel and plug-and-play stereo 16bit I/O over USB to Windows and Mac computers.
MULTIMIX8USB List $199.00
LowestPrice
only $159!
order/info: 1·800·426·8434 • www.bswusa.com
Mackie Onyx-i Series Premium Analog Recording Mixers
The new Onyx-i series of premium recording mixers adds a FireWire interface to the simplicity and
versatility of the world's most popular compact mixer series! Qualified by Mackie for use with Pro Tools®
M-Powered™ 8 (requires $49.99 downloadable driver upgrade at www.mackie.com), and compatible
with all other major recording software, these mixers offer a new world of options. In addition to an
ultra-high quality 24-bit/96kHz FireWire recording interface, Onyx-i mixers boast professional analog
features like boutique-quality Onyx mic preamps, classic "British-style" Perkins EQ and pre/post assignable
aux sends, all of which can be flexibly routed via integrated FireWire.
ONYX820I
ONYX1220I
ONYX1620I
ONYX1640I
Features:
• Improved summing bus for higher headroom and lower noise floor
• Qualified by Mackie for use with Pro Tools® M-Powered™ 8 (via $49.99 downloadable
driver upgrade at www.mackie.com); compatible with all other major DAWs
• Talkback section with built-in mic and flexible routing
LowestPrice
List $649.99
List $899.99
List $1,299.99
List $2,199.99
$49999
$69999
$99999
$1,69999
from $49999!
Alesis MultiMix 8 USB 2.0
USB Mixer
The new 8-channel MultiMix 8 USB 2.0
mixer features USB 2.0 technology for ultrafast, low-latency, 24-bit/44.1-96kHz multichannel audio recording straight to your
computer. Designed with low-noise analog
electronics, it provides four high-quality mic
preamps and it gives you 100 high-quality
28-bit digital preset effects, including
reverbs, delays, chorus, flanging, pitch and
multi-effects. It also boasts 3-band EQ per
channel, switchable 75Hz high pass filters
and plenty of I/O options.
MULTIMIX8USB2.0
LowestPrice
List $499.00
only $329!
Tascam 16-Channel
Production Mixers
These 16-channel mixers feature six
TASCAM XLR mic inputs with
phantom power and 3-band EQ with
high-pass filters, plus five stereo line
inputs. Several channels add EQ and
RIAA phono preamps. Each boast two
output busses (main and sub) as well
as a pair of aux sends for monitors
and effects.
The M-164 is a standard 16-channel
audio mixer. The M-164FX adds a
stereo effects processor with 16
programs of reverb, delay, chorus and other great-sounding effects. Step up to the
M-164UF for a 16x2 audio interface that works over USB 2.0. The interface built into
the M-164UF has the highest channel count of any mixer, allowing all 16 inputs to be
recorded to their own track in your computer software.
M164
16-channel mixer
List $399.99 $29999
M164FX Mixer w/ built-in effects List $469.99 $34999
M164UF Mixer w/ effects & USB 2.0 List $699.99 $49999
LowestPrice
from $29999!
SKB19P12U
Rugged Mixer ATA Flight Cases by SKB
BSW carries a full line of SKB mixer cases. Built to tough ATA flight case specifications,
they fit almost any mixer and are available in a variety of sizes, from small pop-up
rackmount and Velcro workshelf cases to larger mixer safes with interior "corner cleats"
to secure different size mixers. See dimensions below to find the right case or call your
BSW sales rep.
SKB1615
SKB1714
SKB19P12U
SKB2219P
SKB3026
SKB3331
SKB3423
SKB4031
LowestPrice
Max. interior dimensions 14.75 x 13.75 x 6"
Max. int. dim. 16.25 x 14.5 x 5.5"
Pop-up rackmount case - 12U space/5" deep
Pop-up w/shelf - max. dim. 19 x 12 x 6.75"
Max. int. dim. 30 x 26.5 x 8" Max. int. dim. 33.25 x 31.25 x 8"
Max. int. dim. 34.625 x 22.625 x 8"
Max. int. dim. 40.25 x 31.25 x 8" List $259.99
List $299.99
List $404.99
List $354.99
List $539.99
List $589.99
List $614.99
List $664.99
15499
17999
$
24499
$
20999
$
32499
$
35499
$
36999
$
39999
$
$
from $15499!
5-Pack of 25 ft. XLR Cables
Incredible 5-pack value! Low-loss 25' cables with
Neutrik XLR connectors. Also available in 10' & 5' packs.
SMM25PKG 25 ft. cables List $119.95 $4699
SMM10PK 10 ft. cables List $77.45 $2999
SMM5PK 5 ft. cables List $62.45 $2399 LowestPrice
(5) 25ft. only $4699!
AUDIO MIXERS
19
order/info: 1·800·426·8434 • www.bswusa.com
Built For Broadcast Audio:
6 Allen & Heath Mic Pre's,
4 Stereo Input Channels…
• Pristine preamps with huge headroom
• All input channels feature 100mm long-throw faders
for smooth control
• USB audio port for direct-to-computer applications
• Rugged metal chassis withstands remote-van abuse
ZED14
Allen & Heath Zed 14 USB Mixer
Precision
100mm Faders
These ZED mixers are
professionally built
for rugged touring
and studio use, with
independent circuit
boards on each channel
and long 100 mm faders
for easier control.
Allen & Heath's versatile ZED 14 USB mixer excels at recording, live sound or studio production. It
features six mono mic/line inputs (on XLR and 1/4" TRS) and four stereo inputs, 10 independent
outputs, 4 aux sends, a USB send & return for PC or Mac recording, dual stereo input capability and
advanced monitoring facilities. Its specially designed DuoPre mic preamps deliver uncolored, distortionfree sound with loads of headroom. A responsive 3-band, swept mid-frequency EQ lets you tweak the
sound of individual instruments. HF and LF also boast Xtra Boost, to make these frequencies even more
responsive. Its USB connectivity makes it a natural for today's studio requirements, and it comes with
Cakewalk's Sonar LE music creation/audio production software.
The new larger ZED 24 is similar to the ZED 14, but provides 16 mono mic/line inputs.
$
ZED14 14-input mixer List $499.00
39900
$
LowestPrice
69900
ZED24 24-input mixer List $799.00
Mix & Record Directly
To Your iPod
iPods shown
not included.
iMultimix16USB
Alesis iMultimix
USB Mixers
The iMultiMix 16 USB is a sturdy, compact allin-one tabletop mixer and recorder that offers
eight studio-grade mic inputs with pre's, 48 volt
phantom power, 100 studio grade
28-bit digital effects, a built-in limiter to avoid
distorted recordings and an integrated iPod dock
with control wheel transport controls for fast, easy
direct-to-iPod recording. With its integrated iPod control and
recording capability, it represents the first 16-channel mixer to fuse
together professional quality mixing, 3-band per channel EQ, guitar/
line inputs and iPod recording in a single, intuitive package. For ultra-clean
live recordings of nearly any performance, the iMultiMix 16 USB is an ideal
iMultimix8USB
solution. Use the convenient transfer to iTunes feature to move your recordings
to a computer with Mac OSX or Windows XP/Vista without need for a special driver or
complicated set-up. All channels are recorded down to CD Quality stereo 44.1 or 48kHz. It can
also playback music from, and mix your live performance instantly with, your iPod. You can
use your iPod as a backing track for solo or band performances, while mixing sound sources
all in one compact, convenient place. It comes with Steinberg Cubase LE recording and
production software so you can start creating immediately.
Also available is the iMultimix8USB which offers four mic inputs and 8 channels.
IMULTIMIX8USB
List $499.00 $29900
IMULTIMIX16USB List $799.00 $59900
LowestPrice from $299!
20
AUDIO MIXERS
from $399!
Allen & Heath
MixWizard
Mixers
For years, Allen
& Heath has
supplied thousands
of MixWizards
for hundreds of
applications, all of
which have four
requirements in
common­—great
sound, high quality,
ease of use, and
lots of really useful
features! Now the
WZ3-14-4
third generation of MixWizard, with a preamp design, tailored
EQ frequencies, an extra mono output on fader, and several routing changes
make your recording life even easier. The WZ3-12-2 is a 10-channel mixer
with 8 XLR and 1/4" balanced inputs, and 2 stereo pair inputs. The WZ3-144-2 is a 4-bus, 12-channel mixer with additional matrix mixing outputs. The
WZ3-16-2 is a straightforward 2-bus, 16-channel mixer with mic/line inputs.
Go to our website more details on these cool tools.
$
WZ3-12-2 List $1,099.00
89900
WZ3-14-4 List $1,549.00 $1,34900
$
99900
WZ3-16-2 List $1,199.00
LowestPrice from $899!
Alesis MultiMix 4 USB
4-Channel USB Mixer
MultiMix 4 USB is a 4-channel
desktop mixer with a built-in
USB digital audio interface
for easy computer recording. It
offers four input channels, all of which
can accept a 1/4" line input. You can plug
XLR microphones into channels one and two,
including condensers thanks to the mixer's
switchable 48V-phantom power supply. You can
also plug a guitar or bass directly into channel
one's switchable high-impedance input.
MULTIMIX4USB List $129.00
LowestPrice
only $79!
order/info: 1·800·426·8434 • www.bswusa.com
Powerful Flexibility:
In Every Yamaha Mixer
Yamaha MG Series Mixers (some with USB Interface)
These compact analog mixers deliver superb sonic quality and maximum dependability. They feature
high quality mic preamps, an innovative one-knob compressor and plenty of I/O flexibility. Available in
models that can handle from 8 to 20 input sources while offering top-quality special effects in the
CX models, handy computer connectivity in the USB models, the MG series will take your mixing to
ever higher levels. Call BSW for the right mixer for your application.
The MG82CX gives you 8 input channels and offers a versatile digital multi-effect processor with reverb,
delay, modulation and distortion programs. The MG102C has an additional stereo channel for a total of
10 input channels but gives up the special effects circuit. Both models feature 2 built-in compressors, 3
busses and a bright 7-segment LED meter.
The MG124CX (with multi-effect processor) and the MG124C (without) both offer a total of 12 input
channels plus 4 compressors. In addition to the main stereo bus they both have a stereo group bus and
outputs that can be used for convenient channel grouping. All input channels boast illuminated channel
ON switches (the effect channel on the MG124CX also has its own ON switch). Both units sport an easyto-read 12-segment LED meter.
The MG166C (no-frills), MG166CX (with special effects), MG166C-USB (USB-connection) and MG166CXUSB (special effects plus USB) each offer a total of 16 input channels, 6 compressors, 6 busses, illuminated
Channel ON switches and a vivid 12-segment LED meter. The MG166C-USB and the MG166CX-USB also
come with Cubase AI4, a special compact version of Steinberg's famed music production system.
The MG206C and MG206C-USB both give you 20 input channels, 8 compressors, 6 busses, illuminated
Channel ON switches and a 12-segment LED meter. Besides offering the flexibility of USB, the MG206CUSB includes Cubase AI4 software for advanced music production.
MG82CX-CA List $209.00 $15999
MG166CX List $549.00 $42999
MG166C-USB List $579.00 $44999
MG102C-CA List $129.00 $9999
MG124C-CA List $299.00 $23999
MG166CX-USB List $659.00 $49999
MG124CX-CA List $369.00 $28999
MG206C List $829.00 $63999
MG166C
List $489.00 $37999
MG206C-USB
List $899.00 $67999
LowestPrice
from $9999!
MG166C-USB
SERIES FEATURES:
• High-performance mic preamps with switchable phantom power
• Wide gain trim ranges
• Built-in channel compressors
• Neutrik XLR, phone jack, pin jack connectors
• 3-Band channel EQ and high-pass filter
• Stereo, Control Room, monitor and headphone outputs
• Extensive SEND controls.
Behringer Production Mixers with USB Interface
Behringer's mid-size analog mixer series features a USB interface for direct plug-and-play
connectivity to your Windows or Mac computer — perfect if you're using computer recording and
editing software to craft your audio and burn CDs, etc. These mixers sport the acclaimed Xenyx
mic preamp, which matches the sound quality, transparency, headroom and dynamic range of
boutique-styled, standalone mic preamps. Featuring neo-classic "British" 3-band EQ, these mixers
provide the warmth and musicality of those '60s and '70s mega-console desks in an ultra low-noise
design. Each mixer has multi-functional stereo Aux Returns for routing flexibility, with the FX models
boasting a 24-bit effects processor offering reverb, chorus, flanger, delay, pitch shifter and various
multi-effects. Some mixers, such as the XENYX-1823FX have additional features like 9-band stereo
graphic EQ or feedback detection system. Go online for details on each mixer.
Features:
• Balanced main mix outputs with XLR connectors plus separate control room,
headphones and stereo tape outs
• Control room/phones outputs with multi-input source matrix; tape inputs
assignable to main mix or control room out
• Rackmount brackets included for ultimate flexibility
XENYX-1204
XENYX-1204FX
XENYX-1622FX
XENYX-1832FX
XENYX-2222FX
XENYX-2442FX
2/2-bus, 12 inputs, 4 mic pres, without effects
2/2-bus, 12 inputs, 4 mic pres, with effects 2/2-bus, 16 inputs, 4 mic pres, with effects
3/2-bus, 18 inputs, 6 mic pres, with effects 2/2-bus, 22 inputs, 8 mic pres, with effects 4/2-bus, 24 inputs, 10 mic pres, with effects
List $189.99
List $269.99
List $319.99
List $409.99
List $439.99
List $519.99
12999
17999
$
21999
$
27999
$
29999
$
34999
$
$
XENYX-1622FX
XENYX-1204FX
LowestPrice
from $12999!
Behringer Compact Mixers
Behringer's compact 2-bus mixers boast the Xenyx mic preamp, which matches
the sound quality, headroom and dynamic range of boutique-styled, standalone
mic pres. You also get 2- or 3-band EQ, depending on the mixer. Each mixer has
assignable CD/tape inputs for routing flexibility, while the XENYX-1002FX and
XENYX-1202FX mixers incorporate a 24-bit special effects processor, giving you
100 effect presets. All mixers provide 48-volt phantom power except for the XENYX-502.
Ace Gear Bags
XENYX-802
XENYX-502 1 mic preamp, 2-band EQ, 5 inputs and main mix, stereo CD/tape, plus headphone output XENYX-802 2 mic preamps, 2-band EQ, 8 inputs, and an FX Send control for each channel XENYX-1002 2 mic preamps, 3-band EQ, 10 inputs, and an FX Send control for each channel XENYX-1002FX2 mic preamps, 3-band EQ, 24-bit FX processor, 10 inputs, and an FX Send control for each channel
XENYX-1202 4 mic preamps, 3-band EQ, 12 inputs and an FX Send control for each channel
XENYX-1202FX 4 mic preamps, 3-band EQ, 24-bit FX processor, 12 inputs and an FX Send control for each channel
List $64.99
List $89.99
List $99.99
List $129.99
List $119.99
List $149.99
LowestPrice
4499
5999
$
6999
$
8999
$
7999
$
9999
$
$
from $4499!
These padded nylon
bags each boast a
main compartment,
a separate accessory
compartment,
carrying handle and
adjustable shoulder strap.
KEB2022
KEB2032
KEB2033
KEB2034
KEB2022
12.75 x 11.25 x 3" $3700
$
4295
17 x 14 x 5" 23 x 11 x 5"
$4495
$
20 x 19 x 6" 5195
LowestPrice
from $37!
®
AUDIO MIXERS
21
order/info: 1·800·426·8434 • www.bswusa.com
Professional Podcasting Packages from BSW
Podcast
Starter
Do Podcasting right
with professional audio
hardware from BSW!
Our years of experience
in the broadcast
industry mean we
know what it takes to
capture audio and get
it out to your listeners
quickly and affordably.
As seen in the book Podcast
Solutions: The Complete Guide to Podcasting, the
Podcast Solutions Starter Package sets you up with all the hardware you need for
great-sounding Podcasts without you laying out a lot of cash. And if you then need
software, just go to www.bswusa.com.
The Podcast Solutions Starter Package starts with Audio-Technica's AT2020 studio
mic, delivering professional sound at an entry-level price. The Alesis MultiMix8 USB is
a quality small mixer with built-in USB output, allowing you to connect straight into
your computer. You also get an On-Stage Stands DS7200B desk mic stand, ProCo 5 ft.
mic cable, and the 272-page Podcast Solutions how-to book.
PODCAST-STARTER
List: $426.75
LowestPrice
only $249!
Podcast Veteran
Looking for a higher quality, more polished sound for your Podcast? The Podcast
Veteran hardware package includes an Audio-Technica AT2035 studio microphone for
exceptional vocal capture, a Yamaha MG82CX-CA portable mixer with built-in effects,
the dbx 266XL compressor for professional dynamics control, the Cakewalk UA-1G USB
audio interface, along with an On-Stage Stands DS7200B desk mic stand, cables, and the
272-page The Complete Guide to Podcasting Podcast Solutions book.
The AT2035 large diaphragm side-address cardioid condenser mic offers exceptional
detail and low noise over a wide dynamic range. It features a switchable 80 Hz high-pass
filter, 10 dB pad and shockmount.
The MG82CX-CA is a small 8-input/2-bus mixer with 2 mono mic/line and 3 stereo
inputs. It also includes built-in effects like reverb, delay, chorus, flanger, phaser,
distortion, and other effects built in – total of 16 types in all. Go online for additional
product information.
The 266XL is a full-featured, high-performance dual compressor/gate that uses the dbx
AutoDynamic attack and release circuitry to deliver true dbx compression for a wide
range of applications, plus an advanced dbx gate circuit for smooth, natural-sounding
gating.
PODCAST-VETERAN List: $902.29
LowestPrice
only $598!
Podcast
Starter
Plus
LowestPrice
The Podcast Professional Package steps up from the Veteran package with incredible
pro gear for outstanding Podcasts. It features a perennial favorite broadcast mic, the
Electro-Voice RE-20, for the ultimate in broadcast-quality Podcasts. The premium
Mackie Onyx1220i mixer boasts outstanding mic preamps and includes built-in
FireWire connectivity and compatibility with most major DAWs. You also get dbx's pro
1066 compressor to give your audio that final polish, along with an On-Stage Stands
DS7200B desk mic stand, ProCo 5 ft. mic cable, cabling to connect the compressor to
the mixer, and the 272-page Podcast Solutions guidebook.
The RE20's patented, Variable-D design reduces proximity effect to maintain uniform
low frequency response at any distance (thereby eliminating bass-boosting when
close miking) and its bass roll-off switch helps to shape low-end response.
The Onyx1220i offers 12 channels for fantastic mixing flexibility and a 3-band EQ for
precise sonic tweaking.
The 1066 compressor/limiter/gate lets you eliminate unwanted noise, flexibly control
overall signal gain and guard your overall mix in dual mono or stereo operation.
PODCAST-PRO List: $2,370.00
The Podcast Host digital hybrid turns your desktop into a professional podcast center with live
interviews and top-quality telephone audio. It connects audio signals to a standard analog telephone
line without the transmit/receive crosstalk common to analog hybrids. Its DSP continuously monitors
both the phone line and audio signals to deliver excellent separation. Podcast Host provides
connections for a microphone, headphones, mixer, sound card, telephone and your analog
telephone line. An auxiliary telephone is only required to place outgoing calls.
22
List: $495.00
LowestPrice
only $369! (yourchoice, Mac or Windows)
Podcast Professional
JK Audio Podcast Host Digital Phone Hybrid
PODCAST-HOST
PC
Take it up a notch! This
deluxe package comes
with everything you need
for professional sounding
podcasts, including audio
production software! It
Mac
features Alesis' MultiMix8 USB
8-channel mixer, an Audio-Technica
AT2020 condenser mic w/cable, Sony 7502 headphone, an On-Stage 72010 floor
boom stand, and software (Peak LE for the Mac, or Sony AudioStudio for Windows)!
$
PODCAST3PC (Windows) List: $590.89
36900
PODCAST3M (Mac)
List: $619.95 $36900
only $439!
AUDIO MIXERS – BSW PODCASTING PACKAGES
LowestPrice
only $1,599!
order/info: 1·800·426·8434 • www.bswusa.com
Yamaha 02R96 VCM 24-Channel/8-Bus Digital Mixer/DAW Controller
The new 02R96 VCM is a powerful 24-channel digital mixer and DAW control that operates at 44.1, 48, 88.2 or
96 kHz, and has 96 kHz stereo effects (use four simultaneously). All available I/Os, effects, and inserts can be
assigned to any of the console's channels or outputs. It features new Virtual Circuitry Modeling (VCM) effects
for powerful production. It integrates tightly with leading digital audio workstations to create a complete
DAW production and mixing environment. Version 2 software delivers advanced features, including add-on
effect capability, advanced DAW integration and surround functions.
Features:
• 24-bit/96-kHz converters
• 100 mm motorized faders
• VCM classic effects modeling
• 5.1 surround processing
• Automation and scene memory
• Peak meter bridge
02R96VCM
MB02R96
SP02R96
•M
ix Minus, prefader solo with pan, fader
solo release, independent 4R oscillator
• Digital AES/EBU and coax I/O
• 2-track bal/unbal analog I/O
• I/O expandability and plug-in capability
• Dimensions: 27"W x 28"D x 10"H
02R96VCM shown with
optional meter bridge &
oak side panels.
Console List $11,499.00
Meterbridge List $1,199.00
Oak side panels List $329.00
Call BSW For Lowest Price: 800-426-8434
Yamaha 01V96 VCM 16-Channel, 4-Bus Digital Mixer/DAW Control
Yamaha's new 01V96 VCM is a flexible digital mixer delivering high-resolution 24-bit/96 kHz audio and full-featured DAW
control. It boasts unsurpassed VCM effects for incredible production power. Version 2 software delivers add-on effect
capability, advanced DAW integration, surround sound functions. Dim: 18"Wx21.5"x6"H. Many optional I/O cards.
• 4 balanced 1/4" TRS analog outputs,
balanced XLR stereo outs, digital
coaxial I/O and ADAT optical I/O
• 4-band sweepable EQs
• VCM modeling with classic
compressor, EQ, analog tape deck,
and stompbox effect simulations
Features:
• Selectable sampling rates from 44.1 kHz thru 96 kHz
• 1 6 analog inputs (12 balanced with mic preamps)
• Compression, gating and ducking on all channels
• 16 motorized faders
• Large 320 x 240 dot LCD panel with graphic display
01V96VCM
RK-1
MY4AD
MY8AT MY8AE
Digital mixer
Rackmount kit for 01V96
4-input XLR analog card
8 send/8 return digital I/O ADAT
8 /8 digital I/O AES/EBU
List $2,699.00 List $27.00 List $349.00 List $349.00 List $349.00
Call BSW For Lowest Price: 800-426-8434
Powerhouse Digital Production Mixers
Yamaha DM-1000 VCM
8-Bus Digital Mixer/DAW Control
The new Yamaha DM1000 VCM is an 8-bus, 20-input
digital mixer delivering advanced capabilities like
surround panning and comprehensive DAW control
of Pro Tools, Nuendo and more. It also boasts a
vast array of cutting edge processing technologies
including recreations of classic compression and EQ
units from the 70s, simulations of several legendary
analog open-reel tape decks, a complete suite of
REV-X reverb effects, a surround post-production
package and a selection of vintage stomp boxes. It's
capable of an impressive 48 channels with optional
Mini-YGDAI digital and analog I/O cards, each capable
of 16 channels of I/O. And right out of the box it
offers 20 channels of analog XLR inputs, 16 with highquality mic preamps routed through 24-bit/96 kHz
A/D-D/A converters. 17 100 mm motorized faders
can be instantly layer-switched to control any of the
input channels or auxiliary, bus, and remote channels.
And all input channels feature flexible, independent
compression and gating/ducking processors for
dynamics control. Plus you get full automation,
time-code display, 4-band channel EQs and more. Its
Version 2 software delivers add-on effect capability,
advanced DAW integration and surround sound
functions. Many optional I/O cards available.
DM1000VCM Console List $5,999.00
MB1000
Meterbridge List $1,099.00
SP1000
Oak side panels List $399.00
Call BSW For Lowest Price: 800-426-8434
Meterbridge and wood side panels sold separately.
Yamaha DM2000 VCM Digital Console
DM1000VCM shown with optional meter bridge
and oak side panels.
Seeing is
Believing
Large, easyto-use display
gives you
complete
control over
parameters
One of the world's best digital production consoles just got better!
Yamaha has taken its popular DM2000 and added a formidable
array of state-of-the-art processing technologies to give you
unprecedented production power. So now in addition to 96
channels of clean, superior dynamic control, 24-bit/96 kHz audio,
advanced surround production facilities, extensive integrated
DAW and machine control, computer and memory-card based
data management, and a flexible bus system with digital patching,
you also get recreations of classic compression and EQ units from
the 70s, simulations of several legendary analog open-reel tape
decks, a complete suite of REV-X reverb effects, a surround postproduction package and even a selection of vintage stomp boxes.
Many optional I/O cards available..
DM2000VCM
MB2000 SP2000 Console
List $20,999.00
Meterbridge
List $1,299.00
Wood side panels List $699.00
Call BSW For Lowest Price: 800-426-8434
AUDIO MIXERS – DIGITAL PRODUCTION
23
order/info: 1·800·426·8434 • www.bswusa.com
Your Studio Mixer IS Your Live Mixer!
Presonus StudioLive 16.4.2 16-Channel Live/Studio Mixer
The Presonus StudioLive is a powerful and flexible 16-channel digital mixer for live performance and recording,
boasting 16 high-headroom XMAX microphone preamps, a built-in 22x18 FireWire recording and playback
engine, comprehensive Fat Channel processing and more. Its award-winning FireWire technology with JetPLL
synchronization delivers 22 channels of recording and 18 channels of simultaneous playback. Each FireWire
recording channel can be set to record either pre or post Fat-Channel signal processing for total flexibility
and power. It can also return 18 FireWire playback channels from your recording and production software for
remixing and live performance with pre-recorded tracks, as well as studio mixdowns using the mixer's internal
signal processing and mix busses. StudioLive is compatible with most Mac and Windows recording and
production software.
For live sound production StudioLive gives you 22 compressors, 22 limiters, 22 gates, 22 high pass filters, two
stereo reverb/delays, two 31-band equalizers, two master stereo limiters and more. All its digital effects are
created and processed with 32-bit floating point precision for maximum sonic performance and enhanced
musicality. StudioLive also comes with Capture multi-track recording software for instant setup and recording
of performances. And its HDR software gives you full editing capability as well as export to wav file formats for
compatibility with most recording and music production software. Or you can play back your recorded tracks
into StudioLive via FireWire to mix and then record the final mix back to Capture.
Features:
• 16 inputs, 6 auxiliary mixes, 4 subgroups; 16 class A XMAX microphone preamplifiers
• Hi-Definition analog to digital converters (118 dB dynamic range)
• 22x18 FireWire digital recording interface
• Compact 19" rack-mountable rugged steel chassis
• Fat Channel Select: High Pass Filter, Compressor, Limiter, Gate, 4-band semi parametric EQ,
Pan, Load/Save/Copy/Paste
• 2 Master DSP Effects (reverbs, delays, time-based effect, with load/save)
• Talkback communication system
• Direct recording interface compatible with Logic, Nuendo, Cubase, Sonar, DP and more
STUDIOLIVE1642
List $2,499.95
LowestPrice
only $1,99995!
This studio workhorse offers seamless integration with all major DAWs, 16 high-quality mic preamps,
an impressive physical interface with per-channel multi-function LED ring encoders, dedicated
DAW control, vast routing flexibility, robust data backup/restore, expansive mix storage using
CompactFlash media and much more at a surprisingly reasonable price.
The 16-bus DM-3200 features 32 full-featured channels and 16 returns for a total of 48 channels at
mixdown—even at its full 96 kHz/24-bit audio resolution. It has 4-band parametric EQ and dynamics
on every channel, two effects processors and plenty of analog and digital I/O. In a nutshell, this is a
digital production dream machine. Even surround mixing is available with up to 6.1-channel
panning, and the optional ISMDM expansion card adds surround monitoring and downmixing to the
DM-3200. With the IFFWDMMKII add-on card, studios can connect their DAW directly to the mixer
with a single FireWire connection, adding powerful mixing, automation and processing capabilities
to virtually any computer recording system. The 24-channel meterbridge (shown) is sold separately.
Also available is the larger 48-channel DM4800 digital mixer.
DM3200
DM4800
32-channel digital mixer List $4,199.99
48-channel digital mixer List $6,599.99
Accessories:
MU1000
Meterbridge IFSMDM
Surround interface
IFFWDMMKII Firewire & MIDI card
List $999.99
List $699.99
List $499.99
Call BSW For Lowest Price: 800-426-8434
Fostex LR16 Live Mixer/16-Track
Digital Recorder
The LR16 is a live mixer boasting an integrated 16-track hard disc recorder.
While serving as a FOH or onstage mixer for the main sound system it
can record the signals in CD quality onto its built-in hard drive. It records
individual WAV tracks files as well as a simultaneous stereo mixdown and
offers PC-friendly operation via USB.
Features:
• 16-track digital mixer/recorder with intuitive analog-style operation
• Both multi-track and stereo mix simultaneously recorded in real time
• 44.1/48kHz sample rates; 3-band EQ on every input channel
• Master effects library
• FAT 32 file system mounts full HDD data domain to PC via USB
LR16 List $2,299.00
24
Call BSW For Lowest Price: 800-426-8434
AUDIO MIXERS – DIGITAL PRODUCTION
Meterbridge sold
separately.
Tascam DM-3200 32-Channel Digital Mixer
order/info: 1·800·426·8434 • www.bswusa.com
Digidesign VENUE-SC48
Live Sound Mixer with Dual Power Supply
The Digidesign VENUE SC48 is a fully integrated 48-channel
live sound system that combines all I/O, digital signal processing and
tactile control into a single console. It offers studio-grade sound quality,
Pro Tools plug-in support, seamless integration with Pro Tools LE systems
and complete show file portability, as well as several innovative new
workflows that streamline the mixing process. With its all-in-one design,
VENUE SC48 lets you travel light and bring the acclaimed sound quality
of VENUE to any event. Its dual power supply ensures ultra-reliable performance.
VENUE-SC48DUALPSU
List $27,995.00
Call BSW For Lowest Price: 800-426-8434
Features:
• Fully integrated console offers built-in I/O for stage and ancillary sources, DSP, and
tactile control for ultimate portability
• Compact footprint fits small- to mid-size clubs, houses of worship, theaters,
corporate events, and more
• F irst-rate VENUE sound quality provides amazing audio clarity in any room
• S upports professional audio plug-ins for creating studio-quality mixes
live on stage
•P
ro Tools LE FireWire interface and software included for audio recording and
playback system connection
• 4 8 analog mic/line XLR inputs, 16 analog line outputs (expandable to 32)
• 1 6 Aux Sends, plus 8 mono matrixes (linkable as up to 4 stereo matrixes)
• Choice of Left-Right plus mono or
Left-Center-Right Mains bus configuration
• 26 touch-sensitive, motorized faders: 16 input, 8 output master, 1 Flex Channel,
and 1 Mains
• 16 assignable, push-switch rotary encoders with multi-segment LED rings
enable immediate access
• VENUE D-Show software, the industry's easiest, most comprehensive control
software
• Additional I/O, including talkback, analog and digital 2-track, GPI, MIDI, and
Word Clock
• Single output expansion slot for maximizing output count or adding
A-Net connectivity
Midas Venice Series
Live Sound Consoles
Step up to Midas. These meticulously designed
compact consoles provide the tools you need for
true professional live operation. As usual, Midas
has paid attention to the details that set their
consoles apart, taking care to provide higher quality
mic preamps and a stable, responsive EQ section, just
as they do on their larger consoles. Their simple and
intuitive outputs make them quick and easy to use, and
they're small and light enough to thrive in the tightest
of spaces. Perfect for live acts that need to mix their own
FOH and monitor sound from on-stage, they also work
great as part of a small complete mobile system..
Features:
• EQ: 4-band sweepable
• Direct Output
• 6 Mix Sends ; 4 audio subgroups ; 2 stereo masters
• Connector for desk lamps: 2 x 12V/5W (4-Pin XLR)
• 19"-rackmounting-kit and rotatable connector panel (Venice160 only)
VENICE160 8 mono/4 stereo chnls List $3,830.00
VENICE240 16 mono/4 stereo chnls List $5,363.00
VENICE320 24 mono/4 stereo chnls List $6,536.67
Call BSW For Lowest Price: 800-426-8434
Mackie Onyx Series Live Sound Consoles
Until now, nightclubs and houses of worship had to choose between channel count
and sound quality when looking for a reasonably priced mid-sized analog console.
That was then, this is now. Mackie's Onyx 4-Bus Series live sound consoles are
the new standard in mid-format mixing. The greatly enhanced Onyx 24.4 and
32.4 feature set includes 100 mm Panasonic faders, all-new mic preamps,
completely redesigned analog circuitry, new Perkins 4-band EQ, and a built-in
assignable stereo compressor/limiter section—all at a price that won't break
the bank. Other features include 6 x 2 matrix that provides 2 additional mixes, 6 Aux
sends with Pre/Post switches and more.
ONYX24-4
ONYX32-4
24-channel mixer List $2,199.99
32-channel mixer List $2,849.99
Call BSW For Lowest Price: 800-426-8434
Allen & Heath GL2400 Series Live Sound Consoles
Designed for modern engineering techniques, the GL2400-24 4-bus/24-channel mixer offers
truly professional mixing. Its mono output can be configured as LR sum, wedge, aux-fed sub,
or center master. In Monitor mode, all six auxes are available on faders with mutes, inserts,
meters and XLR drive. Its 7x4 matrix with ambient mic capability opens up a huge number of
mixing applications, including stereo recording, zone feeds, delay fill speakers and stereo inear monitor mixes. With its amazing headroom and new ultra-quiet mix head amp, it delivers
simply superb performance. Also available in a 32-channel model, GL2400-32.
GL2400-24 Features:
• 24 channels with two dual stereo channels; 4 groups; 6 aux; L/R mix
• Mic preamp has an extended 74 dB gain range with massive headroom
• 3 master faders; 7x4 matrix mixing
GL2400-24
GL2400-32
24-channel console 32-channel console List $2,499.00
List $3,149.00
Call BSW For Lowest Price: 800-426-8434
AUDIO MIXERS – LIVE SOUND
25
order/info: 1·800·426·8434 • www.bswusa.com
Live Digital? Yamaha Is Our Top Seller.
Yamaha 32- and 48-Channel Digital Live Sound Consoles
Here's proof that the digital age has left its infancy. The Yamaha M7CL Digital Mixing
Consoles offer professional performance for live sound in a 32- or 48-channel system
that can actually be easier to use than a conventional analog console. With
its Centralogic interface, the M7CL doesn't bother to try
to simulate the feel of an analog mixer, but
rather utilizes the unique strengths
of digital technology to bring you
digital operation that's as intuitive
as analog. A touch-panel display
combined with Yamaha's selected
channel concept and a straightforward navigation system lets you
focus in on any operation instantly.
The M7CL boasts an impressive virtual
effect and EQ rack that can be called upon
with the touch of a button. With a few more
touches on the screen you can easily patch effects
or graphic EQ into any channel and output. With
another touch or two you can get right inside the effects
for detailed editing. The M7CL lets you use up to 8 signal
processors simultaneously for near-infinite sound shaping
possibilities. Go online for full specs and details!
The optional MBM7CL Meter Bridge provides high-visibility level
monitoring while allowing the display to be used for other operations.
• Loads of flexible I/O for on-the-fly versatility
M7CL-32 32-Channel Digital Mixer List $21,499.00
M7CL-48 48-Channel Digital Mixer List $26,999.00
MBM7CL Meter bridge List $1,049.00
• A wealth of virtual effects and EQ – all at the touch of a button
• Smooth, motorized faders and vivid touch-panel display
Call BSW For Lowest Price: 800-426-8434
Yamaha 16- and 32-Channel Digital Mixers
When you're looking for a new sound board for your stage, church, club or
corporate installation, call and talk to the sales pros at BSW. We carry the
latest commercial Yamaha digital mixers (as well as smaller Yamaha mixers).
Available in 16- or 32-channel models, the Yamaha LS9 Series sports an
intuitive interface that gives you fast, easy access to all input channel, mix
bus, matrix, and master levels. A virtual effect rack offers built-in graphic
EQ and enough effects to fill a full-size rack or two if similar analog gear
were used. Versatile bus architecture with comprehensive digital patching
capability gives you 16 mix buses, 8 matrix buses, and a stereo and mono bus
that can be used in LCR mode. Its built-in USB Memory Recorder/Player gives
you simple off-board recording, and can also supply background music and
sound effects. Mini-YGDAI expansion slots add additional flexibility.
The 16-channel LS9-16 is ideal for mobile events or temporary live-sound
setups, offering surprising power and performance in a lightweight console.
For bigger jobs, the 32-channel LS9-32 will deliver the performance and
versatility of large-scale systems.
LS9-16 16 channels
LS9-32 32 channels
List $6,599.00
List $11,999.00
Call BSW For Lowest Price: 800-426-8434
Yamaha IM8 Series Mixing Consoles
The Yamaha IM8 mixing console series delivers the features and performance you
need for serious live sound applications. Offered here in 24- and 40-input models, the
series features transparent, low-noise mic preamps, unique one-knob compression
on all mono input channels for simple yet precise tweaking, balanced XLR and TRS
phone jacks on all mono input channels, phantom power, 4-band EQ on every
channel and phase and high pass filter switches. Stereo input channels sport L and
R phone jack inputs, pin jack stereo pairs and a gain control. USB audio I/O gives you
direct digital recording and playback with the supplied Cubase AI4 audio workstation
software. Both consoles provide plenty of auxiliary routing capacity for monitoring
and handling external effects. All mono and stereo channels feature eight individual
AUX send controls that can be switched for pre-fader or post-fader operation in pairs.
IM8-24-CA IM8-40-CA 24 mic inputs, 24 mono + 4 stereo mixing channels 40 mic inputs, 40 mono + 4 stereo mixing channels Call BSW For Lowest Price: 800-426-8434
26
AUDIO MIXERS – LIVE SOUND
M7CL-48 shown with
meterbridge (sold
separately)
List $4,799.00
List $6,499.00
IM8-24
LS9-32
order/info: 1·800·426·8434 • www.bswusa.com
Field-Proven Shure
Field Mixers
Rane 8-Input Line Splitter/Mixer
The Rane SM26S is an extremely versatile, single-rack-space mixing tool that can act as an 8-in/2-out
line mixer, a 2-in/6-out line splitter or a 6-in/6-out booster amp.
Features:
• 6 balanced mono inputs plus a stereo input • 6 mono outputs can be mixed with L/R inputs
• Mix/pan and level controls for each channel • Balanced 1/4" TRS I/Os
• Internal universal power supply
SM26S
List $459.00
LowestPrice
SCM268 Back Panel
only $369!
SCM262 Back Panel
Fave Battery-Powered Mixer
Gets New Mic Pre's!
Rolls ProMix Plus
3-Channel Mic Mixer
The new Behringer XENYX 1002B 10-Input, 2-bus
mixer features two high-quality XENYX mic preamps,
"British" 3-band EQs for classic, warm sound and
optional 9V battery operation for remote fieldwork.
It also boasts 4 balanced, high-headroom stereo
inputs with 3 additional mic inputs, switchable
phantom power and much more.
MX54S
XENYX-1002B
List $149.99
LowestPrice
only $9999!
Let the good times Rolls! This four-channel, mic/
line mixer sports balanced XLR inputs and outputs,
and is ideal for DV field production, electronic
newsgathering, digital recording, broadcast remotes,
desktop mixing for video post production and much
more. It has all the features of other high-end ENG/
portable mixers at a very attractive price.
Features:
• Four servo-balanced XLR inputs
• Two transformer-balanced XLR outputs
• Switchable output level (line level, or -30 dB pad)
• 1/4" TRS stereo monitor input and auxiliary input
• Switchable 48V phantom power
• Switchable 100 Hz low cut filters
• Main AND back-up battery compartments
• Built in limiter with variable threshold control
• 20 Hz Slate tone with slate microphone included
• Calibrated VU meters
• Headphone outputs
• PS27 external power supply included
LowestPrice
List $150.00
LowestPrice
Rolls MX422
4-Channel Field Mixer
MX422 List $600.00
The Rolls ProMix Plus MX54S mixes three
XLR mic inputs into two XLR outputs. Each
input has switchable phantom power, low
cut switch and level control. A 1/4" aux/
headphone output has been provided.
Uses 9-volt batteries.
only $499!
only $129!
Shure SCM Series Field Mixers
The Shure SCM268 microphone mixer provides four XLR mic inputs,
one XLR mic/line output and one internal low stray field on six
toroidal-power transformers. All those audio transformers provide
protection from RF interference, prevent ground loops, and make
the SCM268 exceptionally quiet. In addition, the SCM268 features an
LED peak meter, 5 unbalanced AUX RCA mono inputs; one AUX RCA
output, & 12V phantom power. Half-rack chassis.
The SCM262 has less mic inputs, but additional stereo line inputs.
It provides defeatable ducking and jukebox mute; XLR mic input
channel; XLR mic and 1/4" TRS line input channel; 3 RCA stereo input
channels; stereo RCA output; stereo mic/line output (two 1/4" TRS
connectors); and 12V phantom power for condenser mics.
SCM268 List $350.07 $24900
SCM262 List $318.23 $27900
LowestPrice from $279!
Shure SCM410
4-Channel Automatic Mixer
The 4-channel SCM410 automatic mixer from
Shure is the ideal tool for setting up a multiplemic room. Without clipping a syllable, its
unique IntelliMix technology silently activates
only the microphones being addressed and
automatically adjusts each mic's threshold to
changes in background noise.
Features:
• Increases the clarity and intelligibility
of speech
• Dramatically reduces feedback,
reverberation, and comb filtering
• Automates several rigorous
operator functions
• Minimizes set up time - plug and play
• 4 balanced mic level XLR inputs, 1
balanced mic/line switchable XLR output,
and 1 unbalanced RCA auxiliary output
SCM410
List $974.10
Call BSW For Lowest Price: 800-426-8434
ART ProMIX/PowerMIX II Portable Mixers
ART's ProMIX is great for adding extra sub-mixable inputs to larger
mixers thru 1 or 2 channels. The ProMIX is a 3-channel mic mixer with
switchable 12V phantom power and low-frequency cut on each
channel. Output is via mono balanced XLR and a headphone/aux
1/4" jack. It's powered by an included 12V AC adaptor or two 9V
internal batteries.
The PowerMIX II is a powered (12V AC) 2-channel mixer that's ideal for
sub-mixing. Channel 1 has a single 1/4" unbalanced input and channel
2 has dual RCA line inputs. Outputs are via dual RCA (mono-mixed),
mono 1/4", and 1/4" headphone/aux jack, all line-level.
PROMIX
List$125.00 $9500
POWERMIXIII List$110.00 $8900
LowestPrice
from $89!
AUDIO MIXERS – FIELD
27
order/info: 1·800·426·8434 • www.bswusa.com
Allen & Heath iLive T-Series Digital Consoles
The affordable new iLive T-Series puts the audio processing right where it is
needed – on or near the stage. The DSP is in the MixRack, which also houses
remote-controlled mic pre's, sends, and the digital snake interface. The T
Surfaces feature the same intuitive layout that has delighted iLive users
worldwide – and incorporates a host of connections for audio sources, sends,
and inserts – eliminating the need for a second I/O rack at the mix position.
iLive T-Series incorporates the RackExtra DSP used in the higher-end iLive
console series, providing 64 input channels and 32 configurable mix
buses – all with a full complement of EQ and dynamics processing – as
well as 8 stereo FX engines based on emulations of popular industry
classics. There is a slot for optional cards to interface with popular audio
networking standards.
The T-Series comes in your choice of two MixRacks (32 or 48 mic) and
choice of two control surfaces (20 or 28 fader, 4 layers). Two packages
are listed below (components can also be purchased separately).
ILIVE-T8032 iLive-T80 System, 40 Inputs/20 Outputs
ILIVE-T11232 iLive-T112 System, 48 Inputs/24 Outputs
$
$
16,99800
18,99800
Includes Stagebox AND
Digital Snake!!!!!!
Call BSW For Lowest Price: 800-426-8434
Behringer XL Series Live Sound Mixers
Get a full-featured live sound mixer for a song! These
new 4-bus live mixers from Behringer feature stateof-the-art XENYX mic preamps (balanced XLR with
phantom power) plus 4 stereo 1/4" Line inputs with
ultra-high RFI suppression. They also boast neo-classic
British 4-band EQs with 2 semi-parametric mid bands
for warm and musical sound, as well as 2 multi-functional
stereo FX returns with comprehensive routing options for
maximum flexibility.
The XENYX XL1600 is a 16-input mixer featuring 12 XENYX Mic
Preamps. The XENYX XL2400 offers 24 inputs with 20 mic preamps.
The XENYX XL3200 provides 32 inputs with 28 mic preamps.
$
XENYX-XL1600
List $739.99
49999
$
XENYX-XL2400
List $959.99
64999
$
XENYX-XL3200
List $1,179.99
79999
LowestPrice from $49999!
Broadcast
Tools
4-Input
Stereo
Utility Mixer
XENYX-XL2400
The SUM-4 features four line level high-Z inputs, which
accept a balanced or unbalanced source; stereo and
monaural balanced low-Z outputs; individual level
controls and stereo mixing/link port for input expansion.
Optional rack kit available.
SUM4 List $199.00
Accessories:
RA-1
LowestPrice
Rackmount kit
only $169!
4900
$
Behringer
16-Input Line Mixer
The RX1602 is a 16-input,
multi-purpose line mixer. It
can be used as a sub-mixer,
multitrack monitoring mixer,
level translator, FX return sub-mixer and so on. There are sixteen balanced high-headroom line inputs for individual
stereo or mono use of each section. Its ultra low-noise ULN design assures the highest possible headroom and ultratransparent audio. Dedicated balance and level controls.
RX1602 List $189.99
LowestPrice
only $12999!
Alesis Rackmount
Mixers
The Alesis MultiMix 12R
12-input, 2-bus analog rack
mixer boasts 8 mic preamps
with 2 stereo line channels
in a compact, 3U rackmount
design. It features 8 XLR mic
inputs with phantom power,
insert points on 8 channels, 2
channels of stereo line inputs,
2-band, fixed-frequency EQ on
each channel, 1 pre-fader aux send and 1 post fader aux send per channel, and 60 mm faders for master level of each
channel. The master section features an external stereo aux return level, stereo LED bar graph meters, stereo master
L/R bus 60 mm fader, and a separate phones/monitor level control.
The new MultiMix 8 Line is an expandable 1 RU rackmount mixer offering eight stereo channels with a mic/line input
on channel one and stereo effects send and return. It also boasts signal clip and overload LEDs for each input, an
effects bus and a five-stage LED level indicator at the main output.
MULTIMIX12R
List $399.0029900
LowestPrice from $199!
MULTIMIX8LINE List $399.0019900
28
AUDIO MIXERS – UTILITY & FIELD
Henry Engineering
Utility Line Mixers
Henry's popular Stereomixer and Micromixer utility
mixers are rackmountable with optional rack kit and
great solutions for combining audio sources in the
studio. These dependable solutions feature bridging
inputs which accept balanced or unbalanced sources,
individual input level adjustment, and plug-in
euroblock connections.
Stereomixer features:
• 8 line inputs (4 stereo or 8 mono)
• Selectable stereo/mono bal. output
• L/R bus input links multiple units
Micromixer features:
• 4 line inputs (2 stereo or 4 mono)
• Inputs assignable to L, R or both outs
• Stereo balanced output
STEREOMIXER List $275.00 $22500
MICROMIXER List $225.00 $17900
Accessories:
RMA
LowestPrice
from $179!
Rackmount kit
5500
$
WHEN IT COMES TO SOLUTIONS FOR
BROADCAST, THESE TWO LETTERS
MAKE ALL THE DIFFERENCE
HENRY ENGINEERING: YOUR PROBLEMS...SOLVED.
For more than 25 years, Henry Engineering has been your engineering staff's
secret weapon for keeping you up, running and sounding great.
From intelligent problem solvers to handy gadgets to a full-featured
radio station mixer, analog or digital, you can count on Henry
to have exactly the right solution. At the right price. Every time.
Truth.
WE BUILD SOLUTIONS.
Digital solutions. analog solutions. Functional. Reliable. aFFoRDable.
Visit www.henryeng.com for all of Henry's solutions!