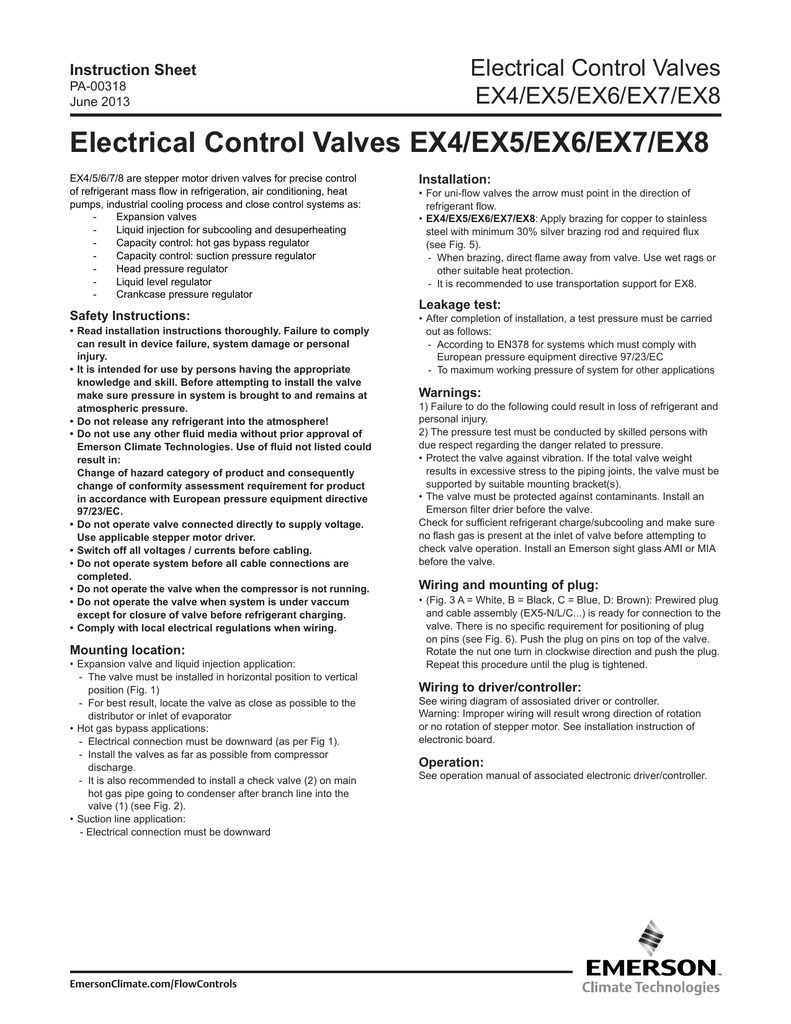 Instruction Sheet
PA-00318
June 2013
Electrical Control Valves
EX4/EX5/EX6/EX7/EX8
Electrical Control Valves EX4/EX5/EX6/EX7/EX8
EX4/5/6/7/8 are stepper motor driven valves for precise control
of refrigerant mass flow in refrigeration, air conditioning, heat
pumps, industrial cooling process and close control systems as:
-
Expansion valves
-
Liquid injection for subcooling and desuperheating
-
Capacity control: hot gas bypass regulator
-
Capacity control: suction pressure regulator
-
Head pressure regulator
-
Liquid level regulator
-
Crankcase pressure regulator
Installation:
Safety Instructions:
•After completion of installation, a test pressure must be carried
out as follows:
- According to EN378 for systems which must comply with
European pressure equipment directive 97/23/EC
- To maximum working pressure of system for other applications
•Read installation instructions thoroughly. Failure to comply
can result in device failure, system damage or personal
injury.
•It is intended for use by persons having the appropriate
knowledge and skill. Before attempting to install the valve
make sure pressure in system is brought to and remains at
atmospheric pressure.
•Do not release any refrigerant into the atmosphere!
•Do not use any other fluid media without prior approval of
Emerson Climate Technologies. Use of fluid not listed could
result in:
C
hange of hazard category of product and consequently
change of conformity assessment requirement for product
in accordance with European pressure equipment directive
97/23/EC.
•Do not operate valve connected directly to supply voltage.
Use applicable stepper motor driver.
•Switch off all voltages / currents before cabling.
•Do not operate system before all cable connections are
completed.
• Do not operate the valve when the compressor is not running.
•Do not operate the valve when system is under vaccum
except for closure of valve before refrigerant charging.
•Comply with local electrical regulations when wiring.
Mounting location:
•Expansion valve and liquid injection application:
- The valve must be installed in horizontal position to vertical
position (Fig. 1)
- For best result, locate the valve as close as possible to the
distributor or inlet of evaporator
•Hot gas bypass applications:
- Electrical connection must be downward (as per Fig 1).
- Install the valves as far as possible from compressor
discharge.
- It is also recommended to install a check valve (2) on main
hot gas pipe going to condenser after branch line into the
valve (1) (see Fig. 2).
•Suction line application:
- Electrical connection must be downward
EmersonClimate.com/FlowControls
•For uni-flow valves the arrow must point in the direction of
refrigerant flow.
•EX4/EX5/EX6/EX7/EX8: Apply brazing for copper to stainless
steel with minimum 30% silver brazing rod and required flux
(see Fig. 5).
- When brazing, direct flame away from valve. Use wet rags or
other suitable heat protection.
- It is recommended to use transportation support for EX8.
Leakage test:
Warnings:
1) Failure to do the following could result in loss of refrigerant and
personal injury.
2) The pressure test must be conducted by skilled persons with
due respect regarding the danger related to pressure.
•Protect the valve against vibration. If the total valve weight
results in excessive stress to the piping joints, the valve must be
supported by suitable mounting bracket(s).
•The valve must be protected against contaminants. Install an
Emerson filter drier before the valve.
Check for sufficient refrigerant charge/subcooling and make sure
no flash gas is present at the inlet of valve before attempting to
check valve operation. Install an Emerson sight glass AMI or MIA
before the valve.
Wiring and mounting of plug:
•(Fig. 3 A = White, B = Black, C = Blue, D: Brown): Prewired plug
and cable assembly (EX5-N/L/C...) is ready for connection to the
valve. There is no specific requirement for positioning of plug
on pins (see Fig. 6). Push the plug on pins on top of the valve.
Rotate the nut one turn in clockwise direction and push the plug.
Repeat this procedure until the plug is tightened.
Wiring to driver/controller:
See wiring diagram of assosiated driver or controller.
Warning: Improper wiring will result wrong direction of rotation
or no rotation of stepper motor. See installation instruction of
electronic board.
Operation:
See operation manual of associated electronic driver/controller.
Warning:
Service hints:
All valves are delivered at half open. Do not charge system
before closure of valve. See operating instruction of associated
driver/controller.
•Do not apply motor voltage/current out of specified range.
•For motor check, use an ohmmeter with suitable range as shown
in Fig. 3
•EX4/EX5/EX6/EX7/EX8 has capability of positive shut-off when it
is driven to fully close position.
Technical Data
Type
EX4
Maximum working pressure Operating temperature at motor
Connection, DN/ Dimensions
Fluid group
EX5
EX6
EX7
Refrigerant: CFC, HCFC, HFC
✔
✔
✔
Hazard category: PED 97/23/EC
-
-
I
Nominal Supply Voltage U:
24 VDC
Maximum Current Imax.:
0.5 A
Marking
not applicable
✔
EX8
EX4/EX5/EX6
EX7
Figure 1
Figure 2
TC
EmersonClimate.com/FlowControls
EX8
652.5 psi
Uni-flow versions: –58°F … +212°F, Bi-flow versions: -40°F … +176°F
see Fig. 4
II
2
✔
I
✔
I
0.75 A
0.8 A
✔
✔
Figure 3
EX4/EX5/EX6/EX7/EX8
EXV
EX5-N60
Plug and cable assembly
Figure 4
EX4/EX5/EX6/EX7
EX8
EXV
ØA x ØF (ODF)
B
EX4-I21
EX5-U21
EX6-I21
EX7-I21
EX8-I21
3/8" x 5/8"
5/8" x 7/8"
7/8" x 1-1/8"
1-1/8" x 1-3/8"
1-5/8" x 1-5/8"
0.31.82.20.44.41.0
0.4
2.2
2.6
0.6
4.4
1.0
0.62.63.00.74.41.0
0.83.13.20.96.21.7
0.83.13.10.87.92.2
C
Figure 5
D
Figure 6
EX4/EX5/EX6/EX7/EX8
EmersonClimate.com/FlowControls
3
E
H1
H2
EmersonClimate.com/FlowControls
Technical Support: 1-866-625-8416
PA-00318 (06/13) Emerson is a trademark of Emerson Electric Co. ©2013 Emerson Climate Technologies, Inc. All rights reserved.

* Your assessment is very important for improving the work of artificial intelligence, which forms the content of this project