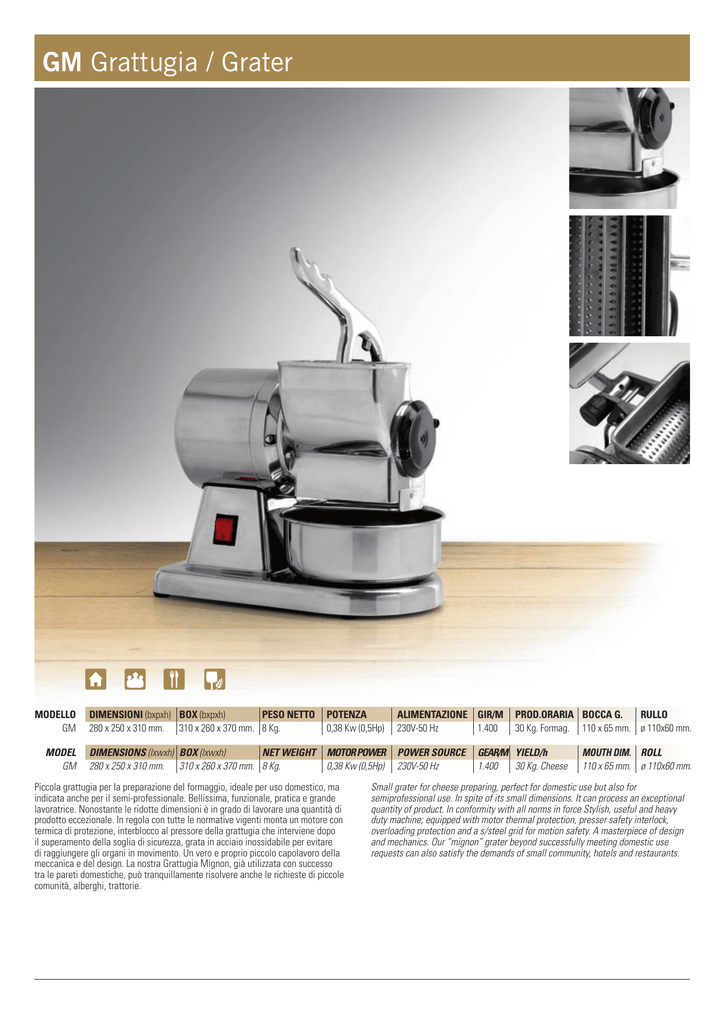 GM Grattugia / Grater
MODELLO
GM
DIMENSIONI (bxpxh) BOX (bxpxh)
PESO NETTO POTENZA
280 x 250 x 310 mm. 310 x 260 x 370 mm. 8 Kg. 0,38 Kw (0,5Hp)
MODEL
GM
DIMENSIONS (lxwxh) BOX (lxwxh)
NET WEIGHT MOTOR POWER POWER SOURCE GEAR/M YIELD/h
280 x 250 x 310 mm. 310 x 260 x 370 mm. 8 Kg. 0,38 Kw (0,5Hp) 230V-50 Hz
1.400 30 Kg. Cheese
Piccola grattugia per la preparazione del formaggio, ideale per uso domestico, ma
indicata anche per il semi-professionale. Bellissima, funzionale, pratica e grande
lavoratrice. Nonostante le ridotte dimensioni è in grado di lavorare una quantità di
prodotto eccezionale. In regola con tutte le normative vigenti monta un motore con
termica di protezione, interblocco al pressore della grattugia che interviene dopo
il superamento della soglia di sicurezza, grata in acciaio inossidabile per evitare
di raggiungere gli organi in movimento. Un vero e proprio piccolo capolavoro della
meccanica e del design. La nostra Grattugia Mignon, già utilizzata con successo
tra le pareti domestiche, può tranquillamente risolvere anche le richieste di piccole
comunità, alberghi, trattorie.
ALIMENTAZIONE GIR/M PROD.ORARIA BOCCA G.
RULLO
230V-50 Hz
1.400 30 Kg. Formag. 110 x 65 mm. ø 110x60 mm.
MOUTH DIM. ROLL
110 x 65 mm. ø 110x60 mm.
Small grater for cheese preparing, perfect for domestic use but also for
semiprofessional use. In spite of its small dimensions. It can process an exceptional
quantity of product. In conformity with all norms in force Stylish, useful and heavy
duty machine; equipped with motor thermal protection, presser safety interlock,
overloading protection and a s/steel grid for motion safety. A masterpiece of design
and mechanics. Our "mignon" grater beyond successfully meeting domestic use
requests can also satisfy the demands of small community, hotels and restaurants.

* Your assessment is very important for improving the work of artificial intelligence, which forms the content of this project