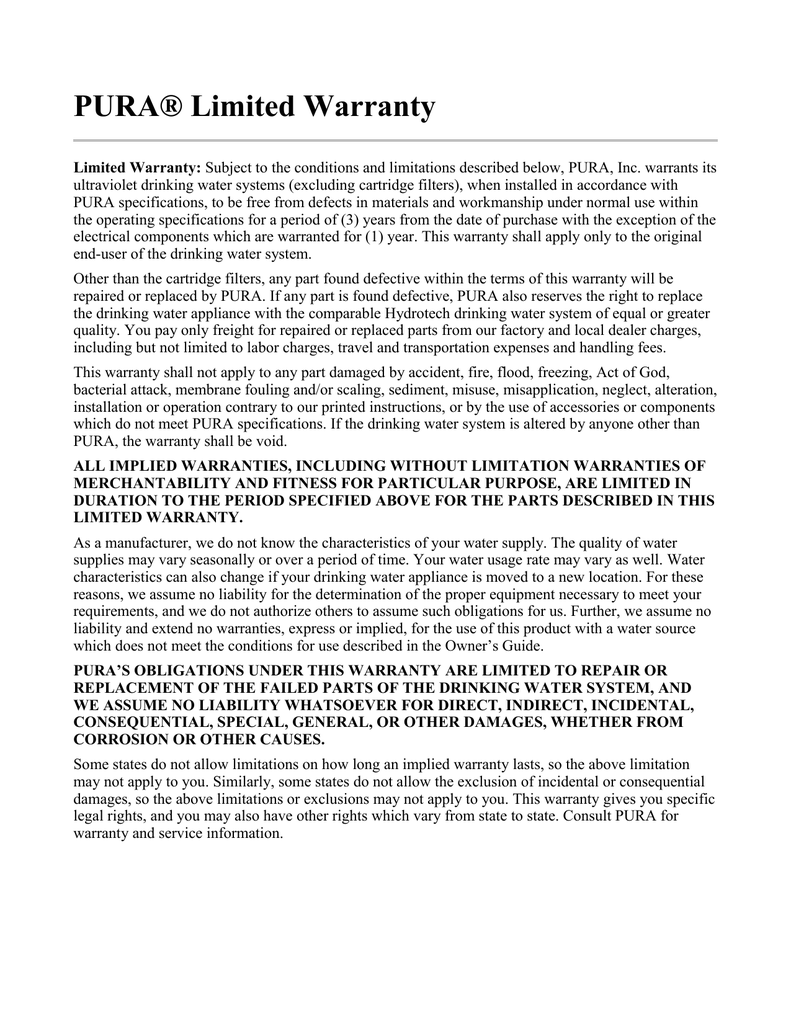 PURA® Limited Warranty
Limited Warranty: Subject to the conditions and limitations described below, PURA, Inc. warrants its
ultraviolet drinking water systems (excluding cartridge filters), when installed in accordance with
PURA specifications, to be free from defects in materials and workmanship under normal use within
the operating specifications for a period of (3) years from the date of purchase with the exception of the
electrical components which are warranted for (1) year. This warranty shall apply only to the original
end-user of the drinking water system.
Other than the cartridge filters, any part found defective within the terms of this warranty will be
repaired or replaced by PURA. If any part is found defective, PURA also reserves the right to replace
the drinking water appliance with the comparable Hydrotech drinking water system of equal or greater
quality. You pay only freight for repaired or replaced parts from our factory and local dealer charges,
including but not limited to labor charges, travel and transportation expenses and handling fees.
This warranty shall not apply to any part damaged by accident, fire, flood, freezing, Act of God,
bacterial attack, membrane fouling and/or scaling, sediment, misuse, misapplication, neglect, alteration,
installation or operation contrary to our printed instructions, or by the use of accessories or components
which do not meet PURA specifications. If the drinking water system is altered by anyone other than
PURA, the warranty shall be void.
ALL IMPLIED WARRANTIES, INCLUDING WITHOUT LIMITATION WARRANTIES OF
MERCHANTABILITY AND FITNESS FOR PARTICULAR PURPOSE, ARE LIMITED IN
DURATION TO THE PERIOD SPECIFIED ABOVE FOR THE PARTS DESCRIBED IN THIS
LIMITED WARRANTY.
As a manufacturer, we do not know the characteristics of your water supply. The quality of water
supplies may vary seasonally or over a period of time. Your water usage rate may vary as well. Water
characteristics can also change if your drinking water appliance is moved to a new location. For these
reasons, we assume no liability for the determination of the proper equipment necessary to meet your
requirements, and we do not authorize others to assume such obligations for us. Further, we assume no
liability and extend no warranties, express or implied, for the use of this product with a water source
which does not meet the conditions for use described in the Owner's Guide.
PURA'S OBLIGATIONS UNDER THIS WARRANTY ARE LIMITED TO REPAIR OR
REPLACEMENT OF THE FAILED PARTS OF THE DRINKING WATER SYSTEM, AND
WE ASSUME NO LIABILITY WHATSOEVER FOR DIRECT, INDIRECT, INCIDENTAL,
CONSEQUENTIAL, SPECIAL, GENERAL, OR OTHER DAMAGES, WHETHER FROM
CORROSION OR OTHER CAUSES.
Some states do not allow limitations on how long an implied warranty lasts, so the above limitation
may not apply to you. Similarly, some states do not allow the exclusion of incidental or consequential
damages, so the above limitations or exclusions may not apply to you. This warranty gives you specific
legal rights, and you may also have other rights which vary from state to state. Consult PURA for
warranty and service information.