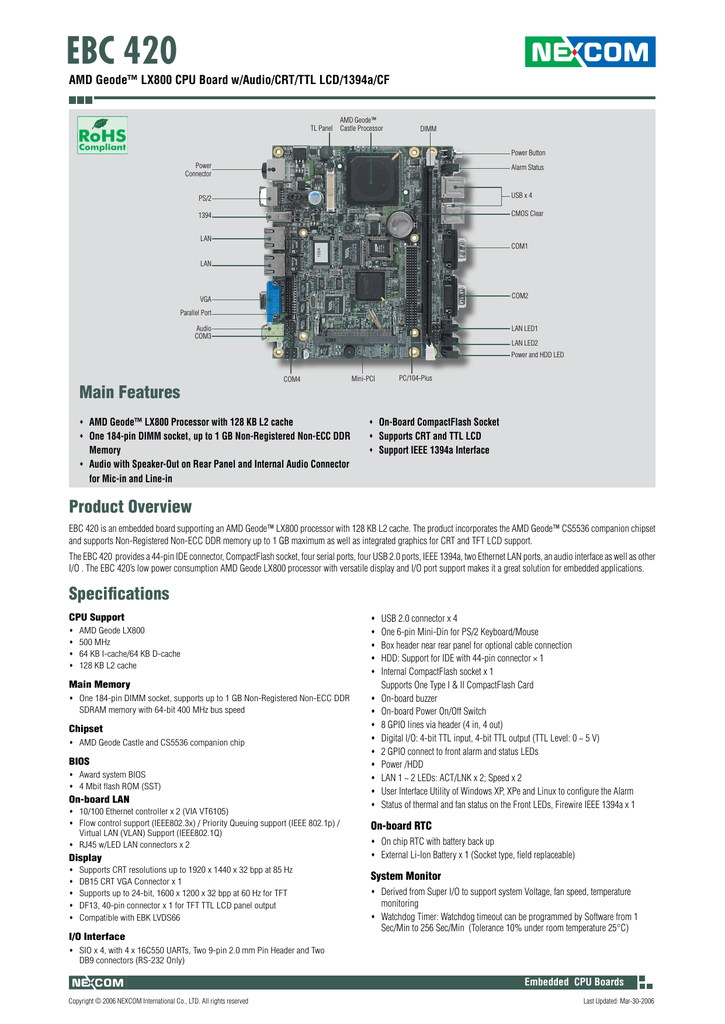 EBC 420
AMD Geode™ LX800 CPU Board w/Audio/CRT/TTL LCD/1394a/CF
AMD Geode™
TL Panel Castle Processor
DIMM
Power Button
Power
Connector
Alarm Status
PS/2
USB x 4
1394
CMOS Clear
LAN
COM1
LAN
COM2
VGA
Parallel Port
Audio
COM3
LAN LED1
LAN LED2
Power and HDD LED
Main Features
COM4
AMD Geode™ LX800 Processor with 128 KB L2 cache
One 184-pin DIMM socket, up to 1 GB Non-Registered Non-ECC DDR
Memory
Audio with Speaker-Out on Rear Panel and Internal Audio Connector
for Mic-in and Line-in
Mini-PCI
PC/104-Plus
On-Board CompactFlash Socket
Supports CRT and TTL LCD
Support IEEE 1394a Interface
Product Overview
EBC 420 is an embedded board supporting an AMD Geode™ LX800 processor with 128 KB L2 cache. The product incorporates the AMD Geode™ CS5536 companion chipset
and supports Non-Registered Non-ECC DDR memory up to 1 GB maximum as well as integrated graphics for CRT and TFT LCD support.
The EBC 420 provides a 44-pin IDE connector, CompactFlash socket, four serial ports, four USB 2.0 ports, IEEE 1394a, two Ethernet LAN ports, an audio interface as well as other
I/O . The EBC 420's low power consumption AMD Geode LX800 processor with versatile display and I/O port support makes it a great solution for embedded applications.
Specifications
CPU Support
AMD Geode LX800
500 MHz 64 KB I-cache/64 KB D-cache
128 KB L2 cache
Main Memory
One 184-pin DIMM socket, supports up to 1 GB Non-Registered Non-ECC DDR
SDRAM memory with 64-bit 400 MHz bus speed
Chipset
AMD Geode Castle and CS5536 companion chip
BIOS
Award system BIOS
4 Mbit flash ROM (SST) On-board LAN
10/100 Ethernet controller x 2 (VIA VT6105)
Flow control support (IEEE802.3x) / Priority Queuing support (IEEE 802.1p) / Virtual LAN (VLAN) Support (IEEE802.1Q)
RJ45 w/LED LAN connectors x 2
Display
Supports CRT resolutions up to 1920 x 1440 x 32 bpp at 85 Hz
DB15 CRT VGA Connector x 1
Supports up to 24-bit, 1600 x 1200 x 32 bpp at 60 Hz for TFT
DF13, 40-pin connector x 1 for TFT TTL LCD panel output
Compatible with EBK LVDS66
I/O Interface
USB 2.0 connector x 4
One 6-pin Mini-Din for PS/2 Keyboard/Mouse
Box header near rear panel for optional cable connection HDD: Support for IDE with 44-pin connector × 1
Internal CompactFlash socket x 1
Supports One Type I & II CompactFlash Card
On-board buzzer
On-board Power On/Off Switch 8 GPIO lines via header (4 in, 4 out) Digital I/O: 4-bit TTL input, 4-bit TTL output (TTL Level: 0 ~ 5 V)
2 GPIO connect to front alarm and status LEDs
Power /HDD
LAN 1 ~ 2 LEDs: ACT/LNK x 2; Speed x 2
User Interface Utility of Windows XP, XPe and Linux to configure the Alarm
Status of thermal and fan status on the Front LEDs, Firewire IEEE 1394a x 1
On-board RTC
On chip RTC with battery back up
External Li-Ion Battery x 1 (Socket type, field replaceable)
System Monitor
Derived from Super I/O to support system Voltage, fan speed, temperature monitoring
Watchdog Timer: Watchdog timeout can be programmed by Software from 1 Sec/Min to 256 Sec/Min (Tolerance 10% under room temperature 25°C) SIO x 4, with 4 x 16C550 UARTs, Two 9-pin 2.0 mm Pin Header and Two DB9 connectors (RS-232 Only) Embedded CPU Boards
Copyright © 2006 NEXCOM International Co., LTD. All rights reserved
Last Updated: Mar-30-2006 Block Diagram
Power Input
Supports AT Mode Only for Wake-up on Ring
On-board DC to DC circuit supports DC Voltage +12 V ± 5% Input
Reserved Mini-Din 4-pin and 2-pin Power Input connector
Dimensions
165 mm (L) x 142 mm (W)
Ordering information
EBC 420-LX8 (P/N: 1E00042001X0) RoHS Compliant
Low Power Embedded Board AMD Geode LX800 with 128 KB L2 cache and VGA/Audio/COM/USB 2.0 /Dual LAN
12V Power Adapter for EBC 420 (P/N:7410050001X0)
Power Adapter 50 W, 12 V/4.2 A, EDAC, PB FREE
Environment
Operating temperatures: 0°C to 65°C
Storage temperatures: -20°C to 85°C
Relative humidity: Operating 10% to 90%, non-condensing; non-operating
5% to 95%, non-condensing
Certifications
CE approval
FCC Class A
Embedded CPU Boards
NEXCOM may make changes to specifications and product descriptions at any time, without notice.

* Your assessment is very important for improving the work of artificial intelligence, which forms the content of this project