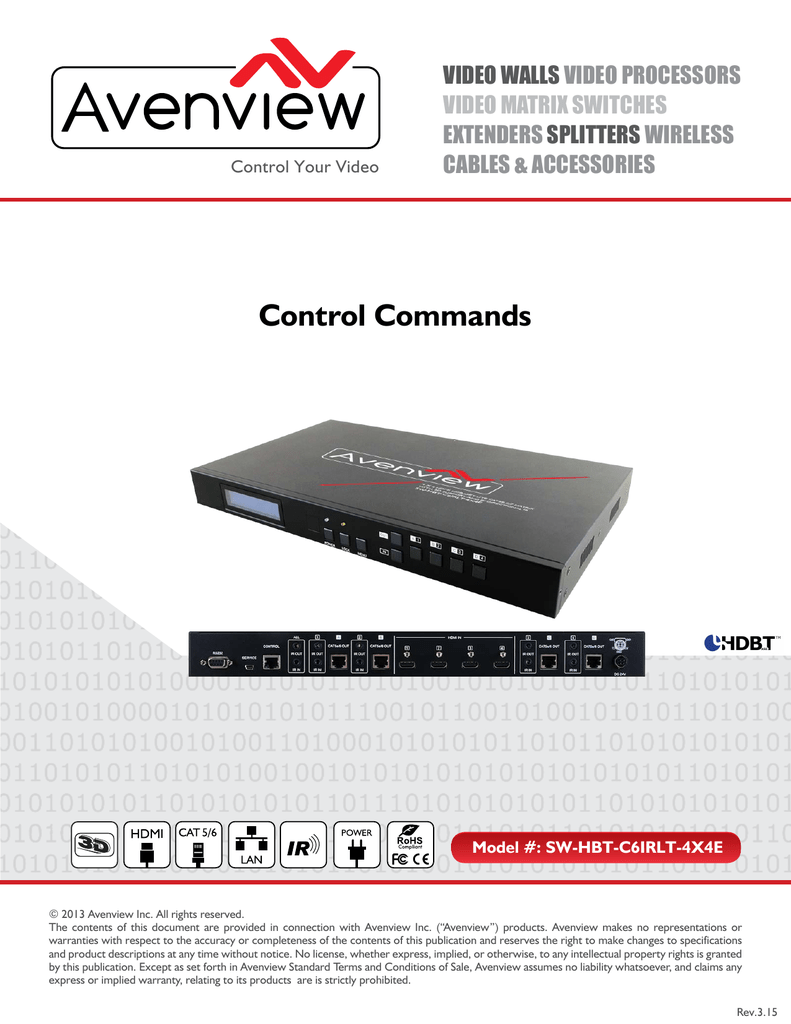 Control Your Video
VIDEO WALLS VIDEO PROCESSORS
VIDEO MATRIX SWITCHES
EXTENDERS SPLITTERS WIRELESS
CABLES & ACCESSORIES
Control Commands
Model #: SW-HBT-C6IRLT-4X4E
© 2013 Avenview Inc. All rights reserved.
The contents of this document are provided in connection with Avenview Inc. ("Avenview") products. Avenview makes no representations or
warranties with respect to the accuracy or completeness of the contents of this publication and reserves the right to make changes to specifications
and product descriptions at any time without notice. No license, whether express, implied, or otherwise, to any intellectual property rights is granted
by this publication. Except as set forth in Avenview Standard Terms and Conditions of Sale, Avenview assumes no liability whatsoever, and claims any
express or implied warranty, relating to its products are is strictly prohibited.
Rev.3.15
SECTION 1: COMMAND PROTOCOL FORMAT (RS-232 SERIAL PORT)
1.
SERIAL PORT SETTING
- Baud Rate: 19200 bps
- Data Bit: 8 bits
- Parity: None
- Flow Control: None
- Stop Bit: 1
RS-232 Wiring (Straight Connection)
SW-HBT-C6IRLT-4X4E
Assignment
PIN
1
NC
2
TxD
3
RxD
4
NC
5
GND
6
NC
7
NC
8
NC
9
NC
è
ç
Remote Controller(PC)
PIN
De finition
1
NC
2
TxD
RxD
3
4
NC
5
GND
6
NC
7
NC
8
NC
9
NC
www.avenview.com
Page
1
2.
RS-232 & Telnet Commands
All commands will be not executed unless followed with a carriage return (0x0D) and commands are case sensitive.
Command
Active
A1~A4
Switch Output A to 1~4
B1~B4
Switch Output B to 1~4
C1~C4
Switch Output C to 1~4
D1~D4
Switch Output D to 1~4
AB...1~AB...4
Switch Output A B C D... to 1~4 at the same time
SETIP <IP> <SubNet> <GW> Setting IP. SubNet. GateWay (Static IP)
RSTIP
IP Configuration Was Reset To Factory Defaults <DHCP>
IPCONFIG
Display the Current IP Config
P0
Power OFF
P1
Power ON
I1~I4
Switch all the Output to 1~4
ST
Display the current matrix status and F/W version
RS
System Reset to H4
EM
Setting EDID MODE. 1-STD 2-TV
?
Display all the available commands
Quit
Exit (for telnet only)
www.avenview.com
Page
2
3. TELNET CONTROL
Using TCP/IP protocol, sent to Port 23 for Telnet communication.
The user can confirm from the OSD menu or through RS-232 command to check Telnet connection behavior.
To use the telnet control, please ensure that both the Matrix (via the 'LAN /CONTROL' port) and the PC/Laptop
are connected to the active networks not directly connected.
To access the telnet control in Windows 7, click on the 'Start' menu and type "cmd" in the Search field then press
enter. Under Windows XP go to the 'Start' menu and click on "Run", type "cmd" with then press enter.
Under Mac OS X, go to Go→Applications→Utilities→Terminal See below for reference.
www.avenview.com
Page
4
In the CMD window proceed to type "telnet", then the IP address of the unit and "23", then hit enter/return.
Note: The IP address of the Matrix can be displayed on the device's LCM monitor by pressing the Menu button
twice.
After connecting to the Matrix Switcher via IP address. Type "HELP" to preview the list of commands available.
Type "IPCONFIG" To confirm all IP configurations.
To RESET the IP ADDRESS; type "RSTIP" /To SET a STATIC IP, type"SETIP"
(For a full list of commands, see Section 1.3).
Note: Commands will not be executed unless followed by a carriage return. Commands are case-insensitive. If the IP is
changed then the IP Address required for Telnet access will also change accordingly.
www.avenview.com
Page
5
4.
WEB GUI CONTROL
On a PC/Laptop that is connected to the same active network as the Matrix, open a web browser and
type device's IP address on the web address entry bar. The browser will display the device's status,
control and User setting pages.
Click on the 'Control' tab to control power, input/output ports, EDID and reset mode
www.avenview.com
Page
6
Clicking on the 'User Setting' tab allows you to reset the IP configuration. The system will ask for a reboot
of the device every time any of the settings are changed. The IP address needed to access the Web GUI
control will also need to be changed accordingly on the web address entry bar.
www.avenview.com
Page
7
AV Connectivity, Distribution And Beyond...
TECHNICAL SUPPORT
USA Head Office
Office Avenview
Corp. 275 Woodward Avenue
Kenmore, NY 14217
Phone: +1.716.218.4100 ext223
Fax: +1.866.387-8764
Email: [email protected]
Canada Sales
Avenview
151 Esna Park Drive, Unit 11 & 12
Markham, Ontario, L3R 3B1
Phone: 1.905.907.0525
Fax: 1.866.387.8764
Email: [email protected]
Avenview Europe
Avenview Europe
Demkaweg 11
3555 HW Utrecht
Netherlands
Phone: +31 (0)85 2100- 613
Email: [email protected]
Avenview Hong Kong
Unit 8, 6/F., Kwai Cheong Centre,
50 Kwai Cheong Road,
Kwai Chung, N.T.
Hong Kong
Phone: 852-3575 9585
Email: [email protected]
Disclaimer
While every precaution has been taken in the preparation of this document, Avenview Inc. assumes no liability with respect to the operation or use of
Avenview hardware, software or other products and documentation described herein, for any act or omission of Avenview concerning such products or this
documentation, for any interruption of service, loss or interruption of business, loss of anticipatory profits, or for punitive, incidental or consequential damages
in connection with the furnishing, performance, or use of the Avenview hardware, software, or other products and documentation provided herein.
Avenview Inc. reserves the right to make changes without further notice to a product or system described herein to improve reliability, function or design.
With respect to Avenview products which this document relates, Avenview disclaims all express or implied warranties regarding such products, including but
not limited to, the implied warranties of merchantability, fitness for a particular purpose, and non-infringement.