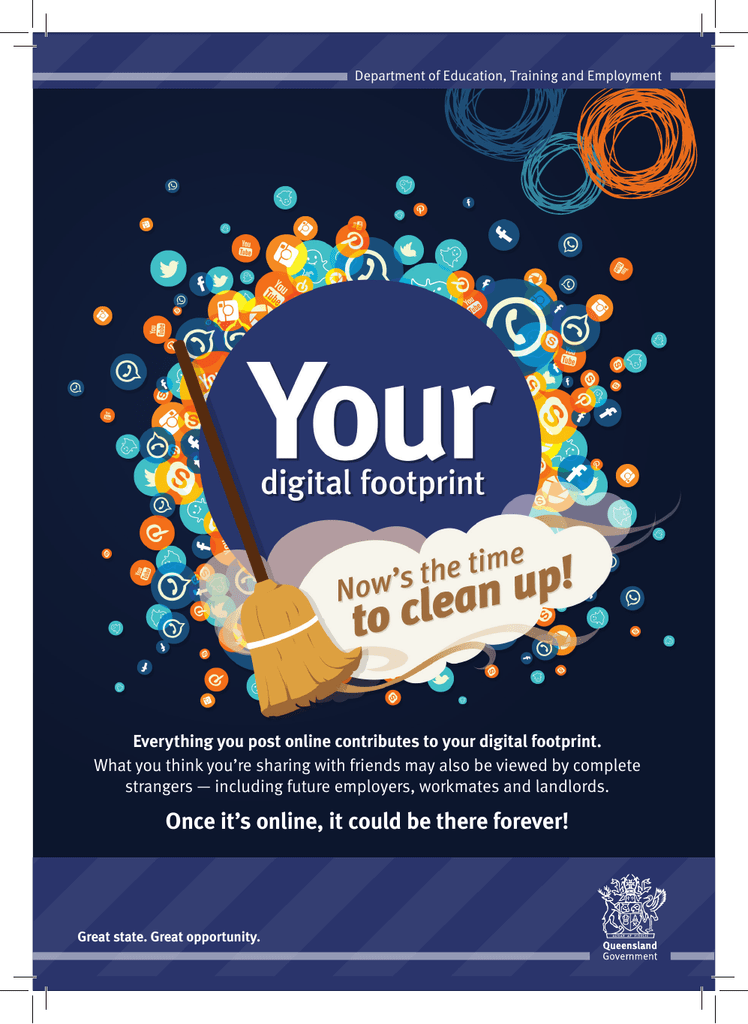 Department of Education, Training and Employment
Everything you post online contributes to your digital footprint.
What you think you're sharing with friends may also be viewed by complete
strangers — including future employers, workmates and landlords.
Once it's online, it could be there forever!
Great state. Great opportunity.
Google yourself
Look closely at your search results beyond
the first page — check your various aliases
and usernames. If you find content you do
not want shared, remove it, report it or ask
friends to 'untag' it.
Think before you share
Consider the outcomes of messages before
you share them online. Ask yourself, is it true,
useful and positive?
Check your privacy settings
Regularly update general privacy settings —
websites often add and remove new security
options without notifying users.
Delete unused
accounts and apps
Hiding or removing irrelevant and old content
will help keep your digital footprint up-to-date.
Check your friends list
Is there anyone you should remove from
your networks? Think twice before you add
'randoms' to your friends list.
Keep your devices close…
Your mobile, tablet and computer contain a
large amount of personal information. Secure
your devices with a passcode or pin and store
them in a secure place.
…and your passwords closer
Never share passwords, don't use the same
passwords for similar accounts and change
your passwords regularly.
www.qld.gov.au/cybersafety
If you encounter negative or offensive content online that
involves your school or affects your school community,
please contact your principal.

* Your assessment is very important for improving the work of artificial intelligence, which forms the content of this project