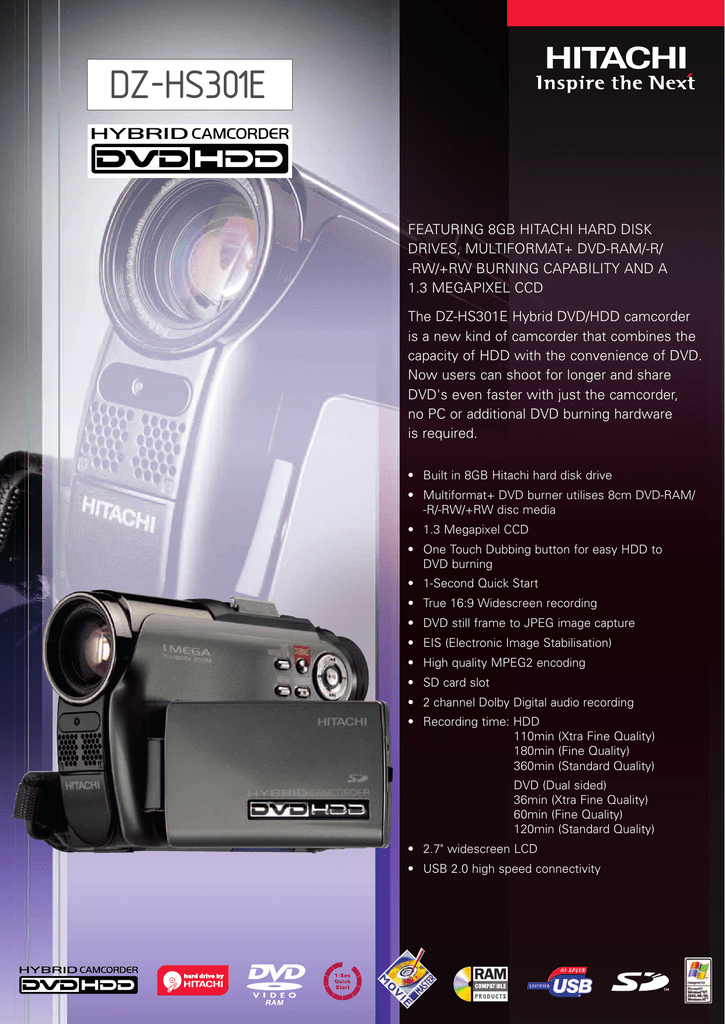 DZ-HS301E
FEATURING 8GB HITACHI HARD DISK
DRIVES, MULTIFORMAT+ DVD-RAM/-R/
-RW/+RW BURNING CAPABILITY AND A
1.3 MEGAPIXEL CCD
The DZ-HS301E Hybrid DVD/HDD camcorder
is a new kind of camcorder that combines the
capacity of HDD with the convenience of DVD.
Now users can shoot for longer and share
DVD's even faster with just the camcorder,
no PC or additional DVD burning hardware
is required.
• Built in 8GB Hitachi hard disk drive
• Multiformat+ DVD burner utilises 8cm DVD-RAM/
-R/-RW/+RW disc media
• 1.3 Megapixel CCD
• One Touch Dubbing button for easy HDD to
DVD burning
• 1-Second Quick Start
• True 16:9 Widescreen recording
• DVD still frame to JPEG image capture
• EIS (Electronic Image Stabilisation)
• High quality MPEG2 encoding
• SD card slot
• 2 channel Dolby Digital audio recording
• Recording time: HDD
110min (Xtra Fine Quality)
180min (Fine Quality)
360min (Standard Quality)
DVD (Dual sided)
36min (Xtra Fine Quality)
60min (Fine Quality)
120min (Standard Quality)
• 2.7" widescreen LCD
• USB 2.0 high speed connectivity
DZ-HS301E
Technical Specifications
MODEL
GENERAL
CCD
Lens
LCD
EVF
Camera
Hitachi Hybrid DVD/HDD Camcorder
- convenience and capacity combined
• Shoot for hours – Hard Disk Drive for
over 6 hours recording time
• Edit in minutes – simple on-board editing
• Share in seconds – burn multiple DVD's
with just the camera, no need for a PC
Recording Media
Movie Formats/Recording Times
Audio Format
Dubbing function
HDD dubbing to DVD media
One touch dubbing button
Picture size
DCF
Photo capture from DVD frame to JPEG
Start-up time
1-Second Quick Start
Start-up **
Connectivity
AV/S output
AV input
USB (with USB cable)
Finalise button
Hitachi Quick Menu (Easy Menu System)
Memory card
Display language text
Fade setting
PC software
Battery life*** (w/o LCD)
Power consumption (w/o LCD)
Supplied battery
Dimensions (W x H x D)
Weight (w/o battery)
Key Features
The specification above and photography is for reference only and may be subject to change.
HITACHI DIGITAL MEDIA, Hitachi Europe Ltd, Whitebrook Park, Lower Cookham Road,
Maidenhead, Berkshire SL6 8YA UNITED KINGDOM
Tel: +44 (0)1628 585 000 Fax:+44 (0)1628 585 500 www.hitachidigitalmedia.com
Still Image
DZ-HS301E
Design
Pixels
Effective pixels (Movie)
Effective pixels (Still)
Size
Lens type
Optical/Digital zoom
Lens F No.
Filter diameter
Pixels
Size
Pixels (viewfinder)
Video light
Built-in flash
Accessory shoe
Image stabilisation
Minimum illumination
Focus
White balance
Iris
Recording scene modes
HDD
DVD
Maximum recording time (HDD)
Maximum recording time (DVD dual sided)
08/06
Accessories
Battery pack
AC adaptor
PC cable
PC software
Shoulder strap
AC power cord
DC power cord
AV cable
Lens cap
Instruction manual
Quick manual
Battery for remote
Remote controller
Gun metal
1.3 Megapixel
690K
1.1M
1/5
High quality multi coated video lens
15x/800x
F1.2 – 2.8
30.5mm
123K
2.7" (16:9 Widescreen)
Colour (200k)
Yes (LCD)
–
Cold
EIS (Electronic Image Stabilisation)
0.3 Lux w/Low light mode
Auto/Manual
Auto/Set/Outdoor/Indoor
Auto/Manual
Auto/Sport/Portrait/Spotlight/Sand & Snow/Low Light
8GB Built in Hitachi HDD
DVD-RAM/-RW/-R/+RW
XTRA: 110min./FINE: 180min./STD: 360min.
XTRA: 36min./FINE: 60min./STD: 120min.
2ch Stereo Dolby Digital
DVD-RAM/-RW/-R/+RW
Yes
JPEG 1280 x 960
Yes
Yes
1 sec*
3 sec
Yes
No
Yes out only (USB 2.0)
Yes
Yes
SD
English/French/Spanish/Italy/German
White/Wipe/Mono
Windows/Mac
85min (HDD)
70min (DVD)
3.3W (HDD)
3.8W (DVD)
DZ-BP07P
59 x 87 x 125mm
435g
• DVD+HDD Hybrid-CAM
• Easy editing and DVD burning without a
PC or other external hardware
• DVD-RAM/-RW/-R/+RW & SD Card
• 1-Second Quick Start
• 1.3 Megapixel CCD
• Photo capture from DVD frame to JPEG
Li-ion 680mAh (1hr)
AC adaptor/charger
Yes
CD-ROM for Win/Mac
Yes
Yes
Yes
Multi connector w/S terminal
Yes
Yes
Yes
Lithium button battery
Yes
*Using restart mode **Turn on after initialised ***FINE mode recording
Windows® 98, ME, 2000, XP is a trademark of Microsoft Corporation. Pentium®. Celeron® is a trademark of Intel Corporation.
The USB - IF Logos are Trademarks of Universal Serial Bus Implementers Forum, Inc.
SD logo is a trademark.
All other company and product names are trademarks of their respective Corporations.

* Your assessment is very important for improving the work of artificial intelligence, which forms the content of this project