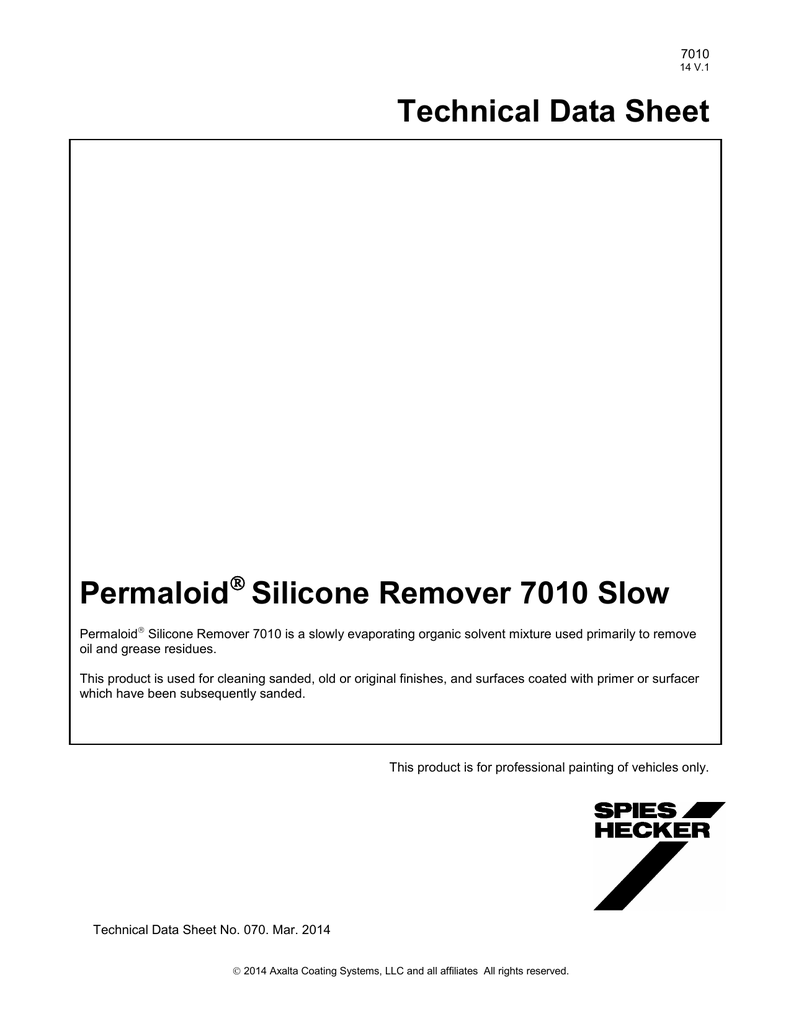 7010
14 V.1
Technical Data Sheet
Permaloid Silicone Remover 7010 Slow
Permaloid Silicone Remover 7010 is a slowly evaporating organic solvent mixture used primarily to remove
oil and grease residues.
This product is used for cleaning sanded, old or original finishes, and surfaces coated with primer or surfacer
which have been subsequently sanded.
This product is for professional painting of vehicles only.
Technical Data Sheet No. 070. Mar. 2014
 2014 Axalta Coating Systems, LLC and all affiliates All rights reserved.
7010
14 V.1
Field of Application
For cleaning surfaces prior to applying primers, surfacers, or top coats
Procedure:
®
 Apply Permaloid Silicone Remover 7010 Slow with a spray bottle or clean cloth.
 Wipe dry with a clean cloth before Permaloid Silicone Remover 7010 Slow evaporates.
Notes:
1.
2.
3.
4.
5.
6.
Allow cleaned surfaces to dry completely before recoating.
Do not allow Permaloid Silicone Remover 7010 Slow to dry on the surface.
This product is not suitable for cleaning spray guns or tools.
Always use a clean cloth.
Heavily soiled areas must be cleaned twice.
Permahyd Silicone Removers 7085 or 7096 must be used for final cleaning prior to use of
®
any Permahyd product.
Important Regulatory Information
VOC Category
Surface Preparation 7010 Slow (5 Liter)


VOC Regulatory
and Actual
Gallon
Weight
Wt% Volatiles, Water &
Exempts
Vol% Solids
773 g/l, 773 g/l
6.45 lbs/gal
100%,0.0%,0.0%
0.0%
For industrial use only by professional, trained painters. Not for sale to or use by the general
public. Before using, read and follow all label and MSDS precautions. If mixed with other
components, mixture will have hazards of all components. Ready to use paint materials
containing isocyanates can cause irritation of the respiratory organs and hypersensitive
reactions. Asthma sufferers, those with allergies and anyone with a history of respiratory
complaints must not be asked to work with products containing isocyanates. Do not sand,
flame cut, braze or weld dry coating without a NIOSH approved air purifying respirator with
particulate filters or appropriate ventilation, and gloves.
Any analytical results set forth herein do not constitute a warranty of specific product features or of the
product's suitability for a specific purpose. All products are sold pursuant to our general conditions of
sale. We hereby disclaim all warranties and representations, express or implied, with respect to this
product, including any warranty of merchantability or fitness for a particular purpose. This product is
protected by patent law, trademark law, copyright law, international treaties and/or other applicable law.
All rights reserved. Unauthorized sale, manufacturing or use may result in civil and criminal penalties.
SPIES HECKER, INC.
47818 West Anchor Court
Plymouth, MI 48170
Tel. 800-447-7437 (800-44-SPIES)
Fax 734-354-3405
www.SpiesHeckerUSA.com
 2014 Axalta Coating Systems, LLC and all affiliates All rights reserved.

* Your assessment is very important for improving the work of artificial intelligence, which forms the content of this project