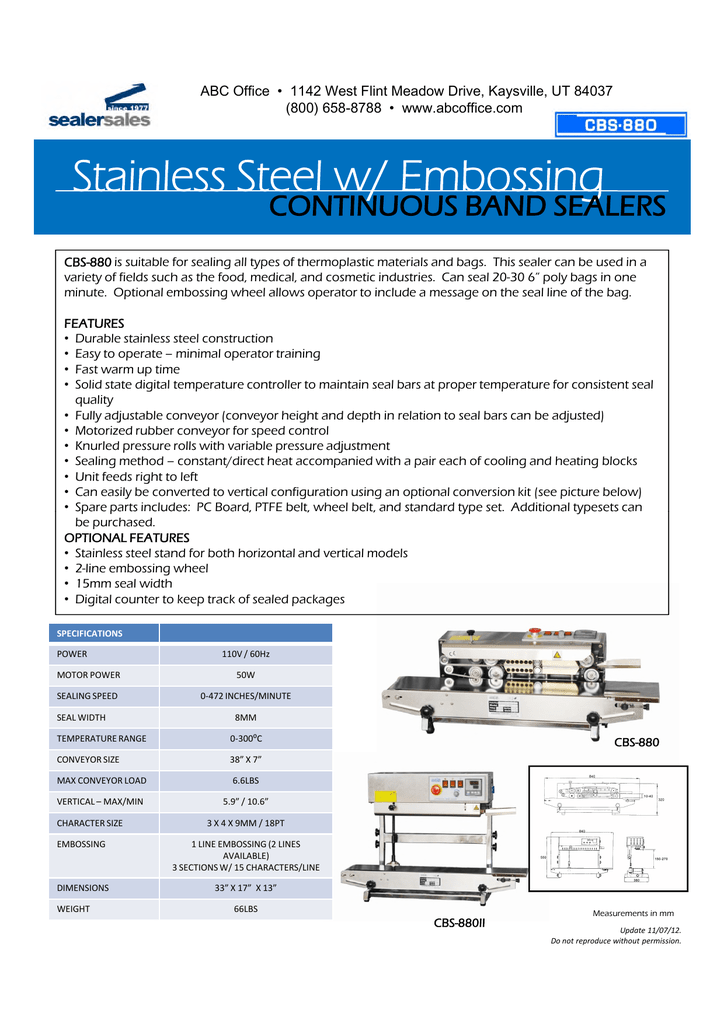 ABC Office • 1142 West Flint Meadow Drive, Kaysville, UT 84037
8820 Baird Avenue | Northridge, CA 91324 | Tel: 818.718.8818 | Fax: 818.705.8857
(800) 658-8788
• www.abcoffice.com
www.sealersales.com
| info@sealersales.com
Stainless Steel w/ Embossing
CONTINUOUS BAND SEALERS
CBS-880 is suitable for sealing all types of thermoplastic materials and bags. This sealer can be used in a
variety of fields such as the food, medical, and cosmetic industries. Can seal 20-30 6" poly bags in one
minute. Optional embossing wheel allows operator to include a message on the seal line of the bag.
FEATURES
• Durable stainless steel construction
• Easy to operate – minimal operator training
• Fast warm up time
• Solid state digital temperature controller to maintain seal bars at proper temperature for consistent seal
quality
• Fully adjustable conveyor (conveyor height and depth in relation to seal bars can be adjusted)
• Motorized rubber conveyor for speed control
• Knurled pressure rolls with variable pressure adjustment
• Sealing method – constant/direct heat accompanied with a pair each of cooling and heating blocks
• Unit feeds right to left
• Can easily be converted to vertical configuration using an optional conversion kit (see picture below)
• Spare parts includes: PC Board, PTFE belt, wheel belt, and standard type set. Additional typesets can
be purchased.
OPTIONAL FEATURES
• Stainless steel stand for both horizontal and vertical models
• 2-line embossing wheel
• 15mm seal width
• Digital counter to keep track of sealed packages
SPECIFICATIONS
POWER
110V / 60Hz
MOTOR POWER
50W
SEALING SPEED
0-472 INCHES/MINUTE
SEAL WIDTH
8MM
TEMPERATURE RANGE
0-300⁰C
CONVEYOR SIZE
38" X 7"
MAX CONVEYOR LOAD
6.6LBS
VERTICAL – MAX/MIN
5.9" / 10.6"
CHARACTER SIZE
3 X 4 X 9MM / 18PT
EMBOSSING
1 LINE EMBOSSING (2 LINES
AVAILABLE)
3 SECTIONS W/ 15 CHARACTERS/LINE
DIMENSIONS
33" X 17" X 13"
WEIGHT
CBS-880
66LBS
CBS-880II
Measurements in mm
Update 11/07/12.
Do not reproduce without permission.

* Your assessment is very important for improving the work of artificial intelligence, which forms the content of this project