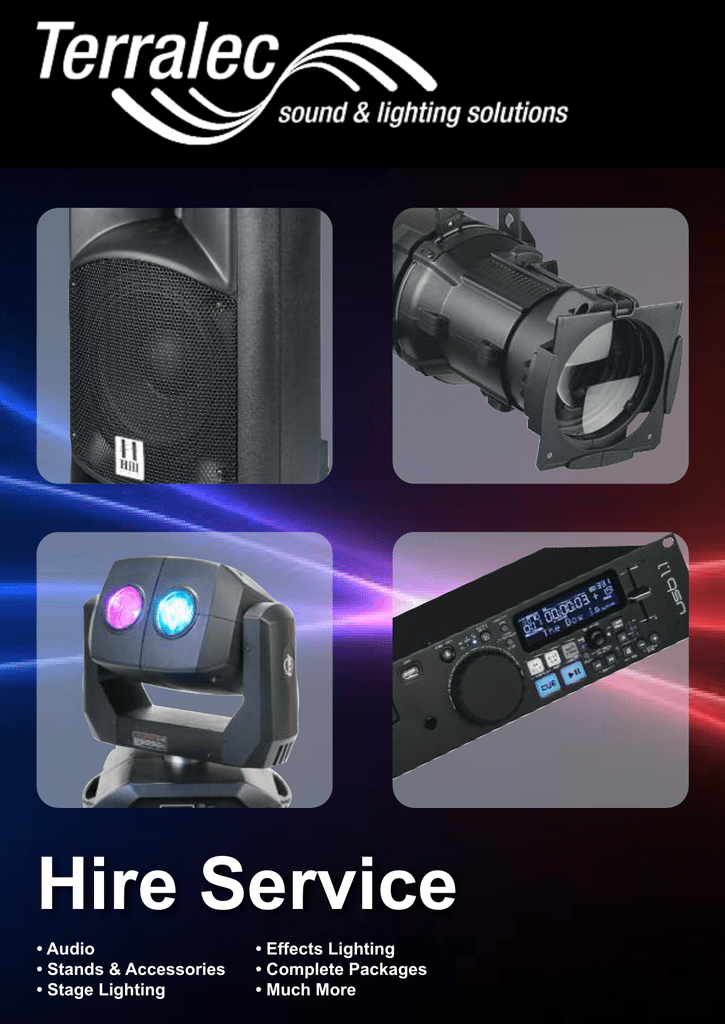 Hire Service
• Audio
• Stands & Accessories
• Stage Lighting
• Effects Lighting
• Complete Packages
• Much More
How It Works
Register
If you are a new customer you will need to register for hire. To do
this, please visit the "Request Brochure" tab on our website, here
you can select "Hire Request". A unique hire code will then be
sent to the address you enter. It is important to keep this
document safe as you will need it to complete your hire
transaction. This address will also need to be your registered
credit or debit card address.
Book Your Goods
Once you have your unique code you can arrange your booking.
This can be done in store or via the telephone. Availability will be
confirmed and we can advise you what deposit will be required
(payable on collection). Terralec do not charge any booking fees.
Collect & Enjoy!
Upon collection of your goods your agreed security deposit will be
required along with the hire fee. The deposit amount will be
refunded upon return & inspection of the goods. You will need to
bring 2 forms of ID with you. One will need to show your photo,
such as a driving license or passport. The other must confirm the
address you have registered, such as a recent utility bill or
bank statement.
www.terralec.co.uk
email:[email protected] Tel: 01702547571
Single CD player
£25
16 Channel Stage
Mixer £30
Dual CD/MP3
Player £30
DJ Mixer
£15
3 Channel Power
Amplifier £25
2 x 250W Digital
Power Amp £20
2 x 500W Power
Amplifier £25
Dual CD & Mixer
System £40
HIRE001
HIRE004
HIRE007
www.terralec.co.uk
HIRE002
HIRE005
HIRE008
HIRE003
HIRE006
HIRE009
Mixers Amps & Media Players
Midi Controller DJ
Package £60
email:[email protected] Tel: 01702547571
Speaker & PA Hire
Active PA Speakers 10", 12" + 15" Available
10"= £15 12"= £20 15"= £25
15" 300w Passive
Speaker £15
HIRE010/ HIRE011/ HIRE012
15" 400w Passive
Speaker £20
Medium PA Package With 2 x 12" Speakers,
2 x 15" Subs & Power Amp £90
HIRE014
HIRE015
Large PA Package With 2 x 12" Speakers & 4 x 15" Subwoofers, All Cables & Amp £140
HIRE016
www.terralec.co.uk
HIRE013
Portable PA
With Amp £25
HIRE017
email:[email protected] Tel: 01702547571
Corded Mic
£5
Hand Held
Radio Mic £10
Dual Radio Mic Set
£15
4 Way Radio Mic Set
£30
Drum Mic Set
£15
HIRE018
HIRE021
Speakers & PA:
HIRE019
HIRE022
HIRE020
HIRE023
Useful Info
All of our equipment is fully tested before being released for hire. Our friendly staff
will be able to talk you through how to set up and use the PA systems and speaker
cabinets, so you can kick back & enjoy your event hassle free!
Technical Info:
For full technical specifications on all of the products advertised for hire please
contact us via [email protected] or by phone 01702 547571
Headphone & Mic Hire
High Quality
Headphones £5
Radio Mics:
All of the radio microphnes available for hire can be used in the unlicensed band.
www.terralec.co.uk
email:[email protected] Tel: 01702547571
Lighting Hire
Galaxy Dual Mirror
LED £15
Zip7 LED Effect
£15
Mystery High Power
LED £15
4 Way LED Lighting
Effect £15
3 Way LED Lighting Effect £10
RGB Minispot
£15
10W Moving Head
£20
40W Moving Head
£40
60W Moving Head
£50
HIRE024
HIRE027
HIRE030
www.terralec.co.uk
HIRE025
HIRE028
HIRE031
HIRE026
HIRE029
HIRE032
email:[email protected] Tel: 01702547571
Micro Red & Blue
Laser £10
RGB 3D Laser
£30
Red & Green Laser
Effect £20
High Power 1500W
Strobe £15
400W UV Cannon
£20
Compact LED UV
Light £10
HIRE036
125W UV Flood
£15
HIRE039
www.terralec.co.uk
HIRE034
HIRE037
HIRE035
HIRE038
Lighting Hire
HIRE033
RGB LED Par Set with Cables
Set of 4=£20, Set of 8=£30, Set of 12=£40
HIRE040/ HIRE041/ HIRE042
email:[email protected] Tel: 01702547571
Lighting Hire
LED Par Kit Complete with 48
Channel Controller & Stands
£80
Party Bar System With Foot
Controller, Stands & Carry Case
£30
RGB Star Cloth with Controller
1 x 2m = £15 HIRE045
2 x 3m = £30 HIRE046
Lightin LED Ultimate House Party
Kit Inc. 2 Strobes, 2 Lasers & 2
LED Party Balls! £15
HIRE043
www.terralec.co.uk
HIRE044
HIRE047
email:[email protected] Tel: 01702547571
Low Fog Machine
£20
Vertical Fog Machine
£20
Antari Fog Machine &
Remote £10
High Output Bubble
Machine £25
Snow Machine
£15
Available to Buy
Bubble Fluid
Available to Buy
Haze & Fog Fluid
Available to Buy
Snow Fluid
HIRE048
HIRE051
www.terralec.co.uk
HIRE049
HIRE052
HIRE050
HIRE053
Stage Effects Hire
1000W Fog Machine
With DMX £15
email:[email protected] Tel: 01702547571
Stand & Workstation Hire
Speaker Stand
£5
3.4M Lighting Stand
£5
Black Mic Stand
£5
Truss Plinths x 2
1M=£10 1.5M=£15
4Ft DJ Stand
£12
Fold Flat DJ Station
£10
HIRE054
HIRE057/ HIRE058
www.terralec.co.uk
HIRE055
HIRE059
HIRE056
HIRE060
email:[email protected] Tel: 01702547571
We have 4 trussing sets available. Once erected the trussing
available will create a cube style exhibition stand. All the necessary
connecting pins and base plates are included.
Kit 1 = 3.8 x 3.8 x 3.4M
Kit 2 = 4.8 x 4.8 x 3.4M
Kit 3 = 5.8 x 5.8 x 3.4M
Kit 4 = 6.8 x 6.8 x 3.4M
www.terralec.co.uk
£30 HIRE061
£40 HIRE062
£45 HIRE063
£50 HIRE064
Trussing & Clamp Hire
Complete Trussing Square
email:[email protected] Tel: 01702547571
Hire Terms & Conditions
1. DEFINITIONS AND LAW
1.1"Equipment" shall mean goods, components and other items hired from Terralec Ltd or any part thereof.
1.2"The Customer" is the person or company hiring equipment.
1.3"Loss" shall mean loss of profits, contracts or other loss or damages whatsoever.
1.4. The Contract shall be interpreted and applied in accordance with English Law and the parties to this contract agree to submit to the exclusive
jurisdiction of the English Courts.
2. HIRE TERMS.
2.1 Hire charges commence from the time of collection and are payable for the period of hire.
2.2 Equipment must be returned by the time and date specified at point of collection.
2.3 Additional charges accrue at the full daily hire rate together with consequential loss in the event of the breach of these
conditions or the equipment not being available for use by any other party.
2.4 All equipment must be returned in the same condition at the start of hire, in a clean and serviceable order. Failure to adhere to this will result in
additional charges.
2.5 Terralec Ltd supply all necessary leads, clamps and accessories at time of hire. All items must be returned, failure to do so will
result in a charge to the sales value of the goods.
2.6. All charges are payable on demand. Terralec Ltd reserve the right to make additional charges whereby any part of these
conditions has not been met.
3. HIRE PERIOD
3.1 The hiring period commences at the time of collection and terminates at the return date and time specified at point of
collection.
3.2 All hire charges quoted cover a 24 hour period. Goods hired for a 24 hour period on a Saturday will be required to be returned on the following
Monday. There will be no additional charge in this instance.
4. THE HIRE CONTRACT
4.1 By commencing hire with Terralec Ltd, the customer agrees to these Terms & conditions and agrees that they form part of the hire contract.
4.2 Hire will only be authorised whereby the customer is the person named on our records and can provide two relevant forms of
identification which must match their registered card address and address on record. All new customers will require a unique hire code before they
can commence with any hire.
4.3 Terralec Ltd reserve the right to refuse or withdraw hire without reason or obligation prior to any monies being exchanged.
5. CUSTOMERS RESPONSIBILITIES
5.1 The customer shall be responsible for the equipment at time of collection until such time Terralec Ltd receipt return of all goods and
accessories.
5.2 The customer shall not at any time sell, dispose or sublet any of the equipment hired.
5.3 The customer named on the hire agreement undertakes all responsibility that everyone who uses the equipment has been
properly instructed in its safe and correct operation and will ensure that every user is in possession of necessary instructional
manuals. They also undertake that the equipment will not be misused.
5.4 The Customer will at all times fully indemnify Terralec Ltd. against any expense liability, financial loss claim or proceedings
whatsoever in respect of any personal injury or damage to, or loss of any property arising out of or in connection with the use of the equipment.
6. EQUIPMENT
6.1 Any electrical Equipment must be used with plugs and/or sockets as fitted.
6.2. No Equipment shall be modified or adapted in any manner.
6.3 The Customer shall be responsible at all times to arrange a proper supply of electricity and ensure that the Equipment shall at all times be
properly earthed. Damage as a result of misuse or incorrect power supply will be charged.
6.4 The Customer agrees to keep Equipment in a clean and serviceable manner throughout the duration of hire.
6.5 In the event of any fault or malfunction the customer agrees to report to Terralec Ltd immediately and cease use.
6.6 The customer must not attempt or permit any third party to attempt any repair or service to the equipment during any point of the hire.
6.7 In the event of equipment being involved in any accident or incident which results in injury to any person the customer agrees to
notify Terralec Ltd immediately.
6.8 In the event of any theft or loss the customer agrees to notify Terralec Ltd immediately.
6.9 The customer shall remain responsible for checking the compatibility of all equipment hired and is responsible for ensuring the equipment is fit
for their purpose. Terralec Ltd will not be held responsible for goods not being as desired/ expected.
6.10 Terralec Ltd reserve the right to supply alternative equipment with similar specification from that shown in any promotional
literature.
6.11 All diagrams, illustrations, particulars and specifications are for guidance only and shall not form part of the hire Contract. Terralec Ltd reserve
the right to amend any listing without notice..
7. INSURANCE
7.1 The customer agrees to pay Terralec Ltd full retail costs of any lost or damaged equipment (with deduction for due wear and tear in relation to
age).
7.2 The Customer is fully responsible for the care, safe keeping and return in good order of the Equipment.
7.3 Terralec Ltd reserve the right to recover all costs incurred in rectifying any equipment returned damaged or unclean.
7.4 Terralec Ltd reserve the right to terminate any hire contract, at any time without warning if any of the terms and conditions have not been met.
In such instances the customer will remain liable for all hire costs.
8. CANCELLATION
8.1 Terralec Ltd will not charge any cancellation fee for goods cancelled 24 hours in advance.
8.2 Hire commences at time of collection, in the event that the customer wishes to cancel after this time, the hire fee will remain payable and hire
costs will not be refunded.
9. PAYMENT
9.1 All hire and deposit fees are payable in advance at time of collection.
9.2 All deposit fees must be paid by card which matches that of the registered customer address. The customer agrees to any
additional fees or losses to be recovered from this card.
9.3 Deposit fees will be refunded upon return and inspection of the hired goods in good working order. All goods will be inspected and tested prior
to the return of any deposit made.

* Your assessment is very important for improving the work of artificial intelligence, which forms the content of this project