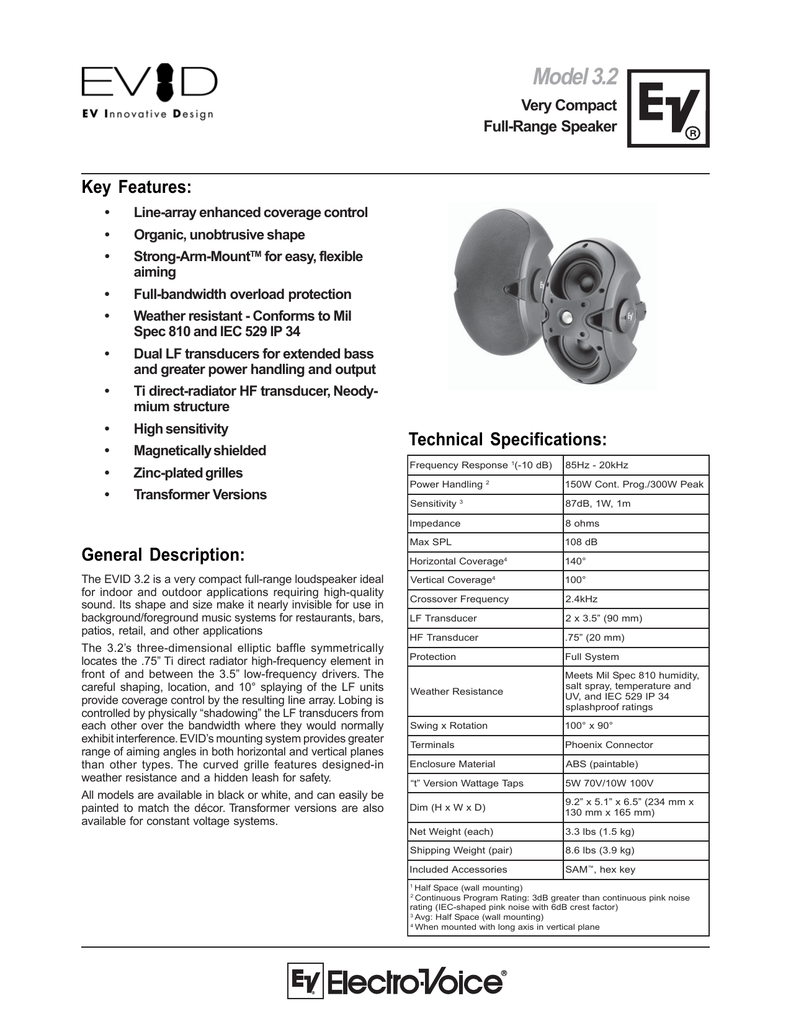 Model 3.2
Very Compact
Full-Range Speaker
Key Features:
•
Line-array enhanced coverage control
•
Organic, unobtrusive shape
•
Strong-Arm-MountTM for easy, flexible
aiming
•
Full-bandwidth overload protection
•
Weather resistant - Conforms to Mil
Spec 810 and IEC 529 IP 34
•
Dual LF transducers for extended bass
and greater power handling and output
•
Ti direct-radiator HF transducer, Neodymium structure
•
High sensitivity
•
Magnetically shielded
•
Zinc-plated grilles
•
Transformer Versions
Technical Specifications:
Frequency Response 1(-10 dB)
Power Handling
Sensitivity
2
150W Cont. Prog./300W Peak
3
87dB, 1W, 1m
Impedance
8 ohms
Max SPL
General Description:
The EVID 3.2 is a very compact full-range loudspeaker ideal
for indoor and outdoor applications requiring high-quality
sound. Its shape and size make it nearly invisible for use in
background/foreground music systems for restaurants, bars,
patios, retail, and other applications
The 3.2's three-dimensional elliptic baffle symmetrically
locates the .75" Ti direct radiator high-frequency element in
front of and between the 3.5" low-frequency drivers. The
careful shaping, location, and 10° splaying of the LF units
provide coverage control by the resulting line array. Lobing is
controlled by physically "shadowing" the LF transducers from
each other over the bandwidth where they would normally
exhibit interference. EVID's mounting system provides greater
range of aiming angles in both horizontal and vertical planes
than other types. The curved grille features designed-in
weather resistance and a hidden leash for safety.
All models are available in black or white, and can easily be
painted to match the décor. Transformer versions are also
available for constant voltage systems.
Horizontal Coverage
85Hz - 20kHz
108 dB
4
140°
Vertical Coverage4
100°
Crossover Frequency
2.4kHz
LF Transducer
2 x 3.5" (90 mm)
HF Transducer
.75" (20 mm)
Protection
Full System
Weather Resistance
Meets Mil Spec 810 humidity,
salt spray, temperature and
UV, and IEC 529 IP 34
splashproof ratings
Swing x Rotation
100° x 90°
Terminals
Phoenix Connector
Enclosure Material
ABS (paintable)
"t" Version Wattage Taps
5W 70V/10W 100V
Dim (H x W x D)
9.2" x 5.1" x 6.5" (234 mm x
130 mm x 165 mm)
Net Weight (each)
3.3 lbs (1.5 kg)
Shipping Weight (pair)
8.6 lbs (3.9 kg)
Included Accessories
SAM™, hex key
1
Half Space (wall mounting)
Continuous Program Rating: 3dB greater than continuous pink noise
rating (IEC-shaped pink noise with 6dB crest factor)
3
Avg: Half Space (wall mounting)
4
When mounted with long axis in vertical plane
2
Frequency Response:
Architecture & Engineering Specs:
The loudspeaker shall be a two-way system consisting of two 3.5"
(89mm) low-frequency transducers, a .75" (19mm) high-frequency
transducer, and a frequency-dividing network installed in a vented, linearray enclosure. The network shall include a passive limiter for both the
low-frequency and high-frequency transducers. The loudspeaker system
shall meet the following performance criteria: Power handling, 150
Watts of EIA RS-426A continuous pink noise (6 dB crest factor); Frequency
response, 85 Hz – 20 kHz (-10 dB from rated sensitivity); Pressure
sensitivity, 87 dB at one watt, 200 Hz – 10 kHz at one meter; Impedance,
8 ohms nominal, 6 ohms minimum. The enclosure shall be molded of
acrylic butyl styrene. The enclosure shall be 9.2" (234mm) high, 5.1"
(127mm) wide, 6.5" (165mm) deep. The finish shall be a paintable black
or white. The grille shall be zinc plated, powder coated for corrosion
resistance, and restrained with a safety leash. The loudspeaker shall be
adjustable over a range of 100° horizontally and 90° vertically.The support
bracket shall be low profile and integral with the enclosure. The system
shall be weather resistant to MIL Spec 810 and IEC 529 IP 34 test
conditions. The surface mount loudspeaker shall be the Electro-Voice®
EVID model 3.2.
Beamwidth:
Block Diagram:
Directivity:
Dimension Drawings:
6.5
[165.1]
5.1
[129.5]
Performance Match:
• EVID 12.1 Sub
9.2
[233.7]
Available Accessories:
• MA-3 Microphone Stand Mounting Kit for 3.2
Front
Side
• HS-3
Horizontal Mount Desk Stand for 3.2/4.2
• VS-3
Vertical Mount Desk Stand for 3.2
• AB-ZE Array Bracket Kit for 2 or 4 ZX1i or EVID Systems, Black
1.67
[42.4]
Ø0.26 x 4
EVID 3.2 Part Numbers:
2.5
[63.5]
3.33 2.75
[84.7] [69.9]
1.38
[34.9]
301045-001
Black
301045-002
White
301045-003
Black, Transformer
301045-004
White, Transformer
1.0
[25.4]
Top
12000 Portland Avenue South, Burnsville, MN 55337
Phone: 952/884-4051, Fax: 952/884-0043
www.electrovoice.com
© Telex Communications, Inc. 1/2007
Part Number 38109-981 Rev F
Wall Plate
U.S.A. and Canada only. For customer orders, contact Customer Service at:
800/392-3497 Fax: 800/955-6831
Europe, Africa, and Middle East only. For customer orders, contact Customer Service at:
+ 49 9421-706 0 Fax: + 49 9421-706 265
Other International locations. For customer orders, contact Customer Service at:
+ 1 952 884-4051 Fax: + 1 952 887-9212
For warranty repair or service information, contact the Service Repair department at:
800/685-2606
For technical assistance, contact Technical Support at: 866/78AUDIO
Specifications subject to change without notice.