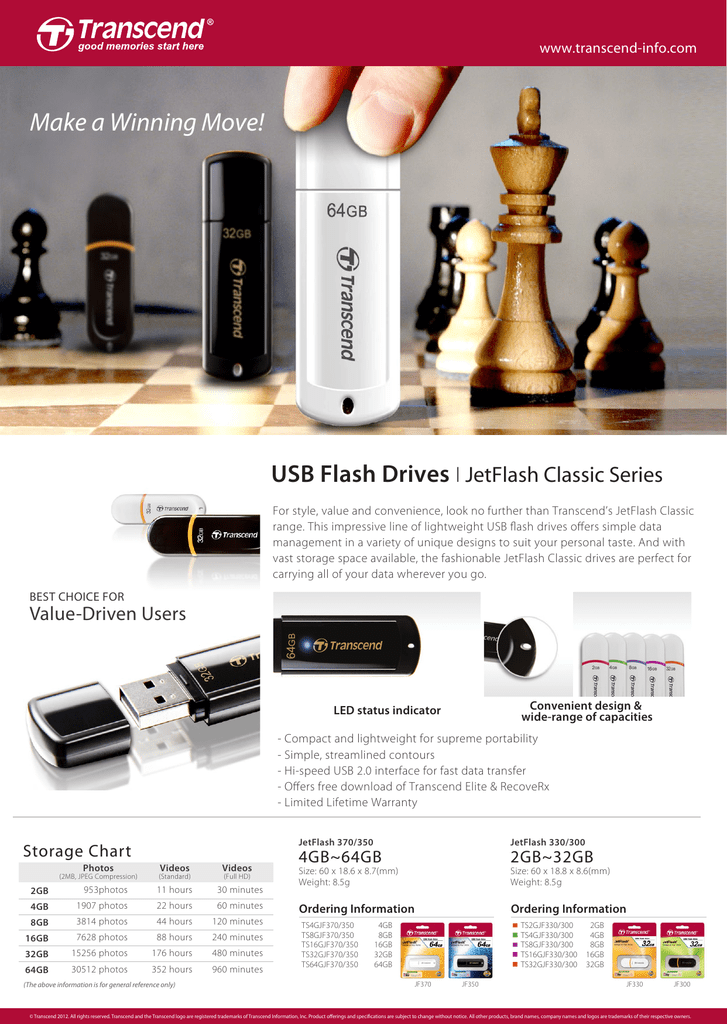 www.transcend-info.com
Make a Winning Move!
USB Flash Drives I JetFlash Classic Series
For style, value and convenience, look no further than Transcend's JetFlash Classic
range. This impressive line of lightweight USB flash drives offers simple data
management in a variety of unique designs to suit your personal taste. And with
vast storage space available, the fashionable JetFlash Classic drives are perfect for
carrying all of your data wherever you go.
BEST CHOICE FOR
Value-Driven Users
Convenient design &
wide-range of capacities
LED status indicator
- Compact and lightweight for supreme portability
- Simple, streamlined contours
- Hi-speed USB 2.0 interface for fast data transfer
- Offers free download of Transcend Elite & RecoveRx
- Limited Lifetime Warranty
Storage Chart
Photos
(2MB, JPEG Compression)
Videos
(Standard)
Videos
(Full HD)
2GB
953photos
11 hours
4GB
1907 photos
22 hours
60 minutes
8GB
3814 photos
44 hours
120 minutes
16GB
7628 photos
88 hours
240 minutes
32GB
15256 photos
176 hours
480 minutes
64GB
30512 photos
352 hours
960 minutes
(The above information is for general reference only)
30 minutes
JetFlash 370/350
JetFlash 330/300
Size: 60 x 18.6 x 8.7(mm)
Weight: 8.5g
Size: 60 x 18.8 x 8.6(mm)
Weight: 8.5g
4GB~64GB
2GB~32GB
Ordering Information
TS4GJF370/350
TS8GJF370/350
TS16GJF370/350
TS32GJF370/350
TS64GJF370/350
Ordering Information
4GB
8GB
16GB
32GB
64GB
TS2GJF330/300
TS4GJF330/300
TS8GJF330/300
TS16GJF330/300
TS32GJF330/300
JF370
JF350
2GB
4GB
8GB
16GB
32GB
JF330
JF300
© Transcend 2012. All rights reserved. Transcend and the Transcend logo are registered trademarks of Transcend Information, Inc. Product offerings and specifications are subject to change without notice. All other products, brand names, company names and logos are trademarks of their respective owners.

* Your assessment is very important for improving the work of artificial intelligence, which forms the content of this project