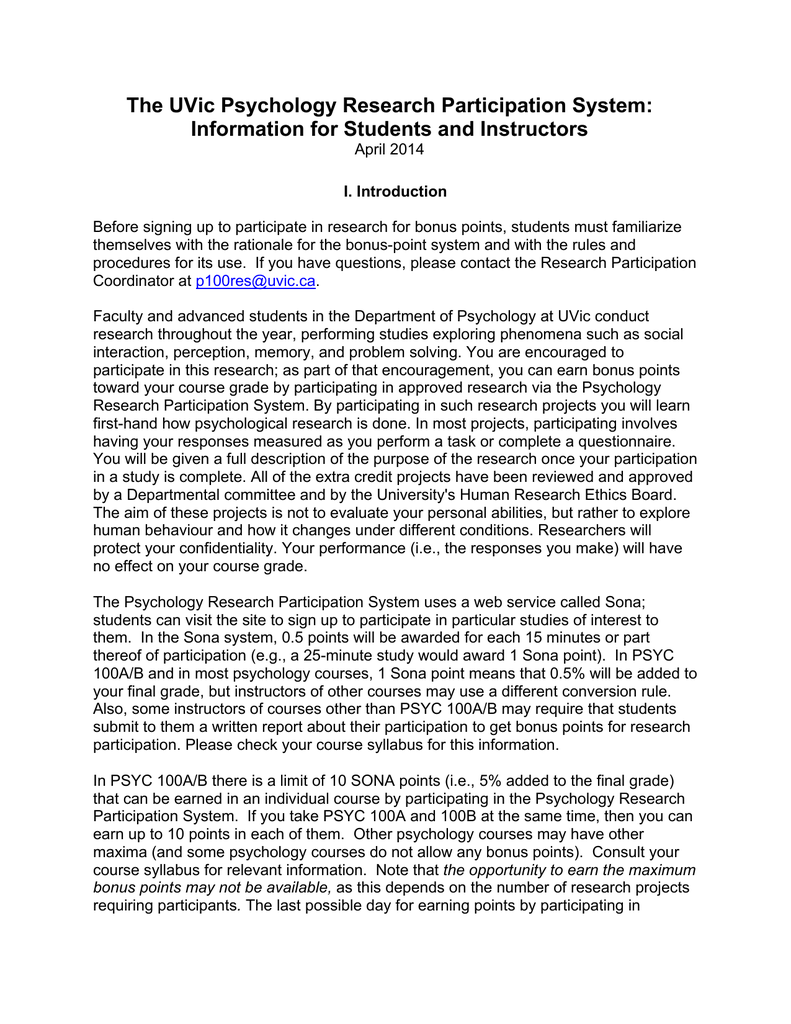 The UVic Psychology Research Participation System:
Information for Students and Instructors
April 2014
I. Introduction
Before signing up to participate in research for bonus points, students must familiarize
themselves with the rationale for the bonus-point system and with the rules and
procedures for its use. If you have questions, please contact the Research Participation
Coordinator at [email protected]
Faculty and advanced students in the Department of Psychology at UVic conduct
research throughout the year, performing studies exploring phenomena such as social
interaction, perception, memory, and problem solving. You are encouraged to
participate in this research; as part of that encouragement, you can earn bonus points
toward your course grade by participating in approved research via the Psychology
Research Participation System. By participating in such research projects you will learn
first-hand how psychological research is done. In most projects, participating involves
having your responses measured as you perform a task or complete a questionnaire.
You will be given a full description of the purpose of the research once your participation
in a study is complete. All of the extra credit projects have been reviewed and approved
by a Departmental committee and by the University's Human Research Ethics Board.
The aim of these projects is not to evaluate your personal abilities, but rather to explore
human behaviour and how it changes under different conditions. Researchers will
protect your confidentiality. Your performance (i.e., the responses you make) will have
no effect on your course grade.
The Psychology Research Participation System uses a web service called Sona;
students can visit the site to sign up to participate in particular studies of interest to
them. In the Sona system, 0.5 points will be awarded for each 15 minutes or part
thereof of participation (e.g., a 25-minute study would award 1 Sona point). In PSYC
100A/B and in most psychology courses, 1 Sona point means that 0.5% will be added to
your final grade, but instructors of other courses may use a different conversion rule.
Also, some instructors of courses other than PSYC 100A/B may require that students
submit to them a written report about their participation to get bonus points for research
participation. Please check your course syllabus for this information.
In PSYC 100A/B there is a limit of 10 SONA points (i.e., 5% added to the final grade)
that can be earned in an individual course by participating in the Psychology Research
Participation System. If you take PSYC 100A and 100B at the same time, then you can
earn up to 10 points in each of them. Other psychology courses may have other
maxima (and some psychology courses do not allow any bonus points). Consult your
course syllabus for relevant information. Note that the opportunity to earn the maximum
bonus points may not be available, as this depends on the number of research projects
requiring participants. The last possible day for earning points by participating in
research is the last day of the academic term in which the course is held. For summer
term courses, the last day for earning points is the last day on which the course meets.
II. How to Create an Account
If you created an account for the Psychology Research Participation System at the
Sona web site at any time since 2008, please do not create another account. Use your
existing account. As a reminder, your User ID is the first part of your UVic e-mail
address and you can go to the Sona site (see web address below) to request that your
password be sent to you if you have forgotten it. Note that the password will be sent to
your UVic email address.
If you do not yet have a SONA account, then follow these steps.
1. To use the system, you must first have a UVic email address (i.e., one ending in
"@uvic.ca"). For help on this, go to the Computer Help Desk in Clearihue A004
(in the section of the building nearest the Library).
2. Test your UVic email address (by emailing yourself) to make sure it works. If not,
go to Clearihue A004.
3. After establishing that you have a working UVic e-mail address, go to the
Psychology Research Participation System home page (http://uvic.sonasystems.com/) and look for New User? in the lower left-hand corner of the
screen. Click on Request an account here. Complete the form, then click
Register Account. It is essential that you enter a valid UVic e-mail address
(ending in @uvic.ca). Do not use other e-mail accounts provided by other
sources (e.g., hotmail).
4. The Sona system will automatically send your Sona account User ID and
password to your UVic e-mail address -- that is why you MUST have a working
UVic e-mail account to use this system. Now you have a Sona account and can
use the system. Your User ID will be the first part of your UVic e-mail address
(the part before @uvic.ca) and your password will be a long string of digits, so
write it down and see option 3 (My Profile) in the next section for information on
how to change your password to something you can easily remember.
III. How to Use the System
Go to the Sign-Up Home page (http://uvic.sona-systems.com). Enter your Sona User ID
and password and click Log In. Be sure to use your Sona User ID and password (not
the password for your UVic e-mail account).
The first time you use the system, you will be required to complete a brief questionnaire
(pre-test) that all students must complete before participating in any studies. You will
complete this questionnaire only once. If you completed the questionnaire in a previous
term, you will not be asked to complete it again. You will be asked to provide basic
demographic data (e.g., age, gender) that are used to examine individual differences in
some studies. You will also be asked to specify a list of courses to which you wish to
assign your credits. This is relevant if you are taking more than one Psychology course
that offers extra credit for research participation. Use the drop-down menu to select the
course(s) to which you may wish to assign credits. If you are in a course other than
PSYC 100A or 100B, then be sure to select the correct course and the correct section
number for that course. It is your responsibility to select the correct course and section
number. If your course and section do not appear on the drop-down list, then notify your
course instructor. You will be able to add this course later. You can re-assign points
from one course to another up until the last day of classes for the semester.
After completing these preliminaries, you will be given four options:
1. Study Sign-Up: Use this option to view available studies and to sign up for
participation. Details are provided in section IV.
2. My Schedule and Credits: Use this option to view information about
appointments you have made to participate in studies (or to cancel
appointments), and to review your credit points.
3. My Profile: Use this option to change your password or your contact information
or to add a secondary e-mail address to which reminders etc. will be sent. It is
advisable to include your telephone number as part of your profile in case a
researcher must cancel or reschedule a session for which you have signed up;
that enables the researcher to contact you by telephone as well as e-mail to
inform you of the change.
4. Frequently Asked Questions: Click here to find answers to common questions.
IV. How to Sign Up to Participate in Research Studies
Click Study Sign-Up. A list of available studies will appear. To find out more about any
study click on the title of the study. Most studies involve one session at a specific time
and place. To sign up for a study of this kind, click on Time Slots Available and then
View Time Slots for this Study and choose a time. Other studies require two or more
sessions (appointments) at specific times, perhaps separated by specific time intervals
(e.g., two days or one week); full credit for these multiple-session studies is earned by
completing all sessions. Participation in the first session of a multi-session study is a
prerequisite for signing up for subsequent sessions of that study. Some studies are
web-based and are completed by visiting a specified web site at your convenience;
note, however, that you will not receive bonus points for completing online studies,
though you may find them worthwhile anyway. Some studies that offer credit include a
web-based component as well as an in-lab component; completing these studies will
generate the stated amount of credit for you.
Notes:
•
•
•
Some studies have more than one page of sign-up times.
Some studies have restrictions on who can participate.
You will not get points if you sign up for a study for which you do not meet the
requirements.
•
•
•
•
Some studies have more than one session [even though for such studies you
may be able to register only for the first session].
When you make an appointment to participate, make a note of the time, place,
project name, and project telephone number as a reminder. The course TAs and
instructors do not have information as to where and when research studies are
being held, so you must keep track of your own appointments.
Please do not sign up unless you are confident that you can and will keep the
appointment.
You cannot sign up for a project that you have already done (even in a previous
term).
V. Rules for Using the System and Participating in Studies
Do not, under any circumstances, sign up someone else to participate in a study.
Be Patient! Please do not click twice when you are signing up. Students sometimes
click, sign up, get impatient waiting for the system to confirm the appointment, sign-up
again, and get a message saying they can't sign up (because the system registered that
they signed up moments earlier). However, they have actually already been signed up,
but they think they have not, and therefore miss their appointment.
Before Going to Your Session: Check your e-mail before going to the session (i.e., up
to 24 hours in advance) to find out if there have been any changes (e.g., change of
place or, in rare cases, cancellation of the study by the researcher). Just as students
can cancel 24 hours in advance, so too can researchers (although they rarely do). You
are allowed to sign up for a session as little as 4 hours in advance of the session's start
time, but keep in mind that you will not be able to cancel any session within 24 hours of
its scheduled start.
Show Up On Time. Be sure to show up on time for your appointment. If you fail to show
up, your extra-credit points will be reduced by the number of points for the session for
which you had signed up. If you are late (even by just a few minutes), the researcher
may not have sufficient time for you to participate (e.g., if doing so would conflict with
other sessions). In such a case you will not receive credit but rather you will lose points
as per the no-show policy. Also note that if you are penalized three times for failure
to show up on time, your participation privileges will be terminated for the
remainder of the term. Out of respect for researchers who are expecting you and for
other students who are seeking participation opportunities, it is VERY important to be
responsible about showing up on time.
Deducted points can be made up by participating in future studies. Also, a negative
balance of bonus points at the end of the semester will not affect your mark (i.e., will not
be deducted from your other marks).
If you must cancel your appointment, return to the sign-in web site, find the session
for which you scheduled yourself, and select Cancel. Note that this must be done at
least 24 hours before your appointment; otherwise you will be treated as a "no-show"
and points will be deducted, except in cases of documented emergency. In that case,
you should contact the researcher who is responsible for that specific study to explain
your situation. If you have a valid excuse, the researcher will not penalize you. If for
some reason you do not receive a response from the researcher, then you should
contact the Research Participation Coordinator ([email protected]). Specify the project
name, your name, and the date and time of the appointment.
If you change your mind about participating during a study. If you begin your
participation in a study and decide part way through that you do not wish to complete it
(e.g., you feel ill or find the study disagreeable in some way), you are free to leave. If
this occurs, simply tell the researcher that you want to stop participating (you do not
need to specify why you want to stop). In this case, you will receive full credit for the
session that you began.
If you show up for your appointment and no one is there, contact the telephone
number associated with the study in question (the telephone number is on the web site
page for that study) and report what happened. If you cannot contact anyone at the
telephone number, send an e-mail message to the Research Participation Coordinator
([email protected]) explaining what happened. Be sure to include the name of the study
in this message. If the researcher was at fault, you will receive credit for the session and
you will still be able to sign up for that study at a later time.
Save Your Receipt. When the study is complete, the researcher will enter your credit
points electronically. The researcher will also complete and sign a receipt specifying
how much extra credit you have earned. Save this receipt in case questions arise as to
the amount of credit you have earned.
Post-Study Questionnaire. Attached to your receipt will be an optional questionnaire
that invites you to evaluate your experience in the project. Do not put your name on the
questionnaire. If you wish to turn it in, detach it from your receipt and turn it in
anonymously to the mail box beside the Psychology 100 office (Cornett A250), even if
you are in some course other than PSYC 100. We very much appreciate receiving
questionnaires.
Debriefing. At the end of each study, the researcher will provide you with an
explanation of the purpose of the research in which you have taken part (a debriefing).
This is an opportunity for you to learn more about the discipline of psychology. Take
advantage of it: Ask questions, satisfy your curiosity, and try to come away with a better
understanding of human behaviour.
Check your bonus points credit balance at any time by visiting the sign-in web site
(http://uvic.sona-systems.com). Type in your User ID and password, click on My
Schedule & Credits and your balance will be displayed. For some studies, it may take a
day or two for the credit points to be entered into the system. If you have any questions
about your credit balance, you must bring these to the attention of the Research
Participation Coordinator ([email protected]) BEFORE the end of the term (or the last
day of class for the course in the summer session) because the final grades are
submitted soon after the last exam and we require time to process your research bonus
points prior to calculating your final grade. In this section of the system, you also have
the option of reassigning your credits among your courses as you see fit. But keep in
mind the following restrictions: (1) all of the credit earned for a particular study must be
assigned to just one course (no splitting of credits from a single study) and (2) any
reassignment of credits must be done no later than the last day of classes that term (or
the last day of class in the course in the summer session). Credits may not be carried
over to the next term; they must be applied to a course in which you are enrolled in the
term in which they are earned.
Availability of studies varies over the course of the term. Typically, more studies
become available as the fall term progresses and researchers complete preparations for
their studies, and tapers off toward the end of the spring term. If you are unable to find
an available time slot, check the system each day for new opportunities.
Sona Smart Phone App. You can now check and sign up for Research Participation
studies using your smart phone. Search for "Sona" in iTunes or Google App stores.
If you have concerns about the Psychology Research Participation System, contact
the Research Participation Coordinator at [email protected]
More information about the Psychology Research Participation System and about Sona
is available on the web site (http://uvic.sona-systems.com) in the "FAQ" section. Please
consult this resource before contacting the Research Participation Coordinator.
If you cannot or do not wish to participate in research studies, but want to have the
opportunity to earn an equivalent amount of extra credit, contact your course instructor
no later than the add deadline for this semester to discuss the possibility of arranging an
alternative option (instructors are encouraged to accommodate such requests; a typical
alternative is writing a brief report on an article published in peer-reviewed psychology
journal).