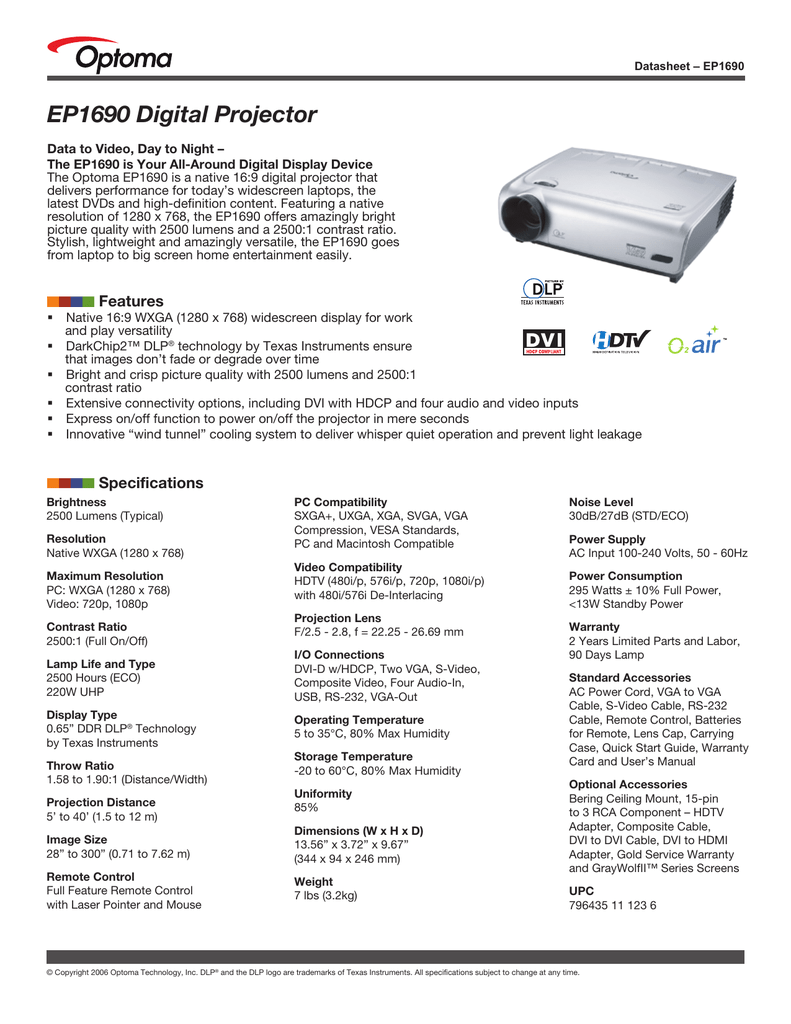 Datasheet – EP1690
EP1690 Digital Projector
Data to Video, Day to Night –
The EP1690 is Your All-Around Digital Display Device
The Optoma EP1690 is a native 16:9 digital projector that
delivers performance for today's widescreen laptops, the
latest DVDs and high-definition content. Featuring a native
resolution of 1280 x 768, the EP1690 offers amazingly bright
picture quality with 2500 lumens and a 2500:1 contrast ratio.
Stylish, lightweight and amazingly versatile, the EP1690 goes
from laptop to big screen home entertainment easily.
Features






Native 16:9 WXGA (1280 x 768) widescreen display for work
and play versatility
DarkChip2™ DLP® technology by Texas Instruments ensure
that images don't fade or degrade over time
Bright and crisp picture quality with 2500 lumens and 2500:1
contrast ratio
Extensive connectivity options, including DVI with HDCP and four audio and video inputs
Express on/off function to power on/off the projector in mere seconds
Innovative "wind tunnel" cooling system to deliver whisper quiet operation and prevent light leakage
Specifications
Brightness
2500 Lumens (Typical)
Resolution
Native WXGA (1280 x 768)
Maximum Resolution
PC: WXGA (1280 x 768)
Video: 720p, 1080p
Contrast Ratio
2500:1 (Full On/Off)
PC Compatibility
SXGA+, UXGA, XGA, SVGA, VGA
Compression, VESA Standards,
PC and Macintosh Compatible
Video Compatibility
HDTV (480i/p, 576i/p, 720p, 1080i/p)
with 480i/576i De-Interlacing
Projection Lens
F/2.5 - 2.8, f = 22.25 - 26.69 mm
Lamp Life and Type
2500 Hours (ECO)
220W UHP
I/O Connections
DVI-D w/HDCP, Two VGA, S-Video,
Composite Video, Four Audio-In,
USB, RS-232, VGA-Out
Display Type
0.65" DDR DLP® Technology
by Texas Instruments
Operating Temperature
5 to 35°C, 80% Max Humidity
Throw Ratio
1.58 to 1.90:1 (Distance/Width)
Projection Distance
5' to 40' (1.5 to 12 m)
Storage Temperature
-20 to 60°C, 80% Max Humidity
Uniformity
85%
Image Size
28" to 300" (0.71 to 7.62 m)
Dimensions (W x H x D)
13.56" x 3.72" x 9.67"
(344 x 94 x 246 mm)
Remote Control
Full Feature Remote Control
with Laser Pointer and Mouse
Weight
7 lbs (3.2kg)
Noise Level
30dB/27dB (STD/ECO)
Power Supply
AC Input 100-240 Volts, 50 - 60Hz
Power Consumption
295 Watts ± 10% Full Power,
<13W Standby Power
Warranty
2 Years Limited Parts and Labor,
90 Days Lamp
Standard Accessories
AC Power Cord, VGA to VGA
Cable, S-Video Cable, RS-232
Cable, Remote Control, Batteries
for Remote, Lens Cap, Carrying
Case, Quick Start Guide, Warranty
Card and User's Manual
Optional Accessories
Bering Ceiling Mount, 15-pin
to 3 RCA Component – HDTV
Adapter, Composite Cable,
DVI to DVI Cable, DVI to HDMI
Adapter, Gold Service Warranty
and GrayWolfII™ Series Screens
UPC
796435 11 123 6
© Copyright 2006 Optoma Technology, Inc. DLP® and the DLP logo are trademarks of Texas Instruments. All specifications subject to change at any time.