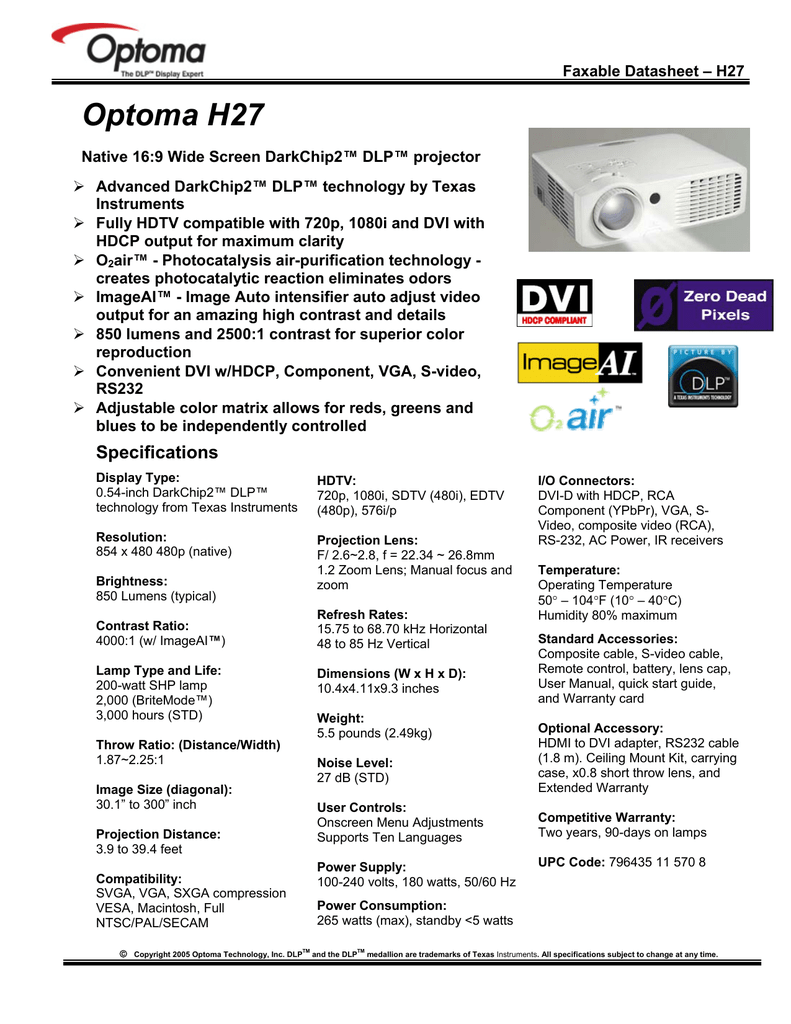 Faxable Datasheet – H27
Optoma H27
Native 16:9 Wide Screen DarkChip2™ DLP™ projector
¾ Advanced DarkChip2™ DLP™ technology by Texas
Instruments
¾ Fully HDTV compatible with 720p, 1080i and DVI with
HDCP output for maximum clarity
¾ O2air™ - Photocatalysis air-purification technology creates photocatalytic reaction eliminates odors
¾ ImageAI™ - Image Auto intensifier auto adjust video
output for an amazing high contrast and details
¾ 850 lumens and 2500:1 contrast for superior color
reproduction
¾ Convenient DVI w/HDCP, Component, VGA, S-video,
RS232
¾ Adjustable color matrix allows for reds, greens and
blues to be independently controlled
Specifications
Display Type:
0.54-inch DarkChip2™ DLP™
technology from Texas Instruments
HDTV:
720p, 1080i, SDTV (480i), EDTV
(480p), 576i/p
Resolution:
854 x 480 480p (native)
Projection Lens:
F/ 2.6~2.8, f = 22.34 ~ 26.8mm
1.2 Zoom Lens; Manual focus and
zoom
Brightness:
850 Lumens (typical)
Contrast Ratio:
4000:1 (w/ ImageAI™)
Lamp Type and Life:
200-watt SHP lamp
2,000 (BriteMode™)
3,000 hours (STD)
Throw Ratio: (Distance/Width)
1.87~2.25:1
Image Size (diagonal):
30.1" to 300" inch
Projection Distance:
3.9 to 39.4 feet
Compatibility:
SVGA, VGA, SXGA compression
VESA, Macintosh, Full
NTSC/PAL/SECAM
©
Refresh Rates:
15.75 to 68.70 kHz Horizontal
48 to 85 Hz Vertical
Dimensions (W x H x D):
10.4x4.11x9.3 inches
Weight:
5.5 pounds (2.49kg)
Noise Level:
27 dB (STD)
User Controls:
Onscreen Menu Adjustments
Supports Ten Languages
Power Supply:
100-240 volts, 180 watts, 50/60 Hz
I/O Connectors:
DVI-D with HDCP, RCA
Component (YPbPr), VGA, SVideo, composite video (RCA),
RS-232, AC Power, IR receivers
Temperature:
Operating Temperature
50° – 104°F (10° – 40°C)
Humidity 80% maximum
Standard Accessories:
Composite cable, S-video cable,
Remote control, battery, lens cap,
User Manual, quick start guide,
and Warranty card
Optional Accessory:
HDMI to DVI adapter, RS232 cable
(1.8 m). Ceiling Mount Kit, carrying
case, x0.8 short throw lens, and
Extended Warranty
Competitive Warranty:
Two years, 90-days on lamps
UPC Code: 796435 11 570 8
Power Consumption:
265 watts (max), standby <5 watts
Copyright 2005 Optoma Technology, Inc. DLPTM and the DLPTM medallion are trademarks of Texas Instruments. All specifications subject to change at any time.

* Your assessment is very important for improving the work of artificial intelligence, which forms the content of this project