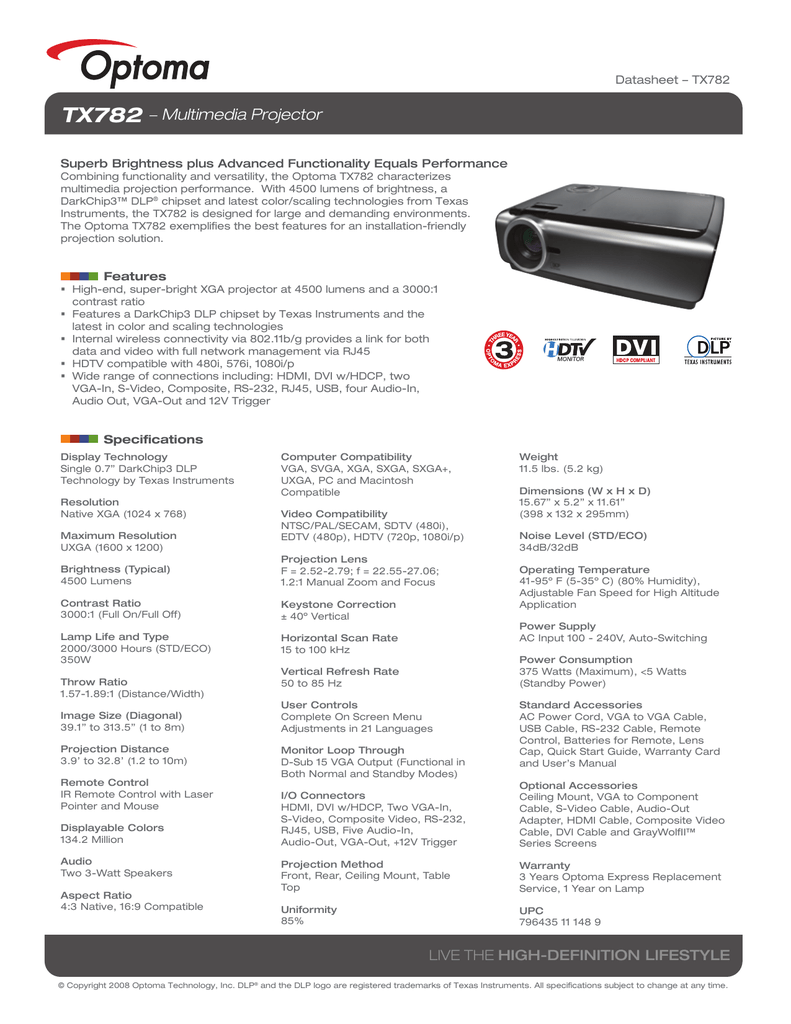 Datasheet – TX782
TX782
− Multimedia Projector
Superb Brightness plus Advanced Functionality Equals Performance
Combining functionality and versatility, the Optoma TX782 characterizes
multimedia projection performance. With 4500 lumens of brightness, a
DarkChip3™ DLP® chipset and latest color/scaling technologies from Texas
Instruments, the TX782 is designed for large and demanding environments.
The Optoma TX782 exemplifies the best features for an installation-friendly
projection solution.
Features
 High-end, super-bright XGA projector at 4500 lumens and a 3000:1
contrast ratio
 Features a DarkChip3 DLP chipset by Texas Instruments and the
latest in color and scaling technologies
 Internal wireless connectivity via 802.11b/g provides a link for both
data and video with full network management via RJ45
 HDTV compatible with 480i, 576i, 1080i/p
 Wide range of connections including: HDMI, DVI w/HDCP, two
VGA-In, S-Video, Composite, RS-232, RJ45, USB, four Audio-In,
Audio Out, VGA-Out and 12V Trigger
Specifications
Display Technology
Single 0.7" DarkChip3 DLP
Technology by Texas Instruments
Resolution
Native XGA (1024 x 768)
Maximum Resolution
UXGA (1600 x 1200)
Computer Compatibility
VGA, SVGA, XGA, SXGA, SXGA+,
UXGA, PC and Macintosh
Compatible
Video Compatibility
NTSC/PAL/SECAM, SDTV (480i),
EDTV (480p), HDTV (720p, 1080i/p)
Brightness (Typical)
4500 Lumens
Projection Lens
F = 2.52-2.79; f = 22.55-27.06;
1.2:1 Manual Zoom and Focus
Contrast Ratio
3000:1 (Full On/Full Off)
Keystone Correction
± 40º Vertical
Lamp Life and Type
2000/3000 Hours (STD/ECO)
350W
Horizontal Scan Rate
15 to 100 kHz
Throw Ratio
1.57-1.89:1 (Distance/Width)
Image Size (Diagonal)
39.1" to 313.5" (1 to 8m)
Projection Distance
3.9' to 32.8' (1.2 to 10m)
Remote Control
IR Remote Control with Laser
Pointer and Mouse
Displayable Colors
134.2 Million
Audio
Two 3-Watt Speakers
Aspect Ratio
4:3 Native, 16:9 Compatible
Weight
11.5 lbs. (5.2 kg)
Dimensions (W x H x D)
15.67" x 5.2" x 11.61"
(398 x 132 x 295mm)
Noise Level (STD/ECO)
34dB/32dB
Operating Temperature
41-95º F (5-35º C) (80% Humidity),
Adjustable Fan Speed for High Altitude
Application
Power Supply
AC Input 100 - 240V, Auto-Switching
Power Consumption
375 Watts (Maximum), <5 Watts
(Standby Power)
Vertical Refresh Rate
50 to 85 Hz
User Controls
Complete On Screen Menu
Adjustments in 21 Languages
Monitor Loop Through
D-Sub 15 VGA Output (Functional in
Both Normal and Standby Modes)
Standard Accessories
AC Power Cord, VGA to VGA Cable,
USB Cable, RS-232 Cable, Remote
Control, Batteries for Remote, Lens
Cap, Quick Start Guide, Warranty Card
and User's Manual
I/O Connectors
HDMI, DVI w/HDCP, Two VGA-In,
S-Video, Composite Video, RS-232,
RJ45, USB, Five Audio-In,
Audio-Out, VGA-Out, +12V Trigger
Optional Accessories
Ceiling Mount, VGA to Component
Cable, S-Video Cable, Audio-Out
Adapter, HDMI Cable, Composite Video
Cable, DVI Cable and GrayWolfII™
Series Screens
Projection Method
Front, Rear, Ceiling Mount, Table
Top
Warranty
3 Years Optoma Express Replacement
Service, 1 Year on Lamp
Uniformity
85%
UPC
796435 11 148 9
LIVE THE HIGH-DEFINITION LIFESTYLE
© Copyright 2008 Optoma Technology, Inc. DLP® and the DLP logo are registered trademarks of Texas Instruments. All specifications subject to change at any time.