Toshiba TDP-MT200 Product Sheet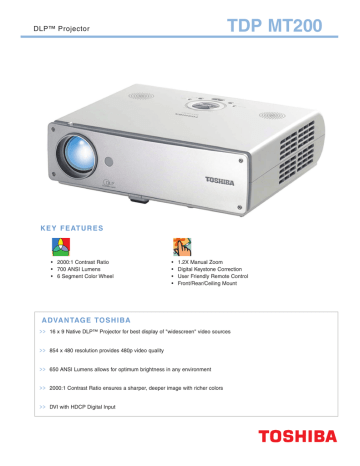 TDP MT200
DLP™ Projector
K E Y F E AT U R E S
• 2000:1 Contrast Ratio
• 700 ANSI Lumens
• 6 Segment Color Wheel
•
•
•
•
1.2X Manual Zoom
Digital Keystone Correction
User Friendly Remote Control
Front/Rear/Ceiling Mount
A DVA N TAG E TO S H I BA
>> 16 x 9 Native DLP™ Projector for best display of "widescreen" video sources
>>
854 x 480 resolution provides 480p video quality
>>
650 ANSI Lumens allows for optimum brightness in any environment
>>
2000:1 Contrast Ratio ensures a sharper, deeper image with richer colors
>>
DVI with HDCP Digital Input
MT200
TECHNOLOGY & BENEFITS
The MT200 will accept HD (1080i and 720p) signals
but will scale them and display them at 480p. Even
though maximum resolution is 480p, the projector will
accept the input of higher and lower resolution video
sources.
The 6 Segment Color Wheel helps ensure natural,
saturated colors with great contrast while reducing the
rainbow effect.
VIDEO
CONVENIENCE
The projector is native 16 x 9 which works best with
the newest video sources. With a simple push of a
button this projector can also display 4 x 3 images to
accommodate non widescreen video sources.
S P E C I F I C AT I O N S
TERMINALS
VIDEO
DLP™ (Digital Light Processing) technology provides
premium picture quality in a small, lightweight package.
The DLP™ projector employs a DMD (digital micromirror device) to create images. DLP™ is a reflective
technology which results in higher ANSI Lumens and
Contrast Ratios in comparison to other technologies.
The result is a bright image that doesn't sacrifice
sharpness or color.
16 x 9 Native DLP™ DMD Chip
X
2000:1 Contrast Ratio
X
700 ANSI Lumens
X
6 Segment Color Wheel
X
Front/Rear/Ceiling Mount
X
1.2X Manual Zoom
X
Digital Keystone Correction (=/- 15 degrees)
X
200W Lamp
X
1080i, 720p, 576i, 480p, 480i input capability
X
NTSC, PAL, SECAM
X
VGA/SVGA/XGA (compressed)
X
Component Video Input
1
S-Video Input
1
Composite Video Input
RGB
DVI-D/HDCP
RS232
Unit Dimensions (W, D, H)
Weight
CONVENIECE
Digital Keystone Correction allows for flexibility in
installation and positioning. The MT200 can be placed
above or below (+/- 15 degrees) the ideal mounting
position with minimal video distortion.
X
854 x 480 (480p) resolution
1
D-Sub - 1
1
mini DIN8 -1
11 ¾" x 10 ½" x 4"
6 ¼ Lbs
http://www.tacp.toshiba.com Customer Service: 800.631.3811
Marketing Communications © Toshiba America Consumer Products, L.L.C.
82 Totowa Road, Wayne, NJ 07470 (2004). All Rights Reserved (08/04.03)
DLP is a trademark of Texas Instruments. Product design and specification
subject to change or modification without notice.

* Your assessment is very important for improving the work of artificial intelligence, which forms the content of this project