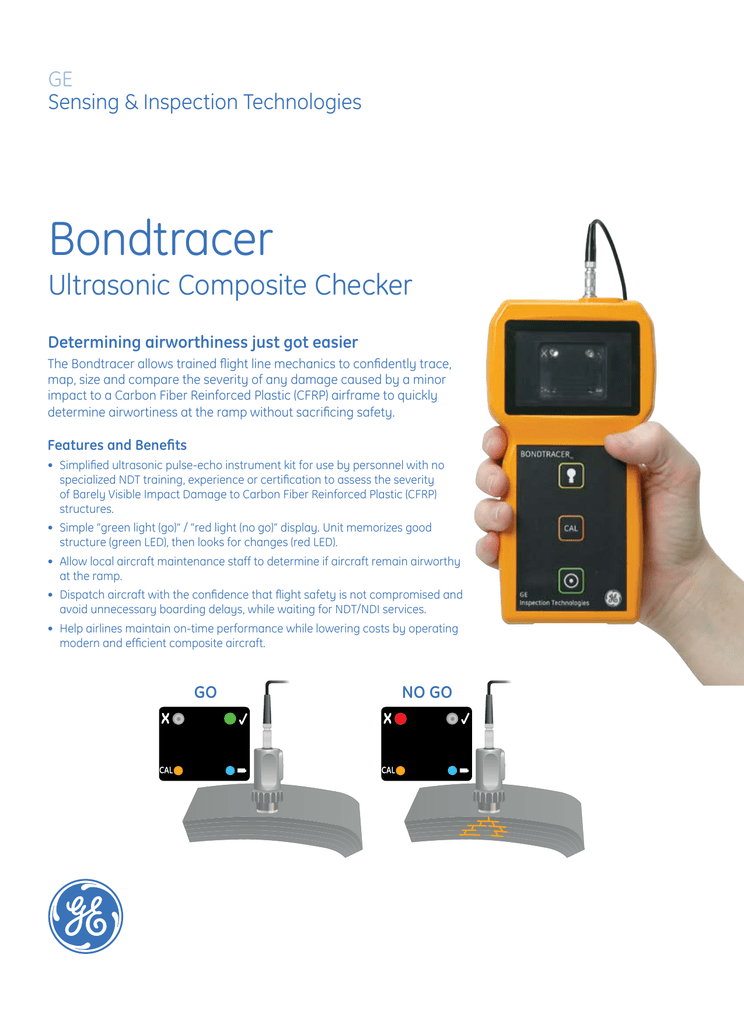 GE
Sensing & Inspection Technologies
Bondtracer
Ultrasonic Composite Checker
Determining airworthiness just got easier
The Bondtracer allows trained flight line mechanics to confidently trace,
map, size and compare the severity of any damage caused by a minor
impact to a Carbon Fiber Reinforced Plastic (CFRP) airframe to quickly
determine airwortiness at the ramp without sacrificing safety.
Features and Benefits
• Simplified ultrasonic pulse-echo instrument kit for use by personnel with no
specialized NDT training, experience or certification to assess the severity
of Barely Visible Impact Damage to Carbon Fiber Reinforced Plastic (CFRP)
structures.
• Simple "green light (go)" / "red light (no go)" display. Unit memorizes good
structure (green LED), then looks for changes (red LED).
• Allow local aircraft maintenance staff to determine if aircraft remain airworthy
at the ramp.
• Dispatch aircraft with the confidence that flight safety is not compromised and
avoid unnecessary boarding delays, while waiting for NDT/NDI services.
• Help airlines maintain on-time performance while lowering costs by operating
modern and efficient composite aircraft.
GO
NO GO
Specifications
Physical
Dimensions
Weight
180 mm H x 92 mm W x 46 mm D (7.1" H x 3.6" W x 1.8" D)
450g (0.99 lb) (including batteries)
Power
Power Supply
Run Time
Three AA batteries
8 hours
Operating Environment
Operating Temperature
Storage Temperature
Sealing
0°C to 55°C (32°F to 131°F)
0°C to 70°C (32°F to 158°F)
Impactant resistant, dust and splash proof, gasket sealed case tested to IP54
Transducer
GE Part Number
389-024-400
www.gesensinginspection.com
GEIT-20057EN (03/09)
© 2009 General Electric Company. All Rights Reserved. Specifications subject to change without notice. Bondtracer is a trademark of General Electric Company. Other company or product names mentioned in
this document may be trademarks or registered trademarks of their respective companies, which are not affiliated with GE.

* Your assessment is very important for improving the work of artificial intelligence, which forms the content of this project