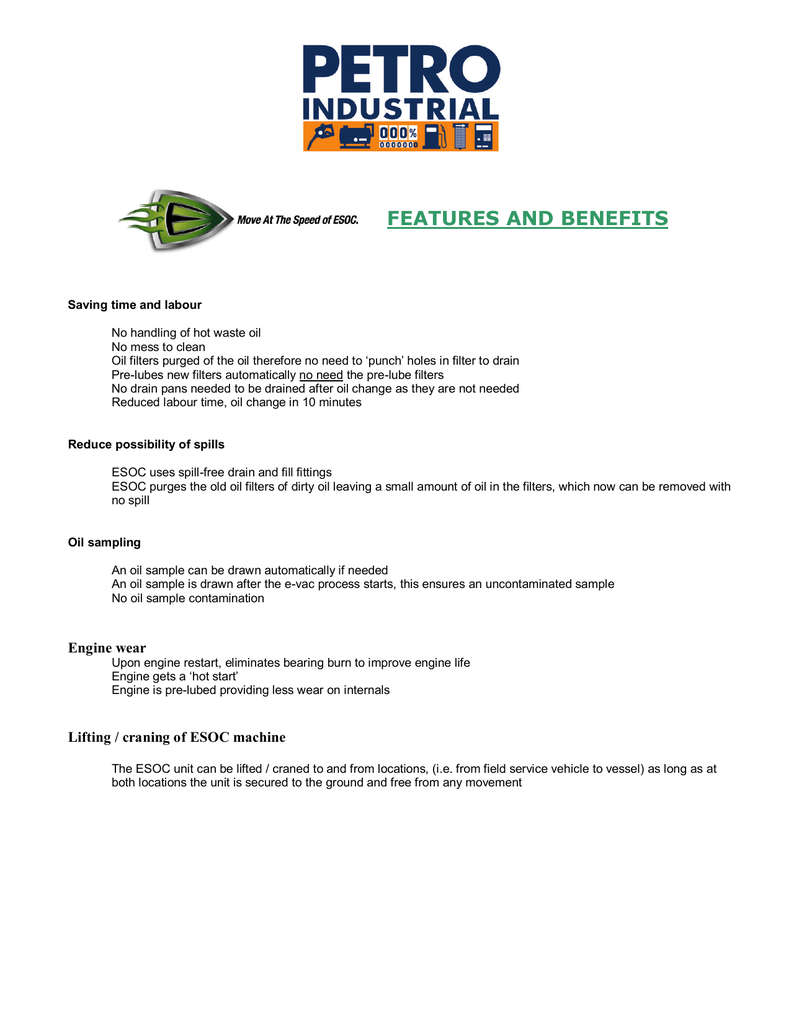 FEATURES AND BENEFITS
Saving time and labour
No handling of hot waste oil
No mess to clean
Oil filters purged of the oil therefore no need to 'punch' holes in filter to drain
Pre-lubes new filters automatically no need the pre-lube filters
No drain pans needed to be drained after oil change as they are not needed
Reduced labour time, oil change in 10 minutes
Reduce possibility of spills
ESOC uses spill-free drain and fill fittings
ESOC purges the old oil filters of dirty oil leaving a small amount of oil in the filters, which now can be removed with
no spill
Oil sampling
An oil sample can be drawn automatically if needed
An oil sample is drawn after the e-vac process starts, this ensures an uncontaminated sample
No oil sample contamination
Engine wear
Upon engine restart, eliminates bearing burn to improve engine life
Engine gets a 'hot start'
Engine is pre-lubed providing less wear on internals
Lifting / craning of ESOC machine
The ESOC unit can be lifted / craned to and from locations, (i.e. from field service vehicle to vessel) as long as at
both locations the unit is secured to the ground and free from any movement
ESOC Installation Specifications
ESOC schematic
Air Supply: Air should be clean and dry.
Recommended minimum pressure: 125 psig
Recommended flow capacity: 12 SCFM
Fresh Oil Supply:
Recommended minimum supply pressure: 500 psig
(if needed)
Electrical:
ESOC can be connected to electrical power outlets up to 220 Volt AC (50/60 Hz)
(if needed)
Waste Oil:
In order to ensure maximum efficiency, it is recommended that the waste oil
discharge line be at least 1" in diameter. Maximum height should not exceed 20 feet
and horizontal distance not to exceed 150 feet. Bends and elbows should be kept to
a minimum.
Suction Hose: The standard suction hose length for ESOC equipment is 25 ft. If desired this length
may be extended up to a total of 50 ft. Longer then 50ft. will cause ESOC to operate
less efficiently.
All connections to and from ESOC equipment should be flexible and shut off valves be
installed as appropriate.

* Your assessment is very important for improving the work of artificial intelligence, which forms the content of this project