ENERGY SISTEM Z400 User manual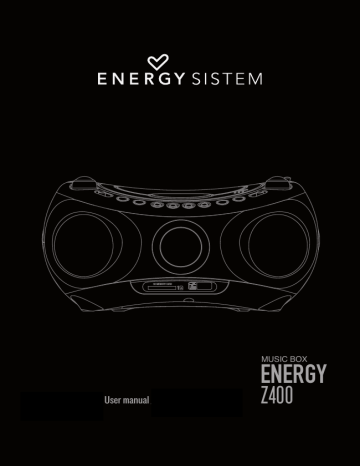 SD MEMORY CARD
MUSIC BOX
Manual de usuario / User manual / Manuel de l'utilisateur
ENERGY
Z400
16
SD MEMORY CARD
User Manual
2. CARE & MANTEINANCE
≥≥ Keep your Energy™ Z400 away from dust, water, moisture or extreme
temperatures that may be harmful to both speakers or amplifier device.
≥≥ Do not crash your Energy™ Z400, rude handling could damage it too.
≥≥ Do not use chemical cleaners.
≥≥ Keep the unit clean using a soft dry cloth.
≥≥ Do not disassemble the device. Any repairs must be performed by Energy
Sistem Soyntec, S.A. qualified personnel only.
≥≥ Be sure to turn off your Energy™ Z400 when it is not in use.
≥≥ Do not cover the ventilation openings on the rear.
≥≥ Holding CDs by the edges and avoid getting fingerprints on may prevent
reading errors which are the most common cause for fails or breaks in the
music playing.
≥≥ Clean the CD with a soft, synthetic and dry cloth. Pass it gently from
center to edge of the disc radially. Avoid chemicals and keep your discs in
its case or sleeve to prevent scratching.
≥≥ Dirty lenses may be the cause of errors or gaps while playing, remove dust
particles using an air blower or a lens brush.
19
ENGLISH
1. INTRODUCTION
Energy Sistem® thanks you for purchasing Music Box Energy™ Z400. We
hope you enjoy it.
Music Box Energy™ Z400 is a CD player with MP3 playback capability
from CD and USB memory sticks or SD/MMC. With FM radio function and
backlit LCD screen that displays ID3 information from your songs and lets
you create your playlists.
As long as we really care for the best user experience we strongly
recommend you to read this manual, it will help you to enjoy the product
and all its features in a safe way.
3. MAIN CONTROLS
1. Volume Control.
2. Function Selection: Radio / CD-MP3.
3. Power On / off.
4. Mode / setting.
5. ID3 function.
6. Advance folder.
7. Stop / USB / SD / MMC.
8. Backward.
9. Forward.
10. Play / Pause.
11. Band Selection radio: AM / FM / FM stereo.
12. Search for radio channels.
13. FM antenna.
14. Headphone output.
15. CD door.
16. Open / close CD door.
17. Speakers.
18. LCD screen.
19. USB port.
20.Port SD / MMC.
21. Power cord plug.
22.Battery compartment.
20
21
ENGLISH
4. MAIN FEATURES
≥≥ SD / MMC card reader: plays MP3 files from SD / MMC up to 32 GB.
≥≥ USB flash memory reader: plays MP3 files from USB flash memory up to
32 GB.
≥≥ Playback modes: Repeat / Repeat Folder / Shuffle.
≥≥ Integrated stereo speakers.
≥≥ Output power (RMS): 1W + 1W.
≥≥ Headphone output for 3.5mm jack.
≥≥ FM radio function.
≥≥ Powered by batteries type-C / LR14: 6 x 1.5V.
≥≥ Voltage: AC 110V/220V, DC: 9V.
≥≥ Backlit LCD.
≥≥ ID3 function.
5. WHAT'S IN THE BOX?
≥≥ Music Box Energy™ Z400.
≥≥ Power AC cable.
≥≥ User manual.
6. FIRST STEPS
Connect the AC power cable (21) or insert batteries type-C / LR14 (not
supplied) into the bottom of Energy™ 400 (22), do not forget to check the
polarity.
Energy™ 400 lights by pressing Power On / off (3), adjust the volume
control wheel (1) and start enjoying. The function switch (2) allows you to
select among radio function or CD-MP3/USB/SD.
To insert a CD press and release the CD compartment cover (16).
22
7. GENERAL FUNCTIONS
The Energy™ Z400 plays MP3 files from CDs, memory cards SD / MMC or
USB external flash memories.
You can also listen to the radio or even plug your headphones (14) for
private listening.
8. MP3 PLAYING
Once CD source is selected (2) you can listen to MP3 music from your CDMP3. The Energy™ Z400 also plays MP3 files from your memory card SD /
MMC and USB external memory.
To play MP3 files insert a CD-MP3, USB external memory or SD / MMC
card into the corresponding slots (15), (19) and (20) respectively.
Use Forward (9) and Backward (8) buttons to go up or down in the
playlist, hold on the buttons for fast forward/backward function.
The songs or folders contained in any memory device are sorted in
alphabetical order.
TIP: we can control playing order through the names we assign to MP3
files and folders.
Take a look on the following files and folder playback order scheme:
23
ENGLISH
Press and hold for two seconds STOP / USB / SD (7) to select between the
different sound sources, everytime you hold it for two seconds the device
will sequentially select among the available connected devices: CD, USB
and SD / MMC (in this order).
CD
CD-MP3
Folder
File
1
1
2
3
2
3
4
5
4
6
7
8
5
6
9
10
9. CREATING PLAYLISTS
Make your own playlists and decide in which order you want your songs to
be played.
First you must select the sound source: CD / USB / MMC (7). Then click
on "Play Mode" (4) and "F00" will be flashing on the LCD (18). Folders or
directories are numbered from 1 to 99 in alphabetical order, clicking on
"Forward" (9) or "Backward" (8) modify the value of "F00" and browse the
folders you have created to categorize your songs.
If you have not created any folder you must choose "F01".
After choosing the desired directory number click on "Play Mode" (4)
again, now you'll see "T00" flashing, its value ranges from 1 to 99 and also
corresponds with the numbering alphabetical songs. Choose the song
24
number you want to play first by pressing "Forward" (9) or "Backward" (8),
then press "Play Mode" (4) to choose the next folder / track on the playlist.
Once you have finished just push "Play" (10) and enjoy your new playlist.
To clear the playlist turn off (3) the Energy™ Z400 or choose another
device (7).
11. RADIO FUNCTION
Once CD source is selected (2) you can listen to the radio. Choose your
desired radio band (11): AM / FM / FM stereo and adjust the frequency (12)
to tune in to your favourite radio station.
NOTE: Energy™ Z400 has both an internal AM antenna and a telescoping
FM antenna that you can orientate to improve reception.
12. CLOCK TIME ADJUST
Turn it off by pressing Power On / off button (3), the LCD backlight turns
off and clock shows on.
Hold down Repeat / Program / Adj button (4) until clock numbers begin to
flash, then you can adjust this value by pressing Backward (8) or Forward
(9). To set the minutes just click shortly Repeat / Program / Adj (4). After
25
ENGLISH
10. PLAYMODE
Click on "Play Mode" (4) to choose between different modes which are
displayed on the LCD screen in the following order: REP (repeat the
current title), REP FOLDER (repeat all songs in the current directory ), REP
ALL (repeat all songs), RANDOM (random), INTRO (listen to the first 10
seconds of each song).
setting minutes one last click on Repeat / Program / Adj (4) will end the
time adjust process.
For any issues, please check the Frequently Asked Questions (FAQ) of the
product at: www.energysistem.com
13. WARRANTY
Energy Sistem Soyntec S.A. warrants its products to be free from defects
in materials and workmanship at the time of purchase.
The warranty period is 36 months from the date of purchase for Speakers.
WARRANTY PROCEDURE
1. Visit the Support section at http://support.energysistem.com and
select your product to view the FAQ (Frequently Asked Questions). The
solution to your problem is very likely to have been already published
there. You will also be able to download user manuals, user guides,
drivers and updates.
2.If you cannot find an appropriate solution in the Support section, you
may send us your enquiry or warranty service request by email:
[email protected]
3.Alternatively, you may prefer to contact the distributor from which you
purchased the product, presenting the purchase receipt or invoice.
Specifications are subject to change without notice.
© 2011 by Energy Sistem. All rights reserved.
26
Trademarks All company, brand and product names are trademarks or
registered trademarks of their respective companies.
14. DECLARATION OF CONFORMITY
Manufacturer Name: Energy Sistem Soyntec S.A.
Address: Pol. Ind. Finestrat C/ Calpe, 1 - 03509 Finestrat (Alicante) SPAIN
Fax: 902 119 034
NIF: A53107488
We declare under our own exclusive responsibility the product compliance:
Energy Sistem® Music Box Energy™ Z400
which concern this declaration, with the norm(s) or other(s) formative(s)
document(s).
Applicable standards:
≥ EN55013 : 2001 + A1+A2
≥ EN55020 : 2007
≥ EN61000-3-2 : 2006 + A1 + A2
≥ EN61000-3-3-3:2008
≥ EN60065 : 2002 + A1+A11
Manufacturing country: China
Certificate CE 1011075, Date 22th November 2010
27
ENGLISH
Tel: 902 388 388
This symbol on the product or the instructions means that your
electrical and electronic equipment should be disposed at the
end of life separately from your household waste. For more
information, please contact the local authority or dealer where
you purchased the product.

* Your assessment is very important for improving the work of artificial intelligence, which forms the content of this project