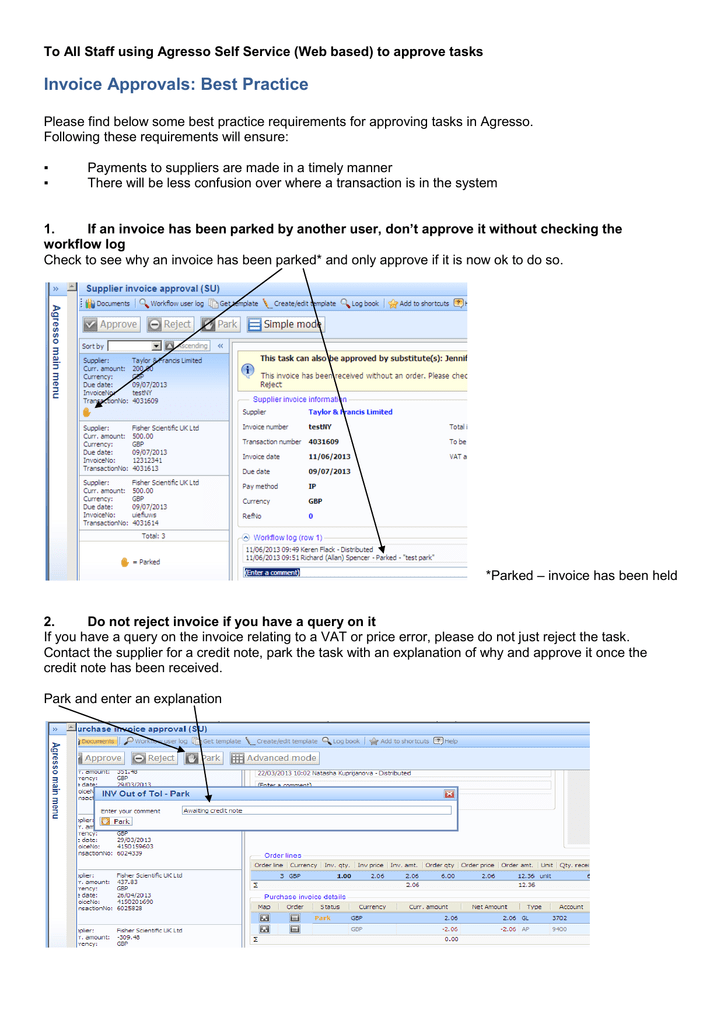 To All Staff using Agresso Self Service (Web based) to approve tasks
Invoice Approvals: Best Practice
Please find below some best practice requirements for approving tasks in Agresso.
Following these requirements will ensure:
▪
▪
Payments to suppliers are made in a timely manner
There will be less confusion over where a transaction is in the system
1.
If an invoice has been parked by another user, don't approve it without checking the
workflow log
Check to see why an invoice has been parked* and only approve if it is now ok to do so.
*Parked – invoice has been held
2.
Do not reject invoice if you have a query on it
If you have a query on the invoice relating to a VAT or price error, please do not just reject the task.
Contact the supplier for a credit note, park the task with an explanation of why and approve it once the
credit note has been received.
Park and enter an explanation
3.
If you keep getting approval for codes which are nothing to do with you, don't just reject.
Speak to the finance team in your area to see why you have been listed to approve these codes
Your finance team can ask the Agresso helpdesk to amend authorisers so, speak to them if you feel you
should not be authorising certain codes.
4.
If you are going on leave, arrange for a substitute to approve your tasks
If you will be away from the University, ask the Agresso helpdesk to set a substitute approver in your place,
this will ensure that invoices and requisitions are still approved in your absence.
5.
If you are unsure what a task is for, do not just reject
Speak to the person who raised the order and find out what it is.
6.
If the purchase order has been generated and the goods have been receipted, this does not
automatically mean that the goods/services have been paid for
Payments Management will still receive an invoice and if the amount of the invoice does not match the
order by more than £5.00, the invoice will go out of tolerance and generate an approval task.

* Your assessment is very important for improving the work of artificial intelligence, which forms the content of this project