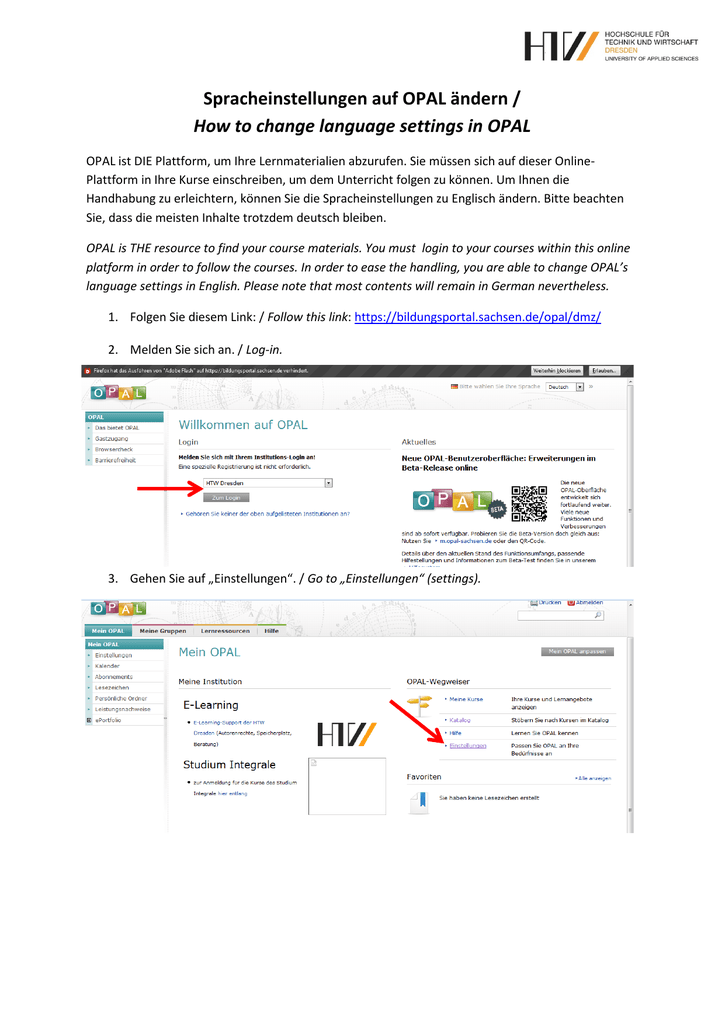 Spracheinstellungen auf OPAL ändern /
How to change language settings in OPAL
OPAL ist DIE Plattform, um Ihre Lernmaterialien abzurufen. Sie müssen sich auf dieser OnlinePlattform in Ihre Kurse einschreiben, um dem Unterricht folgen zu können. Um Ihnen die
Handhabung zu erleichtern, können Sie die Spracheinstellungen zu Englisch ändern. Bitte beachten
Sie, dass die meisten Inhalte trotzdem deutsch bleiben.
OPAL is THE resource to find your course materials. You must login to your courses within this online
platform in order to follow the courses. In order to ease the handling, you are able to change OPAL's
language settings in English. Please note that most contents will remain in German nevertheless.
1. Folgen Sie diesem Link: / Follow this link: https://bildungsportal.sachsen.de/opal/dmz/
2. Melden Sie sich an. / Log-in.
3. Gehen Sie auf "Einstellungen". / Go to "Einstellungen" (settings).
4. Wählen Sie den Reiter "Systemeinstellungen". / Choose the tab "Systemeinstellungen"
(system settings).
5. Wählen Sie unter "Sprache" "Englisch" aus und speichern Sie. / Under "Sprache" (language)
choose "Englisch" and save.
6. Eine Informationsbox teilt Ihnen mit, dass Ihre Änderungen erst nach erneuter Anmeldung
gültig werden. Melden Sie sich dazu ab. / A notification indicates that changes will only be
effected after logging in again. Log-out to do so.

* Your assessment is very important for improving the work of artificial intelligence, which forms the content of this project