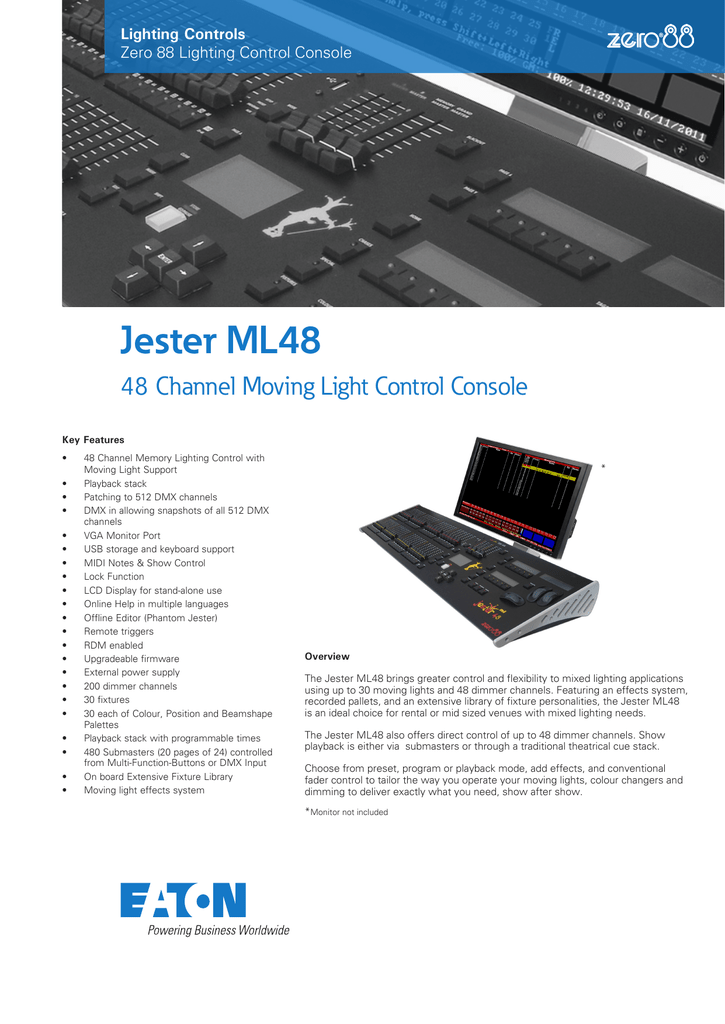 Lighting Controls
Zero 88 Lighting Control Console
Jester ML48
48 Channel Moving Light Control Console
Key Features
•
•
•
•
•
•
•
•
•
•
•
•
•
•
•
•
•
•
•
•
•
•
48 Channel Memory Lighting Control with
Moving Light Support
Playback stack
Patching to 512 DMX channels
DMX in allowing snapshots of all 512 DMX
channels
VGA Monitor Port
USB storage and keyboard support
MIDI Notes & Show Control
Lock Function
LCD Display for stand-alone use
Online Help in multiple languages
Offline Editor (Phantom Jester)
Remote triggers
RDM enabled
Upgradeable firmware
External power supply
200 dimmer channels
30 fixtures
30 each of Colour, Position and Beamshape
Palettes
Playback stack with programmable times
480 Submasters (20 pages of 24) controlled from Multi-Function-Buttons or DMX Input
On board Extensive Fixture Library
Moving light effects system
*
Overview
The Jester ML48 brings greater control and flexibility to mixed lighting applications
using up to 30 moving lights and 48 dimmer channels. Featuring an effects system,
recorded pallets, and an extensive library of fixture personalities, the Jester ML48 is an ideal choice for rental or mid sized venues with mixed lighting needs.
The Jester ML48 also offers direct control of up to 48 dimmer channels. Show
playback is either via submasters or through a traditional theatrical cue stack.
Choose from preset, program or playback mode, add effects, and conventional fader control to tailor the way you operate your moving lights, colour changers and
dimming to deliver exactly what you need, show after show.
*Monitor not included
Ordering Information
Specifications
00-148-11 Jester ML48
•
•
•
•
•
•
•
•
•
•
•
•
•
•
•
•
•
•
•
•
•
•
00-768-00 Jester ML48 Flightcase
Supplied Accessories
Power Supply
Operating Manual (on CD)
Control Channels: Up to 512
Channel Faders: 48
Fixture select buttons: 3 pages of 10
Preset Master Faders: 2
Memory Master Fader: 1
Grand Master Fader: 1
Blackout Button: 1
Flash Buttons: 48
Midi In/Thru
VGA Monitor Port
Audio Input
Remote Input
Storage and Keyboard Connections
RDM Enabled
Power Supply: External 100-240 Volts 50/60Hz
DMX Output: 1 Universe
DMX Input: 1 Universe
DMX to USITT DMX512-A
Dimensions: 90mm(H) x 970mm(W) x 278mm(D)
Weight: 8.5Kg
Operating Temperature: +5ºC to +40ºC
Humidity: 5% to 95% Non condensing
Dimensions
90mm
278mm
970mm
Weight: 8.5Kg
Contact your local Eaton office
Usk House, Lakeside, Llantarnam Park,
Cwmbran, Torfaen, NP44 3HD. UK
T: +44 (0)1633 838088 F: +44 (0)1633 867880
E: enquiries@zero88.com www.zero88.com
Eaton Industries Manufacturing GmbH
Electrical Sector EMEA
Route de la Longeraie
71110 Morges, Switzerland
Eaton.eu
Changes to the products, to the information
contained in this document, and to prices are
reserved; so are errors and omissions.
© 2015 Eaton
All Rights Reserved
All other trademarks are property of their respective owners.
Jester_ML48_Datasheet_UK_Rev4_1015
Eaton is a registered trademark.

* Your assessment is very important for improving the work of artificial intelligence, which forms the content of this project