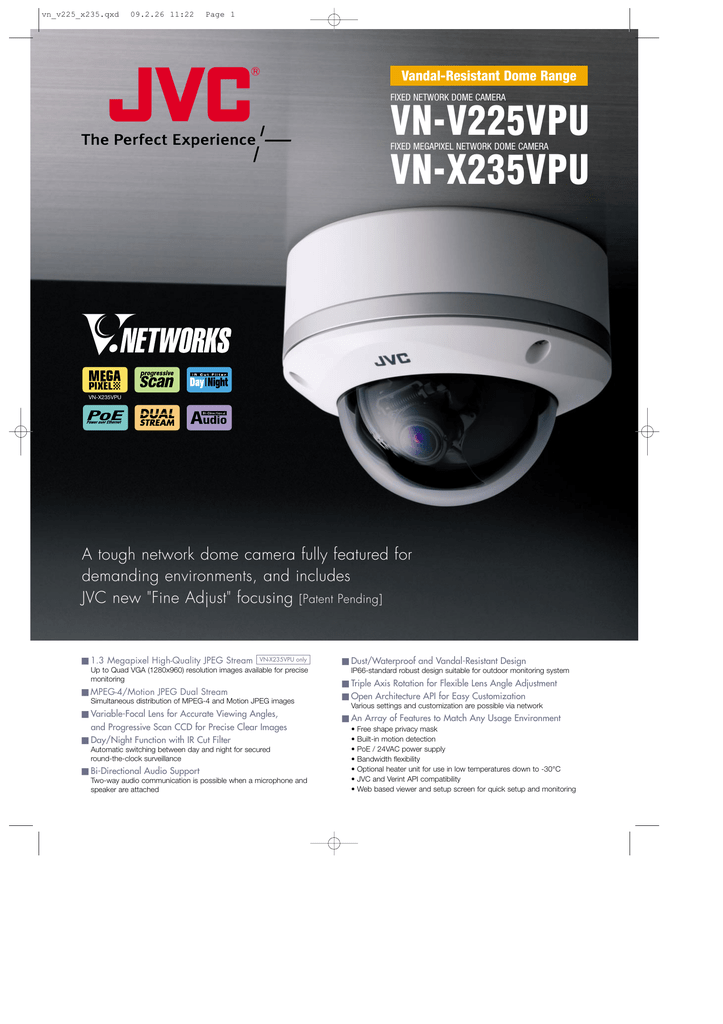 vn_v225_x235.qxd
09.2.26 11:22
Page 1
Vandal-Resistant Dome Range
FIXED NETWORK DOME CAMERA
VN-V225VPU
VN-X235VPU
FIXED MEGAPIXEL NETWORK DOME CAMERA
VN-X235VPU
A tough network dome camera fully featured for
demanding environments, and includes
JVC new "Fine Adjust" focusing [Patent Pending]
■ 1.3 Megapixel High-Quality JPEG Stream
VN-X235VPU only
Up to Quad VGA (1280x960) resolution images available for precise
monitoring
■ MPEG-4/Motion JPEG Dual Stream
Simultaneous distribution of MPEG-4 and Motion JPEG images
■ Variable-Focal Lens for Accurate Viewing Angles,
and Progressive Scan CCD for Precise Clear Images
■ Day/Night Function with IR Cut Filter
Automatic switching between day and night for secured
round-the-clock surveillance
■ Bi-Directional Audio Support
Two-way audio communication is possible when a microphone and
speaker are attached
■ Dust/Waterproof and Vandal-Resistant Design
IP66-standard robust design suitable for outdoor monitoring system
■ Triple Axis Rotation for Flexible Lens Angle Adjustment
■ Open Architecture API for Easy Customization
Various settings and customization are possible via network
■ An Array of Features to Match Any Usage Environment
•
•
•
•
•
•
•
Free shape privacy mask
Built-in motion detection
PoE / 24VAC power supply
Bandwidth flexibility
Optional heater unit for use in low temperatures down to -30°C
JVC and Verint API compatibility
Web based viewer and setup screen for quick setup and monitoring
09.2.26 11:22
Page 2
■ Distribution Priority Option for JPEG Stream
■ Specifications
NEW!
Two distribution modes are available according to your environment.
By controlling the frame rate and the number of accessible clients,
it ensures stable monitoring all the time.
Priority to Client Number
Automatically adjusts the frame
rate according to the number of
clients accessed and assures
distribution to all clients (up to 20).
Priority to Frame Rate
Always maintains requested frame
rate by clients though number of
clients is limited by requested
frame rate.
VN-V225VPU
Image device
"Exview HAD CCD"
1/3" Progressive scan
Approx. 1,250,000 pixels
Lens
3.8x 2.8-10.5mm varifocal, F1.2
3.0x 3.0-9.0mm varifocal, F1.2
Day/Night
Automatic/Manual Day/Night IR cut filter
Minimum illumination
0.4 lx (Color, 50%, AGC SUPER)
0.03 lx (B&W, 50%, AGC SUPER)
Camera angle adjustment
Pan 350°, Tilt ±70°(140°), Rotation ±175°(350°)
Picture compression
Motion JPEG
MPEG-4: Part2 (ISO/IEC 14496-2), Profile: SP
Picture resolutions
640x480, 320x240
1280x960 (JPEG), 640x480, 320x240
Frame rate and streaming
Up to 30 fps M-JPEG and
MPEG-4 simultaneously
Up to 15 fps M-JPEG and
MPEG-4 simultaneously
Compression levels
JPEG: Variable (VFS) 7 levels / Average (AFS) Quad VGA 40KB-200KB,
VGA 10KB-100KB, QVGA 3KB-33KB (Quad VGA: VN-X235VPU only)
MPEG-4: Constant (CBR) / Variable (VBR), Bit rate adjustable 64kbps – 8000kbps
Image settings
Configurable AGC, Sens-up, Day/Night, Shutter speed, BLC,
White balance (ATW/AWC), Gamma curve, Black level, Enhance range,
Color level, Exposure value, Monitor type, Free shape Privacy mask,
Time/date/camera ID overlay
Digital PTZ
VN-X235VPU only
Select up to 20 clipped
areas from within the original
image. These areas can
be sequentially switched
"Auto Patrol", so the viewer
concentrates only on the
important zones.
Original angle (Home)
■ JVC-Designed Fine Focus Adjustment Technology
For assisting focusing to the
finest point, the VariableFocal lens now incorporates a
newly developed focus screw
mechanism (Patent Pending).
NEW!
Normal Focus
ring and
lock screw
Patent Pending
New "Fine Adjust" screw
With a very subtle movement, finer,
more accurate adjustment is possible.
1.5 sec (Sens-up) to 1/10000 sec
Audio
Two-way (full/hallf duplex) or one-way
External microphone input (plug-in power condenser mike) and output (line level)
Audio compression: µ-law 64kbps, AD/DA 16bits Fs=8kHz
Security
3 levels password, IP address filtering
Max. clients
20 simultaneous users, Unlimited users by multicast
Alarm/Event management
Trigger: Built-in motion detection, External alarm input x 2 or Schedule
Event: Pre/post recording, FTP sending, Notification over TCP/UDP,
E-mail, External output x 2, sound output, preset position (VN-X235VPU only)
Pre/Post alarm buffer of 8MB
Connectors
RJ-45 for Ethernet 10Base-T/100Base-TX/FULL/HALF/Auto negotiation
Wires for 2 alarm input and 2 output
RCA jack monitor out (for installation)
Wires for alternative power connection
Wires for mike in and line out
Dust and water protection
IP66
Power
24 VAC (50Hz/60Hz), 0.35A, 1.0A with optional heater
48 VDC (PoE), 7W
Operating temperature
-10°C to 50°C/14°F to 122°F ( 0°C to 40°C /32°F to 104°F recommended)
-30°C to 50°C / -22°F to 122°F with optional heater (24VAC power supply required)
Installation and maintenance
Web based setup screen, Camera search tool, Firmware update over HTTP
Minimum web browsing
environment
OS: Windows Vista Business (SP1), Windows XP Pro (SP2) / Home (SP2)
CPU: Pentium 4 1.5GHz (VN-V225VPU) / Pentium 4 2GHz (VN-X235VPU)
Memory: 1GB, HDD space: 512MB
Display and video card: 1024x768 (VN-V225VPU) / 1600x1200 (VN-X235VPU)
True color (24bit or 32 bit) VRAM8MB
Browser: IE7.0 for Vista, IE6.0 for XP
Supported protocols
TCP/IP, UDP/IP, HTTP, FTP, ICMP, ARP, RTP, DHCP, SNTP,
SMTP, DSCP, IGMP, IPv6, VSIP
Video management
software/hardware
(not included)
VR-N900U/1600U/1600E: JVC Network video recorder for viewing,
recording and archiving up to 9/16 cameras.
VN-RS800U: JVC free video management software for viewing,
recording and archiving up to 32 cameras. (JPEG stream only)
Dimensions
ø160mm x 125mm (ø6-1/4" x 4-7/8")
Weight
Approx. 1.3kg (2.9lbs)
Option
KA-ZH215U : Heater unit
■ Dimensions
121(4-3/4)
113(4-1/2)
VN-V225VPU
VN-X235VPU
16
0(
6-
G3/4-14 UNC screw
for piping (side)
4
1/
Waterproof
9
(3/8)
Shockresistant
Dustproof
G3/4-14 UNC screw
for piping (underside)
.7 )
53 -1/8
S R (2
Ideal for installing in stores,
banks or schools regardless
of whether it's indoors or
outdoors.
20 preset positions, Auto patrol,
Auto return, 8x digital zoom
–
2 sec (Sens-up) to 1/10000 sec
5(1/4)
■ IP66-Compliant Rugged Body for Any Installation Location
0.8 lx (Color, 50%, AGC SUPER)
0.08 lx (B&W, 50%, AGC SUPER)
Shutter speed
42(1-5/8)
■ Digital PTZ with Preset Patrol Function
VN-X235VPU
"Exview HAD CCD"
1/4" Progressive scan
Approx. 330,000 pixels
125(4-7/8)
vn_v225_x235.qxd
160(6-1/4)
Unit: mm (inch)
"EXview HAD CCD" is registered trademarks of Sony Corporation.
All brand or product names may be trademarks and/or registered trademarks of their respective owners
Copyright © 2009, Victor Company of Japan, Limited. All Rights Reserved.
Design and specifications subject to change without notice.
DISTRIBUTED BY
JQA-0288
Printed in Japan
VEC-0329 VN-V225VPU / X235VPU
"JVC" is the trademark or registered trademark of Victor Company of Japan, Limited.