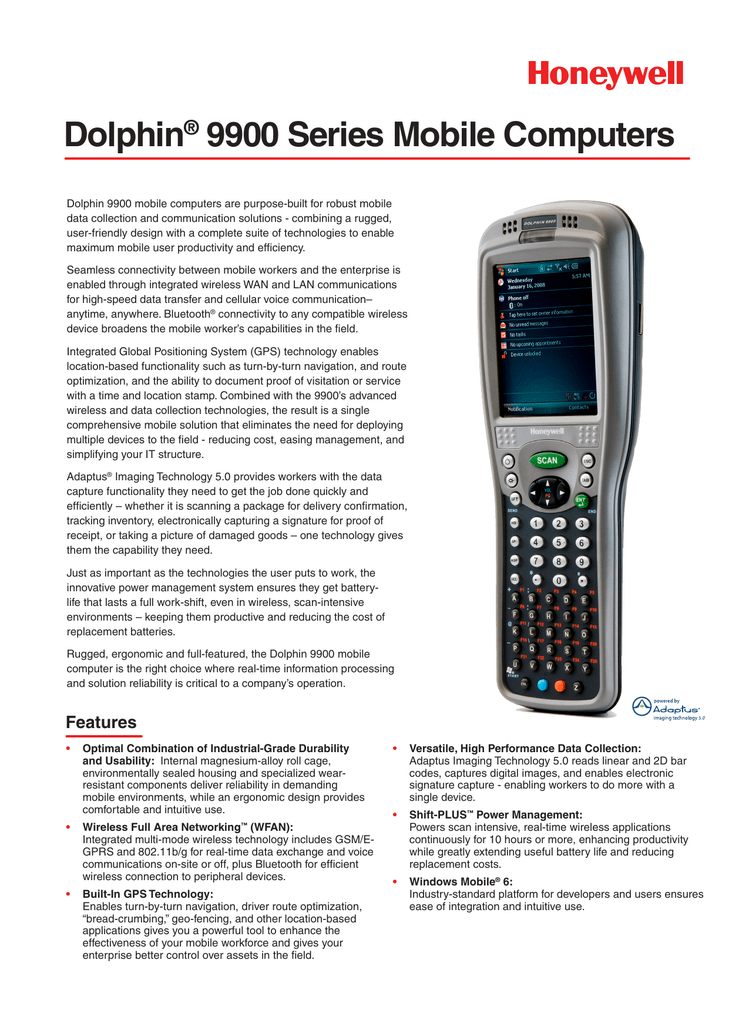 Dolphin® 9900 Series Mobile Computers
Dolphin 9900 mobile computers are purpose-built for robust mobile
data collection and communication solutions - combining a rugged,
user-friendly design with a complete suite of technologies to enable
maximum mobile user productivity and efficiency.
Seamless connectivity between mobile workers and the enterprise is
enabled through integrated wireless WAN and LAN communications
for high-speed data transfer and cellular voice communication–
anytime, anywhere. Bluetooth® connectivity to any compatible wireless
device broadens the mobile worker's capabilities in the field.
Integrated Global Positioning System (GPS) technology enables
location-based functionality such as turn-by-turn navigation, and route
optimization, and the ability to document proof of visitation or service
with a time and location stamp. Combined with the 9900's advanced
wireless and data collection technologies, the result is a single
comprehensive mobile solution that eliminates the need for deploying
multiple devices to the field - reducing cost, easing management, and
simplifying your IT structure.
Adaptus® Imaging Technology 5.0 provides workers with the data
capture functionality they need to get the job done quickly and
efficiently – whether it is scanning a package for delivery confirmation,
tracking inventory, electronically capturing a signature for proof of
receipt, or taking a picture of damaged goods – one technology gives
them the capability they need.
Just as important as the technologies the user puts to work, the
innovative power management system ensures they get batterylife that lasts a full work-shift, even in wireless, scan-intensive
environments – keeping them productive and reducing the cost of
replacement batteries.
Rugged, ergonomic and full-featured, the Dolphin 9900 mobile
computer is the right choice where real-time information processing
and solution reliability is critical to a company's operation.
Features
•
Optimal Combination of Industrial-Grade Durability
and Usability: Internal magnesium-alloy roll cage,
environmentally sealed housing and specialized wearresistant components deliver reliability in demanding
mobile environments, while an ergonomic design provides
comfortable and intuitive use.
•
Wireless Full Area Networking™ (WFAN):
Integrated multi-mode wireless technology includes GSM/EGPRS and 802.11b/g for real-time data exchange and voice
communications on-site or off, plus Bluetooth for efficient
wireless connection to peripheral devices.
•
Built-In GPS Technology:
Enables turn-by-turn navigation, driver route optimization,
"bread-crumbing," geo-fencing, and other location-based
applications gives you a powerful tool to enhance the
effectiveness of your mobile workforce and gives your
enterprise better control over assets in the field.
•
Versatile, High Performance Data Collection:
Adaptus Imaging Technology 5.0 reads linear and 2D bar
codes, captures digital images, and enables electronic
signature capture - enabling workers to do more with a
single device.
•
Shift-PLUS™ Power Management:
Powers scan intensive, real-time wireless applications
continuously for 10 hours or more, enhancing productivity
while greatly extending useful battery life and reducing
replacement costs.
•
Windows Mobile® 6:
Industry-standard platform for developers and users ensures
ease of integration and intuitive use.
Technical Specifications
®
System Architecture
Processor:
Intel® XScale PXA270 624 MHz
Development Environment:
Honeywell SDK for Windows Mobile 6.0
Operating Platform:
Windows Mobile 6.0
Third-Party Software:
SOTI MobiControl (remote device management), PowerNet™ Terminal Emulation (TNVT, 3270, 5250), and ITScriptNet™
Memory:
256MB RAM X 1GB Flash
Keyboards:
Two in-mold, hard-top keyboard options: 43-key alpha-shifted numeric and 56-key full alpha/numeric
Data Inputs
Imager/Scanner:
1D Symbologies Read:
2D Symbologies Read:
Composite and OCR Codes:
Postal Codes:
LASER LIGHT. DO NOT STARE INTO BEAM
5300 Standard Range (SR) with High-Vis laser aimer
CLASS 2 LASER PRODUCT
1.0 mW MAX OUTPUT: 650nM
5100 Standard Range (SR) & 5100 Smart Focus (SF) with green aimer
IEC60825-1: 1993+A1+A2
Caution - use of controls or adjustments or performance of procedures other than those specified
Complies with 21 CFR 1040.10 and 1040.1 1
except for deviations pursuant to Laser
herein may result in hazardous radiation exposure.
Notice No. 50, dated July 26, 2001.
Codabar, Code 3 of 9, Code 11, Code 32 Pharmaceutical (PARAF), Code 93, Code 128, EAN with Add-On
and EAN with Extended Coupon Code, EAN-13, Interleaved 2 or 5, Matrix 2 of 5, Plessey, PosiCode, GS1
Databar, Straight 2 of 5 IATA, Straight 2 of 5 Industrial, Telepen, Trioptic Code, UCC/EAN-128, UPC & UPC-A
Aztec, Code 16K, Composite, Data Matrix, MaxiCode, OCR, PDF417, QR Code, GS1 Databar
Aztec Mesa, Codablock F, EAN·UCC, GS1 Databar-14 and OCR-A and OCR-B
Postnet, Australian, British, Canadian, China, Japanese, KIX (Netherlands), and Korea Post, Planet Code
Data Outputs
Display:
3.5 in. 1/4 VGA (240 x 320 portrait mode) color TFT LCD display with industrial-grade, polycarbonate touch panel
I/O Ports:
Industrial I/O connector supports USB 1.1 and serial RS-232 (115 Kbps) communication and charges via cradles,
AC adapter cables, Integrated IrDA port, Integrated audio jack that acts as a speaker and a microphone
Mass Storage:
User-accessible Secure Digital memory interface supports memory cards up to 4GB and SDIO
Wireless Radio Options
WWAN:
GSM Quad-band (850/900/1800/1900MHz) radio with accessible SIM card interface, GSM release 99, EDGE (E-GPRS) multi-slot
class 10, GPRS multi-slot class 12
WLAN:
IEEE 802.11b/g
WLAN Security:
Wi-Fi Certified, WPA2, EAP, CCXv4 (pending), WEP, LEAP, TKIP, MD5, EAP-TLS, EAP-TTLS, WPA-PSK, PEAP
WPAN:
Bluetooth (Class 2)
GPS:
Integrated GPS (Global Positioning System) receiver with internal antenna supporting SiRFstarIII technology
Physical
Dimensions:
Wide x Long x Deep: 3.4 in. (8.6 cm.) x 9.6 in. (24 cm.) x 2.1 in. (5.3 cm.)
Weight:
21.4 oz. (606g)
Operating Temperature:
14° to 122°F (-10°C to 50°C); can operate down to -20°C with potential degradation in performance depending on the application
Storage Temperature:
-4° to 158°F (-20° to 70°C)
Humidity:
95% humidity, non-condensing
Electrical Static Discharge:
15 KVA Air & 8 KVA Contact
Impact Resistance:
Withstands multiple 5 ft. (1.5m) drops onto concrete
Exceeds 2000 3 ft. (1m) tumbles
Environmental Resistance:
Independently certified to meet IP64 standards for moisture and particle resistance
Power:
2500mAh Extended-life, Li-ion battery pack with hot-swappable design for fast replacement in the field
Other:
Integrated stylus with tether and removable hand strap Peripherals/Accessories
Dolphin HomeBase™ Device:
Charging/communications cradle with auxiliary battery well. Data transfer via RS-232 serial or USB ports.
Dolphin Mobile Base™ Device:
Mobile charging/communication cradle. Data transfer via RS-232 serial. Power out at 5 volts for peripheral devices.
Dolphin QuadCharger™ Device: Four-slot battery charger that charges four Li-ion batteries in less than five hours. One slot doubles as a battery analyzer.
Dolphin Mobile Charger Device:
Charges a Dolphin terminal by plugging into a vehicle cigarette lighter/power port.
Dolphin NetBase Device:
Four-slot charging/communication cradle designed for Ethernet-based communications.
Dolphin ChargeBase Device:
Four-slot charging cradle–each slot holds, powers, and charges a terminal.
Regulatory Approvals
FCC-CE-Radio Country:
US/Canada, R&TTE
Microsoft, Windows, and the Windows Logo are registered trademarks or trademarks of Microsoft Corporation. Intel is a registered trademark of Intel Corporation. The Bluetooth trademarks are
owned by Bluetooth SIG, Inc. U.S.A. and licensed to Honeywell.
Automation and Control Solutions
Honeywell
Imaging and Mobility
700 Visions Drive
PO Box 208
Skaneateles Falls, NY 13153-0208
www.honeywell.com/aidc
99-DS Rev A 6/08
Copyright ©2008 Honeywell International Inc.