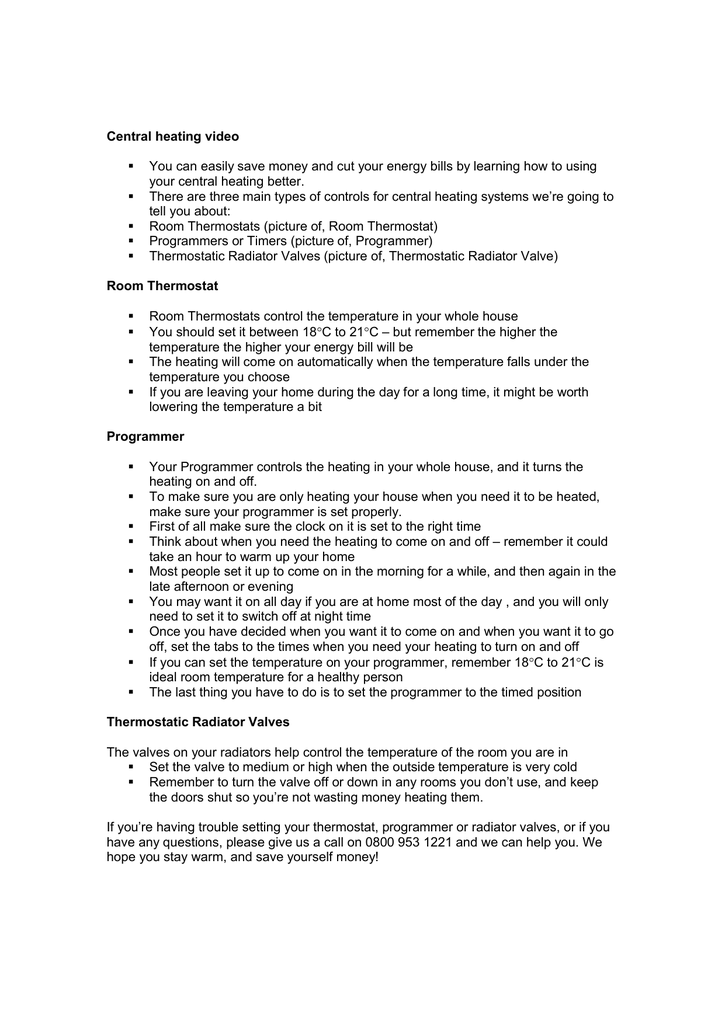 Central heating video





You can easily save money and cut your energy bills by learning how to using
your central heating better.
There are three main types of controls for central heating systems we're going to
tell you about:
Room Thermostats (picture of, Room Thermostat)
Programmers or Timers (picture of, Programmer)
Thermostatic Radiator Valves (picture of, Thermostatic Radiator Valve)
Room Thermostat




Room Thermostats control the temperature in your whole house
You should set it between 18C to 21C – but remember the higher the
temperature the higher your energy bill will be
The heating will come on automatically when the temperature falls under the
temperature you choose
If you are leaving your home during the day for a long time, it might be worth
lowering the temperature a bit
Programmer









Your Programmer controls the heating in your whole house, and it turns the
heating on and off.
To make sure you are only heating your house when you need it to be heated,
make sure your programmer is set properly.
First of all make sure the clock on it is set to the right time
Think about when you need the heating to come on and off – remember it could
take an hour to warm up your home
Most people set it up to come on in the morning for a while, and then again in the
late afternoon or evening
You may want it on all day if you are at home most of the day , and you will only
need to set it to switch off at night time
Once you have decided when you want it to come on and when you want it to go
off, set the tabs to the times when you need your heating to turn on and off
If you can set the temperature on your programmer, remember 18C to 21C is
ideal room temperature for a healthy person
The last thing you have to do is to set the programmer to the timed position
Thermostatic Radiator Valves
The valves on your radiators help control the temperature of the room you are in
 Set the valve to medium or high when the outside temperature is very cold
 Remember to turn the valve off or down in any rooms you don't use, and keep
the doors shut so you're not wasting money heating them.
If you're having trouble setting your thermostat, programmer or radiator valves, or if you
have any questions, please give us a call on 0800 953 1221 and we can help you. We
hope you stay warm, and save yourself money!

* Your assessment is very important for improving the work of artificial intelligence, which forms the content of this project