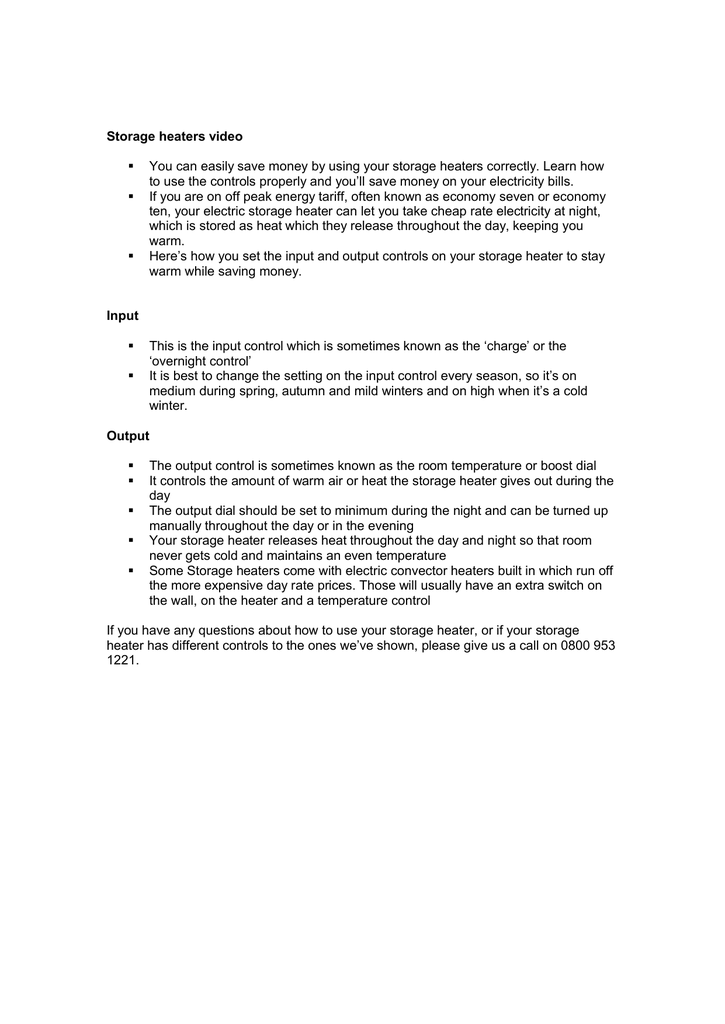 Storage heaters video



You can easily save money by using your storage heaters correctly. Learn how
to use the controls properly and you'll save money on your electricity bills.
If you are on off peak energy tariff, often known as economy seven or economy
ten, your electric storage heater can let you take cheap rate electricity at night,
which is stored as heat which they release throughout the day, keeping you
warm.
Here's how you set the input and output controls on your storage heater to stay
warm while saving money.
Input


This is the input control which is sometimes known as the 'charge' or the
'overnight control'
It is best to change the setting on the input control every season, so it's on
medium during spring, autumn and mild winters and on high when it's a cold
winter.
Output





The output control is sometimes known as the room temperature or boost dial
It controls the amount of warm air or heat the storage heater gives out during the
day
The output dial should be set to minimum during the night and can be turned up
manually throughout the day or in the evening
Your storage heater releases heat throughout the day and night so that room
never gets cold and maintains an even temperature
Some Storage heaters come with electric convector heaters built in which run off
the more expensive day rate prices. Those will usually have an extra switch on
the wall, on the heater and a temperature control
If you have any questions about how to use your storage heater, or if your storage
heater has different controls to the ones we've shown, please give us a call on 0800 953
1221.

* Your assessment is very important for improving the work of artificial intelligence, which forms the content of this project