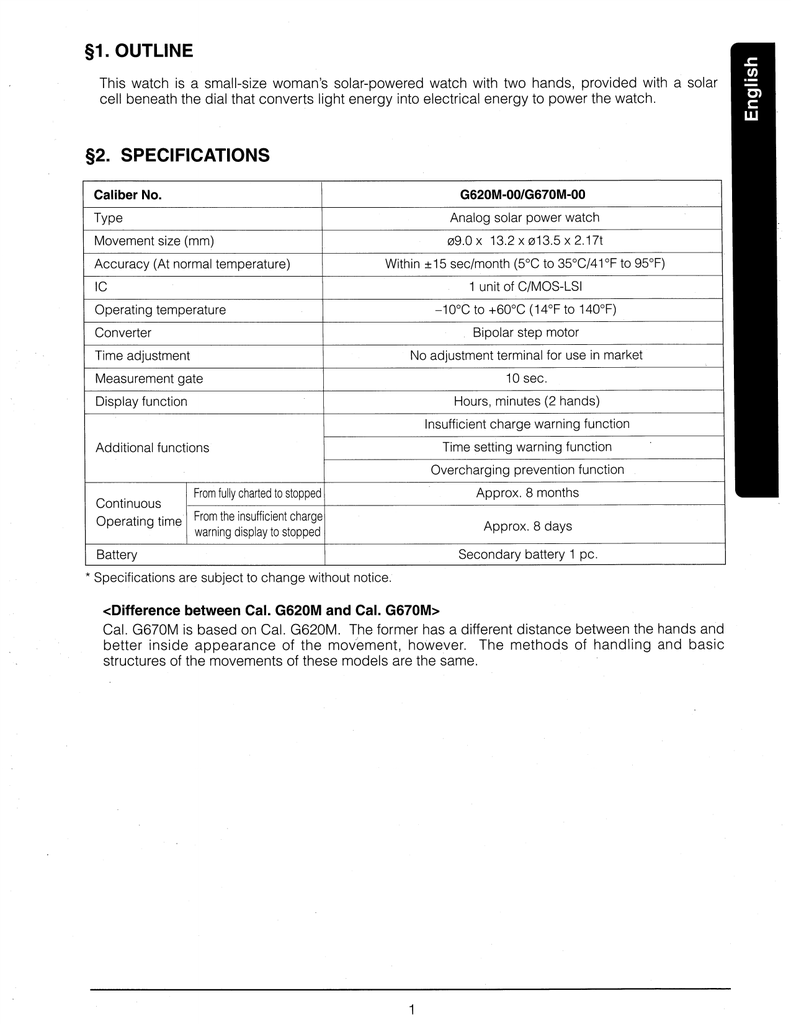 §1. OUTLINE
This watch is a small-size woman's solar-powered watch with two hands, provided with a solar
cell beneath the dial that converts light energy into electrical energy to power the watch.
§2. SPECIFICATIONS
Caliber No.
G620M-00/G670M-00
Type
Analog solar power watch
Movement size (mm)
29.0x 13.2 x 013.5 x 2.171
"Accuracy (At normal temperature)
Within +15 sec/month (5°C to 35°C/41°F to 95°F)
IC
1 unit of C/MOS-LSI
Operating temperature
—10°C to +60°C (14°F to 140°F)
Converter
. Bipolar step motor
Time adjustment
No adjustment terminal for use in market
Measurement gate
10 sec.
Display function
Hours, minutes (2 hands)
Additional functions
Insufficient charge warning function
Time setting warning function
Overcharging prevention function
| From fully charted to stopped Approx. 8 months
Continuous —
Operating time From the insufficient charge
) J HITS - warning display to stopped Approx. 8 days
Battery
Secondary battery 1 pc.
* Specifications are subject to change without notice.
<Difference between Cal. G620M and Cal. G670M>
Cal. G670M is based on Cal. G620M. The former has a different distance between the hands and
better inside appearance of the movement, however. The methods of handling and basic
structures of the movements of these models are the same. | |
§3. BEFORE USING
This watch is a solar-powered watch.
Before using it, charge the watch sufficiently by exposing it (the face) to light.
* In the case the watch has stopped moving due to an insufficient charge, charge the
watch by exposing it to sun light or other intense light.
This watch uses a secondary battery to store electrical energy. This secondary battery is a clean
energy battery that does not contain mercury or other harmful substances. Once fully charged,
the watch will continue to run for about eight months without recharging.
<For Optimum Use of this Watch>
In order to use this watch comfortably, try to keep the watch charged at all times. There is no risk
of overcharging no matter how often the watch is charged.
It is recommended to try to charge the watch every day.
84. HANDLING OF WATCH
A. Setting the Time
(1) Pull the crown out to the time correction position.
(2) Turn the crown to set the time.
(3) The watch will start to run when the crown is securely pushed in to the normal position.
Time correction position
= No = El El Crown
Normal position
The design may differ according to the model.
B. Unique Functions of Solar-Powered Watches
This watch is provided with a function that causes a warning function to be activated when the
watch is insufficiently charged that alters the display to inform the wearer of insufficient charge.
Normal time Insufficient charge
display warning display
When insufficiently charged
1-minute interval
movement
»
charged
A
When charged
15-second interval movement When the time is set with the
(minute hand) watch still insufficiently
charged
Time setting
warning display
If the watch is still insufficiently
Irregular 1-minute
interval movement
» | Stopped
À
When charged by
exposing to light
When the time is set and the watch
is sufficiently charged
<Insufficient Charge Warning Function>
The minute hand moves by 1-minute interval movement (in
which the minute hand moves regularly every minute) to indicate
that the watch is insufficiently charged. Although the watch will
keep the correct time at this time, after about 8 days have
passed since the start of 1-minute interval movement, the watch
ends up stopping as a result of being insufficiently charged.
Sufficiently recharge the watch by exposing to light so that the
minute hand returns to normal movement (in which the minute
hand moves every 15 seconds).
<Time Setting Warning Function> |
Although the watch hands will begin to move when again
exposed to light after the watch has stopped, since the time is
incorrect, the minute hand moves in irregular 1-minute interval
movement (in which the minute hand moves irregularly every
minute) to indicate that the time is incorrect. Reset the time and
sufficiently recharge the watch. Irregular 1-second interval
movement will continue until the time has been reset even if the
watch is sufficiently recharged.
<Overcharge Prevention Function>
When the charge becomes insufficient
—— | minute
—— 1 minute
[1-minute interval movement]
Minute hand moves regularly once
every minute
—— 1 minute
—— 1 minute
[Irregular 1-minute interval
movement]
Minute hand moves irregularly once
every minute
When the secondary battery becomes fully charged, the overcharging prevention function is
activated to prevent the battery from being charged further, enabling the watch to be recharged
without worrying about overcharging.
C. General Reference for Charging Times
Recharging time varies according to the watch model (such as the color of the dial). The times in
the table below should therefore only be used as a rough reference.
* Charging time refers to the amount of time during which the watch is continuously exposed to
light.
Charging time
luminance | Charging time from the |
(IX) Environment One day usage stopped state re ne Full charge time
interval movement)
500 inside an ordinary 3 hours | 35 hours —
office
1.000 Under a fluorescent lamp (30 W) at 1.5 hours | 15h _
a distance of 60-70 cm (24-28 in) 5 hours |
Under a fluorescent lamp (30 W) at |
3,000 a distance of 20 om (8 in) 30 minutes 5 hours | 120 hours
10,000 Outdoors, cloudy ~~ 8 minutes 1.5 hours 35 hours
| Outdoors, summer and |
100,000 sunny under direct sunlight 2 minutes 13 minutes 6 hours
Full charge time: Time to fully recharge the watch after it has stopped.
One day usage : Time required for recharging the watch to run for 1 day with normal hand
| movement (15-second interval movement).
D. Handling Precautions
<Try to Keep the Watch Charged at All Times>
Please note that if you wear long sleeves, the watch can easily become insufficiently charged as
'a result of the watch being covered and not being exposed to light. The watch will continue to
run properly if it is placed in as bright a location as possible even when not being worn.
Charging Precautions
Allowing the watch to reach high temperatures during recharging can damage the watch. Avoid
recharging in locations that can reach high temperatures (about 60°C /140°F or higher).
Examples e Charging by placing the watch in close proximity to a light source that easily
becomes hot such as an incandescent lamp or halogen lamp.
e Charging the watch in a location that can easily become hot such as on an
automobile dashboard
* When charging using the light from an incandescent lamp, charge while being careful that the
watch does not become excessively hot by placing at a distance of at least 50 cm (20in) from
the lamp.
E. Replacing the Secondary Battery
Unlike ordinary batteries, the secondary battery used in this watch can be repeatedly charged
and discharged and is not required to be periodically replaced.
CAUTION |
Never use another battery different from the secondary battery used in this watch.
The watch structure is so designed that a different kind of battery other than that specified cannot
be used to operate it. In case a different kind of battery such as a silver battery is used by some
chance, there is a danger that it will be overcharged to burst, causing damage to the watch and
even to the human body.

* Your assessment is very important for improving the work of artificial intelligence, which forms the content of this project