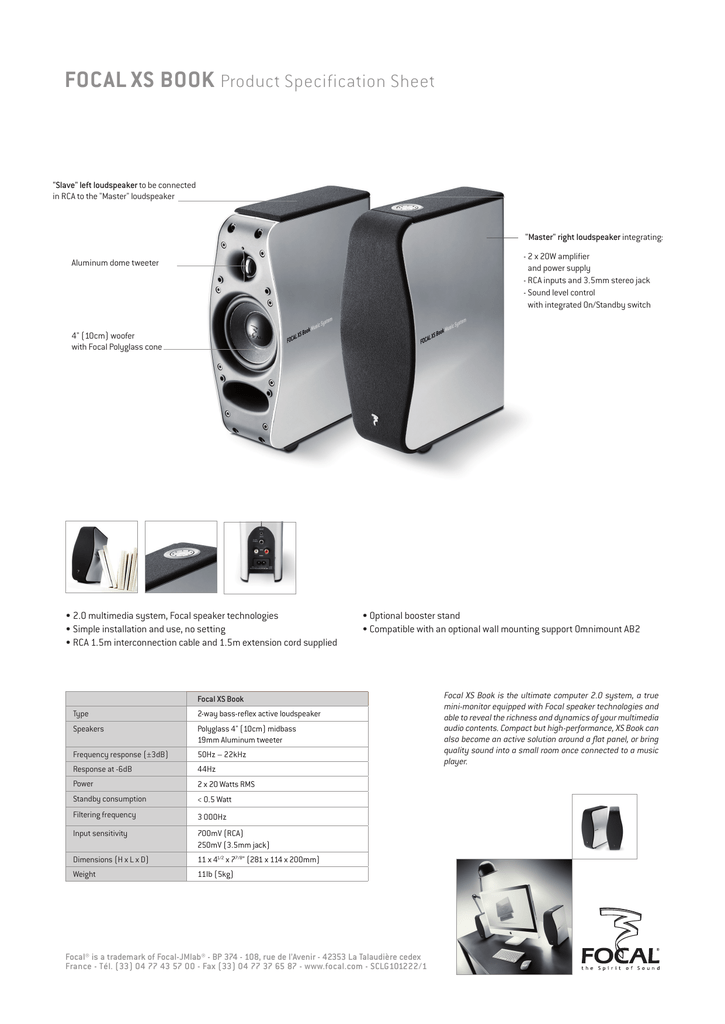 Focal XS Book Product Specification Sheet
"Slave" left loudspeaker to be connected
in RCA to the "Master" loudspeaker
"Master" right loudspeaker integrating:
- 2 x 20W amplifier
and power supply
- RCA inputs and 3.5mm stereo jack
- Sound level control
with integrated On/Standby switch
Aluminum dome tweeter
4" (10cm) woofer
with Focal Polyglass cone
• 2.0 multimedia system, Focal speaker technologies
• Simple installation and use, no setting
• RCA 1.5m interconnection cable and 1.5m extension cord supplied
• Optional booster stand
• Compatible with an optional wall mounting support Omnimount AB2
Focal XS Book
Type
2-way bass-reflex active loudspeaker
Speakers
Polyglass 4" (10cm) midbass
19mm Aluminum tweeter
Frequency response (±3dB)
50Hz – 22kHz
Response at -6dB
44Hz
Power
2 x 20 Watts RMS
Standby consumption
< 0.5 Watt
Filtering frequency
3 000Hz
Input sensitivity
700mV (RCA)
250mV (3.5mm jack)
Dimensions (H x L x D)
11 x 41/2 x 77/8" (281 x 114 x 200mm)
Weight
11lb (5kg)
Focal® is a trademark of Focal-JMlab® - BP 374 - 108, rue de l'Avenir - 42353 La Talaudière cedex
France - Tél. (33) 04 77 43 57 00 - Fax (33) 04 77 37 65 87 - www.focal.com - SCLG101222/1
Focal XS Book is the ultimate computer 2.0 system, a true
mini-monitor equipped with Focal speaker technologies and
able to reveal the richness and dynamics of your multimedia
audio contents. Compact but high-performance, XS Book can
also become an active solution around a flat panel, or bring
quality sound into a small room once connected to a music
player.

* Your assessment is very important for improving the work of artificial intelligence, which forms the content of this project