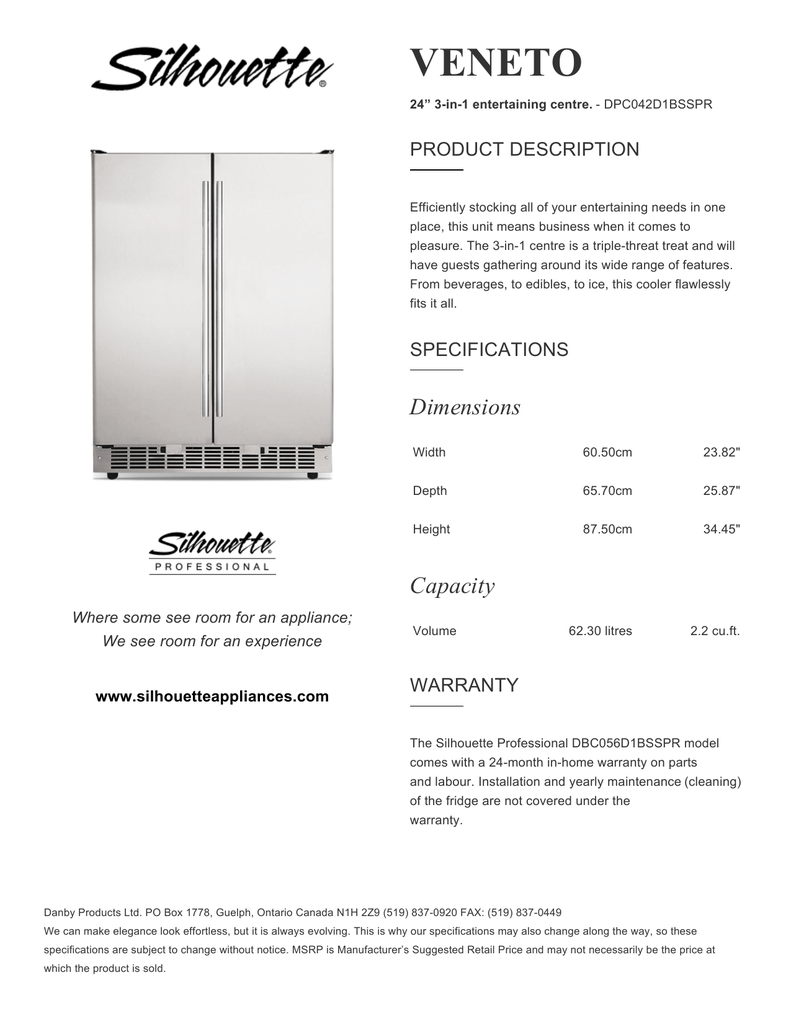 VENETO
24" 3-in-1 entertaining centre. - DPC042D1BSSPR
PRODUCT DESCRIPTION
Efficiently stocking all of your entertaining needs in one
place, this unit means business when it comes to
pleasure. The 3-in-1 centre is a triple-threat treat and will
have guests gathering around its wide range of features.
From beverages, to edibles, to ice, this cooler flawlessly
fits it all.
SPECIFICATIONS
Dimensions
Width
60.50cm
23.82"
Depth
65.70cm
25.87"
Height
87.50cm
34.45"
62.30 litres
2.2 cu.ft.
Capacity
Where some see room for an appliance;
We see room for an experience
www.silhouetteappliances.com
Volume
WARRANTY
The Silhouette Professional DBC056D1BSSPR model
comes with a 24-month in-home warranty on parts
and labour. Installation and yearly maintenance (cleaning)
of the fridge are not covered under the
warranty.
Danby Products Ltd. PO Box 1778, Guelph, Ontario Canada N1H 2Z9 (519) 837-0920 FAX: (519) 837-0449
We can make elegance look effortless, but it is always evolving. This is why our specifications may also change along the way, so these
specifications are subject to change without notice. MSRP is Manufacturer's Suggested Retail Price and may not necessarily be the price at
which the product is sold.

* Your assessment is very important for improving the work of artificial intelligence, which forms the content of this project